CHAMPION 'Äď August 27, 2007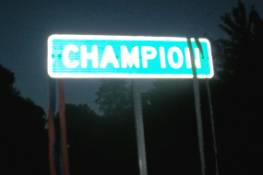 Excitement in Champion is running high!  The Champion School Reunion is about to happen and soon Champions from all over will be congregating on the old school grounds.  The weather is auspicious for such a gathering with milder temperatures and the grass greened from recent rains.  People will start arriving by ten or so on Saturday morning with lawn chairs and dishes for the pot-luck lunch.  There will be music and wonderful fellowship as people catch up on the past year's news.  Some of those stories about the old timers may surface for the edification of some new comers to the beautiful place.  Someone asked how many Champions it will take to reach from one side of town to the other.  The signs do not appear to be more than a hundred yards apart.  Measurements might be taken.  Someone else said that now that everybody knows how to get to Champion and how proud Champions are of their signs, that it will just be a matter of time before they go missing.  Surely not!
¬†¬†¬† ¬†¬†¬† In response to an inquiry last week by Darrell Haden about Wood Van Eaton, the Champion e-mailbox received this message from Patsy Stover of Springfield:¬† 'ÄúI was born in Ava, however have never lived there.¬† I still have many family members and friends in Douglas County.¬† My maiden name was Robertson.¬† I especially enjoy your column that does so much for your community and its history.¬† This week you mention news about Wood Van Eaton.¬† I don'Äôt know if this was in jest, but if not:¬† He lives in Mansfield on U Highway near the Wright/Douglas County line (near my parents Gene and Lorene Roberson).'Ä̬† The news has been passed along to Mr. Haden, so perhaps old acquaintances will be renewed.
¬†¬†¬† ¬†¬†¬† A couple of weeks ago Linda and Glenn Cooley'Äôs wedding anniversary was reported here.¬† Their accomplishment was underreported by a decade!¬† They'Äôve had their knot tied since August of 1962!¬† That'Äôs forty-five years'ÄĒnot the reported thirty five.¬† Congratulations to a fine pair of Champions!¬† This error is regrettable, but somehow it represents a balance of sorts since there have been random and unfounded accusations of 'Äėembellishment'Äô to the news in these columns.
¬†¬†¬† ¬†¬†¬† A Champion writes to Champion'Äôs soldier in Afghanistan:¬† 'ÄúDear Raul, We haven'Äôt heard from you for a while and we just imagine that is because you are very busy and that you don'Äôt have a lot of leisure time to be writing.¬† Whatever is going on, we keep you in our thoughts and hope that you are well and safe.¬† Here in the Ozark hills the weather is finally starting to cool down a little.¬† We have been blessed with some rain after a long dry spell and everyone'Äôs spirits are lifted because of it.¬† We look forward to hearing from you whenever you have the time, but please write to your family first.¬† We know that they are missing you.¬† For Your Service to Our Country we send you our Love and Gratitude.¬† Sincerely, Your Friends in Champion.'Ä̬† Staff¬† Sergeant Raul Moreno Jr. is Champion'Äôs soldier through the Adopt A US Soldier program.¬† He is in a forward operating base near the border with Pakistan in Eastern Afghanistan. His mailing address is:¬† SSG Moreno, Raul /4-319th, TF SABER / FOB NARAY/ APO AE 09354.¬† People from all over the 'Äėfree'Äô world are serving together in the coalitions in Afghanistan and Iraq.¬† On July 14, 2005, KY3 News reported that a newlywed and former Ozarks resident had died in Iraq.¬† He was 22 year-old Sgt. Timothy James (T.J.) Sutton.¬† He was a 2001 graduate of Fordland High School and was based out of Fort Carson, Colorado.¬† He died when he drove his HumVee over a land mine in Baghdad.¬† As of August 26th there have been 3,732 US Service People to loose their lives in Iraq.¬† 356 US deaths have occurred in Afghanistan as of August 13th.
        Once again Louise Hutchison and Sharon Sikes are doing all the work!  When the Skyline VFD Firefighters hosted a class at the Fire House on Mobile Water Supply on Friday and Saturday, they and a few others of the Ladies' Auxiliary were busy preparing food for the students which included a big lunch on Saturday.  Betty Dye, Ruth Hamilton, Karen Griswold and others contributed food and assistance in getting the men fed.  The Firefighters always appreciate the contributions of the Auxiliary and it is generally acknowledged that the Skyline Fire Department enjoys solid community support.
¬†¬†¬† ¬†¬†¬† An old man who calls himself a Curmudgeon was sitting on a Champion porch this week talking to a young man who has been thinking about joining the military service.¬† The Curmudgeon said that while he was not a party to this incident he did remember hearing about it when he was a kid.¬† 'ÄúWhen them Dough-Boys came back from World War One all shot up, burned and blind from the mustard gas they went to the Government for the help that they was promised they would get if they got wounded over there.¬† When they couldn'Äôt get nobody to talk to them they marched up in front of the White House.¬† Well, the folks in the White House called the National Guard on them and shot 'Äėem up some more.'Ä̬† This sounds like the historic event known as The Sad Tale of the Bonus Marchers.¬† The Bonus Army was the American Expeditionary Force that fought in Europe and was promised a bonus upon their release because they had been willing to serve at a reduced pay rate.¬† The depression intervened and when the unemployed veteran soldiers began to ask for their bonuses early they were refused.¬† They marched in protest and President Herbert Hoover ordered the U.S. Army to run them out of downtown Washington.¬† The troops were commanded by Douglas Mac Arthur, and his subordinate officers including Dwight D. Eisenhower and George S. Patton.¬† According to the Washington Post, 'ÄúThere were perhaps as many as 60,000 members of the "B.E.F." (the Bonus Expeditionary Force) in Washington at that time.¬† They were racially integrated.¬† Veterans congregated by their state of origin, and there was no color line.¬† Nor was there when Mac Arthur — ignoring the objections of D.C. Police Chief Pelham Glassford and defying Hoover's order not to proceed across the Anacostia River — attacked the bonuseers with full-strength tear gas and then burned their tents and shacks.¬† Four people were killed.'Ä̬† The impact of these events subsequently caused a different approach toward the veterans of WW Two.¬† Still, it is to be noted that Our Veterans do not always receive the treatment that they deserve after they have completed their Service.¬† The old Curmudgeon wound up his tirade to the young man by suggesting that while the Military Service is Honorable, 'Äúa body should volunteer and go work in a Veterans Hospital for a solid year before he joins up.'ÄĚ
        The Missouri Song List has been neglected.  A person keeping all these songs in his head would stay busy smiling and being glad to live in a place that inspires such music!
The Missouri Waltz
Meet Me in St. Louie, Louie
I'm Goin Back to Whur I Come From
The Westphalia Waltz
The West Plains Explosion
My Missouri Home
Kansas City, Here I come
May the Good Lord Bless and Keep You
Walking in the Sunshine
Keep a Little Song Handy
Company's Comin'
¬†¬†¬† ¬†¬†¬† There are probably a lot of songs that relate to Missouri that are not on this list.¬† Champions are musical.¬† Toes tap in these parts.¬† There is humming at the clothes line, in the milk barn, in the hay fields and feed lots.¬† Whistling and yodeling happen spontaneously and a car trip is just an opportunity to belt out a favorite song.¬†¬† News has come that Young Foster has a new favorite — 'ÄúWorking Man Blues.'ÄĚ
        Exciting things, musical things, reports of hardworking people, and of old Curmudgeons are welcome at Champion Items, Rt. 2, Box 367, Norwood, MO 65717. Underreported things (accusations of embellishment notwithstanding) can be e-mailed to Champion News.  As always, Henson's Store is a good place to spin a yarn about the old days and the old ways to keep nostalgia humming along.  As Champions come home to roost they are…. LOOKING ON THE BRIGHT SIDE!