CHAMPION'ÄĒJanuary 25, 2010
 
        Champion is a special place where people go to feel reconnected with the good ties to the past.  It is also a place where a person can develop a good perspective on his place in the big world.  With the exception of the relatively few Native American people who still live in this Nation, everyone here or their antecedents came from elsewhere and are therefore connected to the whole rest of the world.  Champions are aware that more that 150,000 people have just died in Haiti.  In 2008, the estimated population of Douglas County was 13,483.  Now there is some perspective.
        Good news in Champion comes from the Brixie clan.  Jacob Kyle Brixie was born Monday evening, January 18th, at 6:01 to Jana and James Brixie.  His paternal grandfather is Robert Dean Brixie who now lives in Mountain Grove and his maternal grandparents are Gary and Nyalin Barnes also of Mountain Grove.  He'll have to share his grandparents with his older sister Jenna Kateland, but there is every reason to believe there will be enough love and fun to go around.  Grandparents are Champions!
¬†¬†¬† ¬†¬†¬† Another note came from Wally Hopper the other day.¬† It included an article from his local newspaper concerning his grandson, Jacob Hopper, who had just completed his boot camp Marine training in San Diego.¬† While he was in Republic visiting family before going on the Camp Pendelton for more training, he happened into an unusual situation.¬† A serial thief had been breaking into cars in that part of Republic, the police said as many as twenty-five cars.¬† He noticed this man hopping fences and running away from a police car.¬† Hopper and his brother-in-law followed the guy in their car for a distance, then Hopper jumped out and ran the thief down just before he got to the highway.¬† 'ÄúThe Marines pride themselves on being very physically fit,'ÄĚ said the Private First Class.¬† Wally was a Marine himself and proud already, but this grandson!¬† Wally will have all of his vest buttons popped off soon!¬† Champion!
¬†¬†¬† ¬†¬†¬† Albert E. Brumley wrote 'ÄúTurn Your Radio On'ÄĚ and eight hundred other songs including 'ÄúI'Äôll Fly Away.'Ä̬† Kalyssa and Foster Wiseman do an excellent job with that tune as did their Granddad, Lonnie Krider.¬† There is a CD circulating around of Lonnie and Wayne Anderson that was made down in Squires several years ago at the Relay For Life program for the American Cancer Society.¬† They helped raise a lot of money for the cause.¬† That CD has made it into the hands of the music director of the new public radio station over in Cabool.¬† For Champions willing to prize themselves away from Old Rush for a little while, they can check out KZ 88.1 on the FM dial.¬† This is a listener-supported station with over half of their programming currently produced locally and featuring local people, organizations, musicians and artist.¬† From ten a.m. until noon on weekdays Butch Kara hosts a program called Kaleidoscope.¬† He plays all kinds of music including folk, world music and bluegrass.¬† Champions will be listening in for the chance to hear Lonnie again as well as other local musicians who are encouraged to submit their work by CD or cassette to KZ88 1211 Ozark Street Cabool, MO 65689.¬† Check in on the schedule of programming at KZ88.org or listen to live streaming at mykz88.com.¬† It turns out that another Krider grandson, Dillon Watts of Murfreesboro, TN has taken up the banjo.¬† Most likely Champions will be turning their radios on for him one of these days:¬† 'ÄúAnd listen to the music in the air.'Ä̬† Champion!
¬†¬†¬† ¬†¬†¬† On Monday snow was whisping through the air driven by a hard wind even as eagles were soaring over open fields and some gardeners were getting ready to plant their onions.¬† Some are trying onions from seed for the first time and the process is a little daunting.¬† It seems that the main thing is to maintain a fairly even temperature and moisture level until the seeds sprout.¬† They take several days.¬† Linda'Äôs Almanac from over at the Plant Place in Norwood indicates that the 28th and 29th will be excellent days for starting seedbeds.¬† The Plant Place will open up again next week and the Almanacs for February and March will already be available.¬† Some gardeners are hauling manure and cottonseed meal and other things to spread over their gardens.¬† Others are just planning to do that sort of thing someday when the weather is more pleasant.¬† It seems that as some gardeners get older they are more likely to put off the hard work.¬† Some are still daydreaming about Lem and Ned and checking the bulletin board down at Henson'Äôs Store to see if they have put up their notice that they are available for 'Äėchoreing.'Äô¬† Some sweet juicy turnips will surely lure them out again soon and they will be prowling the countryside looking for hard work that husbands do not really want to do:¬† shoveling manure, cleaning out chicken houses, digging new outhouse holes, getting the grass out of the flowerbeds, stacking rocks, hauling brush and the like.
        Champion ladies are getting excited about the Skyline Volunteer Fire Department Ladies' Auxiliary meeting that will be held on February 2nd at seven in the evening down at Henson's Store.  It will be their first chance to see the quilt that will be one of the features of the annual chili supper that is scheduled for March 6th.  In addition to covering all those important details of menu and entertainment, the meeting will be the first opportunity for members to pick up tickets to sell for a chance to win the quilt and to report on the various interesting things already collected for the silent auction.  There will be a like-new Mirro pressure pan, a vintage J.C. Penny stationary bicycle, an oak clock and a variety of things as yet unimagined.
¬†¬†¬† ¬†¬†¬† The www.championnews.us site is getting some fine attention.¬† David Richards of Mountain Grove said that he looks at the site all the time.¬† He and a group of his friends were out riding their four wheelers on Sunday and paused to get their picture taken in front of Henson'Äôs Store.¬† There were about a dozen of them on their machines and a Kawasaki Mule.¬† The mule goes along on these outings to carry a little extra fuel in case some rider runs out, and to carry some dry clothes and other necessities in case a rider gets wet out on a cold day.¬† They are mostly from around the Norwood area and they get together every month or so just to tour the back roads on their 'Äėmachines.'Äô¬† Fortunately, they go different places all the time so there is no one spot that gets over-treated to their noisy boisterousness.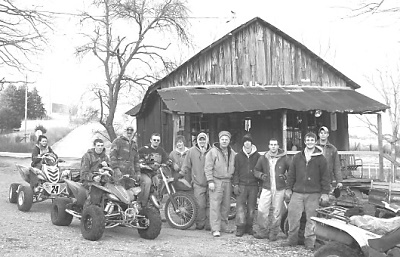 They are a rowdy bunch but well behaved and are just out for fun.¬† Champions don'Äôt mind seeing them coming'Ķ..or going! They are not unlike the trail rides that come through Champion in the spring and fall, except for the speed and the noise.¬† They don'Äôt leave any 'Äėsigns'Äô behind the way the horses do, just circles in the dirt where they have been cutting doughnuts.
¬†¬†¬† ¬†¬†¬† Someone suggested that the Neighborhood Events page of the www.Championnews.us should include birthdays on it.¬† To that end several will appear for February'ĶCharlene Dupree of the Gift Corner in Norwood will celebrate her birthday on February 2nd, as will Judith Parsons from over on the other side of Ava.¬† Later in the month, after St. Valentine has his day, Staci Cline 4th grade teacher at Skyline School will mark another anniversary.¬† Anyone who would like to have a special day noted can do so with an e-mail to Champion News or a note to Champion Items Rt. 2, Box 367 Norwood, MO 65717.¬† Note how many notes you sing out on the porch at Henson'Äôs Store.¬† The wind chime there replicates the notes of the meadowlark.¬† How pleasant a sound is that!¬† It'Äôs Champion'ÄĒLooking on the Bright Side!