Nitrogen is being fixed.
Champions appreciate the MODOT workers and our Douglas County Road crews and others who have to be out in the weather doing essential things to keep us safe. Thank you.
A little ice, then a little melt, then a little refreeze, then a little snow, then more and more snow: it piles up and made us feel good on Valentine's Day (and for many days ahead) to be marooned with someone we love. People who live near the pavement may not be so isolated, but they still appreciated the opportunity to be sentimental, if not romantic. All the wise weather people say to stay home if you can–so cuddle up. Of course, we have work that needs doing and basic survival chores to keep us busy. We have absurd politics to keep us annoyed, but we also have hope for the future just because there is no future in being hopeless. Have some fun in the snow if you can.
Old time lore says that if it is raining when the sun is shining, that is a sign the devil is beating his wife. (A feminist says the devil is beating her husband.) There does not seem to be local lore about when it is snowing in the sunshine. That was the situation in Champion for a while on Monday afternoon, with the wind whipping wisps off shed roofs and limbs, the whole bright world was a sparkling flurry.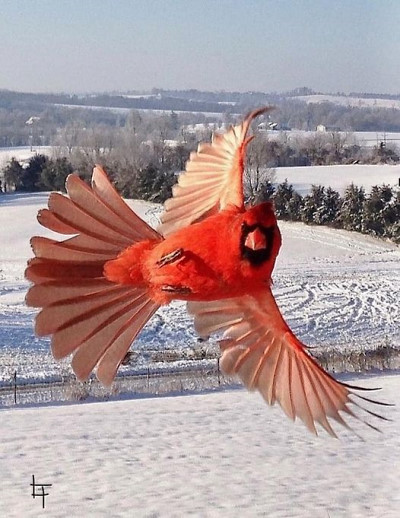 Cardinal Show-Off
Susan Perry posts pictures of dozens of red cardinals at her bird feeders in the snow. Photographer Lanny Thompson of Maumelle, Arkansas shared a phenomenal photo of a cardinal in flight. He called it Cardinal Show-Off. It is picturesque out there now yet only 34 days until Spring. One Old Champion planted tomato seeds, parsley and basil on Valentine's Day, not caring if the signs were right, just longing for a time of green growing things. In a few weeks she will be transplanting and wondering why she planted so much. The up side of the heavy snow, apart from the spectacular beauty of it, is that it 'fixes' nitrogen in the garden.
A new friend writes that if there are no gardeners there are no gardens. New friends are a blessing and so are old ones, or, more politely, 'long time' friends. Phone calls with Skip and Ina over in Dora, with Jeff and Candi in the National Forest, with Cathy Odneal and Frances Banks revealed that they are all well and safe. Through the grapevine, we know The General and The Gypsy are fine. The Acting Mayor posts: "IMMEDIATE PRIORITY FLASH ALERT: The Vanzant Chamber of Commerce has voted in favor to cancel this weeks, 18 Feb 2021, Thursday night community center entertainment by a two percent margin (51% heck yeou, 49% h… nay. Now, this decision may be reversed when mail in votes are received and counted next week. We will post updates ASAP. The (less than sober) local storm team weather person was unable to give an accurate reason for this cancellation in that it wasn't safe to climb the Vanzant three foot weather tower because snow is covering the bottom rung." The final tally after all the absentee and mail in ballots from the scattered living musicians (Sue Murphy declared no more than three votes per individual) and the host of Dearly Departed from Cemeteries in Vanzant, Denlow, New Hope and others amounted to 821 'yes' and 32 'no.'
The proprietor of the Historic Emporium in Downtown Champion says that business has been brisk, particularly the propane business. Neighbors and friends call to be sure that she has a safe commute to and from work. Call your friends and family to verify they are fine and try this exercise: While sitting in a chair, lift your right foot off the floor and make clockwise circles. Now, while doing this, draw the number '6' in the air with your right hand. Your foot will change directions. The weather will change directions too. That is our hope here in Champion—Looking on the Bright Side!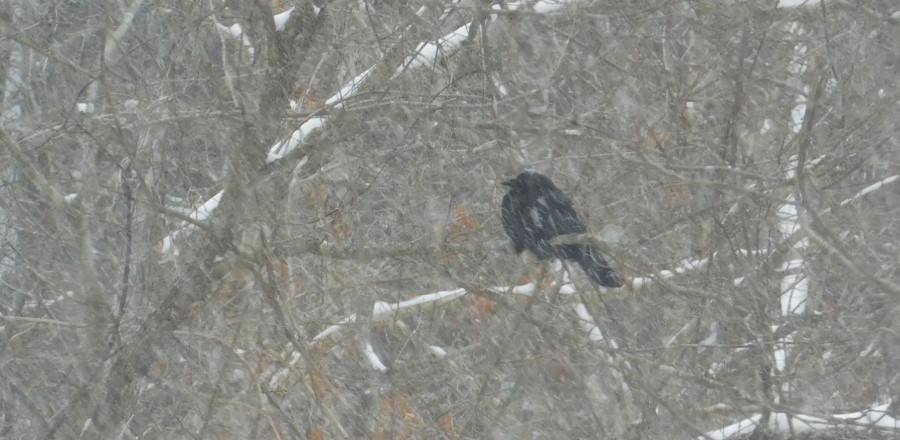 A crow in the snow.