The last item up for bid. Pete Proctor describes the table made by Ray Hicks.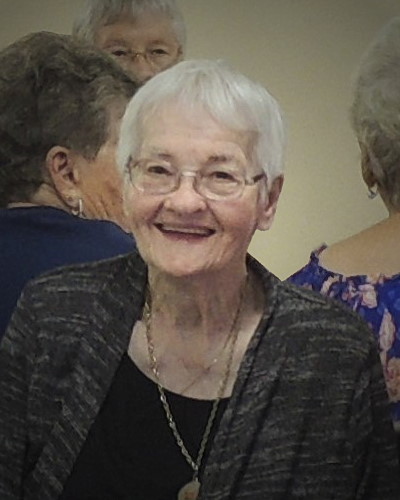 Jessie Mae Miller
It was a bright, sun shiny day for the 32nd Denlow/Fairview School Reunion on the Saturday before Memorial Day.¬† It started off with a little music and a lot of visiting.¬† Lunch was an unqualified success with great fried chicken and fixings provided by Ed and Sonja Williams.¬† Ed'Äôs Mother is Shirley (Brixey) Williams, a Denlow alumnus.¬† The pot luck was scrumptious with too many deserts followed by the desire for a nap on a warm afternoon.¬† But the pavilion was full of friends and family with fond memories to recount and share.¬† Pete Proctor spoke on behalf of Veterans to the reason for the observance of a Memorial Day.¬† He described his experience on the Honor Flight to Washington, D.C. and suggests that everyone who has the opportunity should make that trip.¬† He is active yet with the program.¬† The General led a rousing chorus of 'ÄúHappy Birthday to You!'ÄĚ to Jesse May Miller for her 92nd birthday on the 28th of May.¬† She had come to the reunion with her daughter, Beverly, bringing some great old photographs to share, some from way back showing a row of Upshaw men looking stalwart and able somewhere around the turn of the previous century.¬† She also had some great pictures of herself and her husband, Laverne, holding strings of enormous catfish'ÄĒseveral of these kinds of photos spanning the years.¬† Laverne passed away last fall and he is well remembered, a railroad man, and a fine auctioneer.¬† The General cleverly enlisted Mickey Reilly, spouse of Cathie Alsup Reilly, to assume responsibility for the auction, to the dismay of Cathie who soon realized her husband has a gift for the role, bringing up the thought that upon their return to the Bluegrass State, he might be holding auctions in their driveway.¬† He did not rule out the possibility.¬† The last item sold was a beautiful hand-crafted bench/table made by Ray Hicks of Bluegrass, Iowa.¬† The lumber started out as two inch thick white oak, which was then planed, sawed, sanded, dadoed, joined, glued and pegged.¬† (That is just a guess.)¬† It is a fine piece of work, now possessed by Dailey Upshaw.¬† Ray suggests that The Champion News does not devote enough ink to Ed Henson.¬† He had good things to say about the way Mr. Henson helped people in the community when times were hard.¬† He was born May 27, 1903, and has been gone from us for some while now, but not nearly forgotten.¬† Anyone with a story to share about Ed can do so:¬† The Champion News, Rt. 72 Box 367, Norwood, MO 65717 or champion@championnews.us .¬† Even with attendance down a little this year, this reunion was roundly considered to be another great success.
Making hay while the sun shines in Champion may sound easier than it is.  An experienced haymaker said that when the hay is cut, it releases moisture into the air and that makes it rain.  It always seems to be an iffy proposition.  Certainly the fields are lush and glorious.  Summer is officially here as the Prominent Champion Girlfriend has pulled out all her fancy flip flops and was seen sporting a pair that looked for all the world as if they were crochet.  She is always in style.  Her blood pressure was up to normal when the nurse from the Douglas County Health Department took the reading there in the Historic Emporium on Friday morning.  She is a dynamo…a Champion!
The General led a fine version of that happy birthday song directed at the fair Lena Wagner on Thursday evening.  She is another dazzling individual with a smile like a sunny day.  It seems that fun follows her around.  She had a nephew and niece following her to the Vanzant Jam and they appeared to have had a good time.  They live in a rough neighborhood over there by Almartha, but they look as if they are coping well.  Several folks who rarely come out to the jam enjoyed the music and the chance to do some good visiting.  The holiday and the Denlow/Fairview School Reunion and other get-togethers in the area have drawn folks in from all over.  Around here, Thursday is frequently the favorite day of the week for many.  Young Chase probably sang that birthday song to his dear Mom that day.  She is one of the resident young people in Champion, which is a good thing since Chase keeps her busy.  School is out and t-ball, swimming lessons and other exciting summer activities are in full swing.  Skyline R2 summer school will run from June 4th to the 28th this year.  Ms. Helen informs us that we can save those Box Tops for Education and the Best Choice and Always Save bar-codes all year long.  They generate a little revenue for the school and every little bit counts when it comes to our important little rural school.
A traveling Champion had the chance to enjoy some authentic 'Äėenchiladas de mole'Äô on a quick trip to the magic Rio Grande Valley down on the Mexican frontera.¬† The music was wonderful and the chance to visit with double-cousins after a long separation was most pleasant.¬† When two sisters marry two brothers and each couple has children, those children are double cousins with all the same grandparents and cousins.¬† It is almost like having siblings but without having grown up in the same house.¬† It is a common phenomenon in this part of the world.¬† Family is a precious commodity if you get along.¬† One of the keys to getting along is to avoid certain topics of conversation and when those topics do come up to acknowledge everyone'Äôs right to his or her own belief.¬† It can be a tricky situation, though for the most part, core values are the same.¬† A warm afternoon was a chance for an outing to the Iwo Jima Monument, which stands at the entry to the U.S. Marine Academy in Harlingen.¬† It is an enormous statue erected by the Fourth Marine Division Association and dedicated to those Marines from the 3rd, 4th, and 5th Marine Division who sacrificed their lives on Iwo Jima between February 19th and March 16th, 1945.¬† The plaque also says, 'ÄúWe further acknowledge all our beloved brothers here not listed or known but to God, not only of Iwo Jima but of all our heroic battles'ÄĒyou gave us a better America'ÄĒmay your spirit live forever.'Ä̬† 'ÄúFrom the halls of Montezuma'Ķ'ÄĚ to Champion'ÄĒLooking on the Bright Side!