August 29, 2009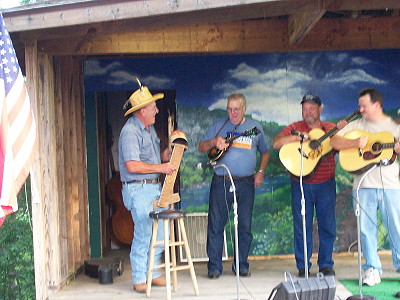 Introduction

Getting Settled

Tuning Up

Playing Along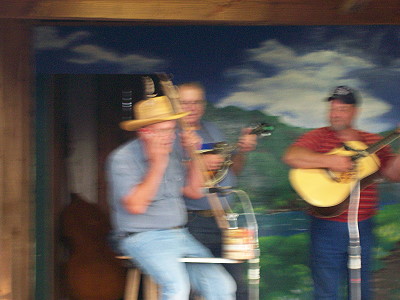 Receiving Calls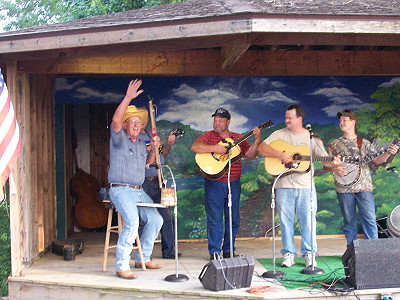 Waving to the Crowd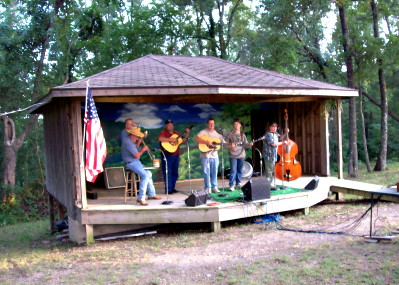 Looking Natural
August 24, 2009
CHAMPION'ÄĒAugust 24, 2009
¬†¬†¬† ¬†¬†¬† In Champion days such as these are not rare because Champions have the charming ability to see, to recognize and to appreciate beauty in every day.¬† They are gifted at living in the moment.¬† These particular moments are delicious ones by any standard while some old Champions stroll about chortling, 'ÄúAh, perfection.'ÄĚ
¬†¬†¬† ¬†¬†¬† Sunday found Ruby Proctor back in the neighborhood.¬† She took a drive out to celebrate Sunday with her lovely voice joining the a cappella singing service.¬† She is much looking forward to the Champion School Reunion, which will occur on Saturday the 5th of September.¬† This will be the 27th one and it has become a reunion for many Champions, not just those who attended school there.¬† It is always a pleasant gathering full of old friends and good memories and 'Äėantics'Äô depending upon who attends.¬† There are pictures and samples of music from past reunions at www.championnews.us site.¬† Even at a distance people can reunite with Champion!¬† A note came to that site from Amanda (Rhoades) Mayberry who said that her grandpa John Rhoades rode the mule that could not be ridden.¬† No one had been able to.¬† But he did.¬† He rode it till his nose bled and for his trouble was rewarded with pocketknives, hats and pocket change.¬† Ms. Mayberry says, 'ÄúMy dad, Ike Rhoades, used to take us down to the store when we were kids.¬† I need to come back to visit.¬† I love reading this site.'Ä̬† Champions welcome visitors.¬† Other Champions like Harley and Barbara just need to come home.¬† They are being missed.
¬†¬†¬† ¬†¬†¬† It turns out that not everybody has a computer and is on-line.¬† Many Champions and others elsewhere try to spend their days out enjoying the real world of sight and sound, air and temperature changes, aromas and the joy of work.¬† One such dropped a note to Champion Items, Rt. 2, Box 367, Norwood, MO 65717 to say that she would like to get a copy of that story about the buzzards on the frosty barn roof.¬† She wants to send it to some old family member who will get a kick out of it.¬† That story came from the article written October 23, 2006!¬† This reader has a long memory for some unusual things.¬† She sent a dollar and a self addressed envelope with her request and so it will go out to her and another moment will be frozen in time when the lights went on and 'Äú'Ķthe ruckus started.¬† There were buzzards everywhere.¬† The ground was just black with them, he said, and the air was full of them.¬† The walnut trees up behind the house were full of them.¬† They took off flying in every direction, hitting the high lines and squawking and screaming with their big old wings flapping.¬† 'ÄėIt was a wonder they didn'Äôt break those wires,'Äô he said.¬† They were trying to light on the roof of the barn, but the roof was so steep and it was so slick with frost that they would just slide down, their talons scraping on the tin.¬† 'ÄėIt was the awfullest racket you ever heard.'Äô'Ä̬†The story goes on and on.
        Clifton Luna of the West Plains Wagon Club revealed in a phone call that the wagon train will be rolling through Champion on September 17th.  The mules, Kit and June will pull his wagon again this year.  At this time Luna does not know how many wagons will participate, but it is sure they will be met with an interested and appreciative audience when they pull into Champion.  Hopefully, The Gee and Haw Club out of Arkansas will be represented again.  The wagon train starts out in West Plains and travels to Mansfield.  It is not the same as traveling backward in time, but it is reminiscent of it.
        It is good news to hear that Champion Esther Wrinkles is feeling better.  It can be a slow process sometimes, but once a person feels that he has turned the corner and is on the actual road to recovery things generally speed up.  So all of Champion wishes Esther a speedy recovery.  She went with her sister, Irene Dooms, to see nephew Kirk's garden not long ago.  She said it was just beautiful.  Irene thinks that Kirk and Judy were able to enjoy their good corn crop because the raccoon was busy elsewhere.  He decided he liked the easy to get dog food left out on the deck for their little dog.  The little dog lay down next to the raccoon and let him eat…so the corn was spared.  Judy threw a bucket at the raccoon and he finally left, but lucky corn growers might think about a decoy for the critters as a way to preserve the harvest.
¬†¬†¬† ¬†¬†¬† The week through Friday will be good for planting crops that bear their yield above the ground.¬† Leafy vegetables especially do well as a fall crop planted now.¬† Linda from over at the Plant Place in Norwood will have Cole crops ready to set out soon and her September Almanac will be full of all the good information that gardeners need to make the most of the growing season.¬† The Almanac says 'Äėprune to discourage growth'Äô on the 29th, 30th and 31st.
¬†¬†¬† ¬†¬†¬† Skyline Auxiliary members will meet at Henson'Äôs Store in downtown Champion this week just to hash over the results of the picnic.¬† Big handfuls of thank you cards are going out.¬† Many of those little observations will be made that, acted upon, refine and perfect the process.¬† Some enthusiasts are saying, 'ÄúIt'Äôs only about eleven and a half months until the picnic!'ÄĚ
        Nebraska, Nevada, Kansas, Colorado, Oregon, Washington, Minnesota, Wisconsin, South Dakota, Georgia, Illinois, all have a Douglas County.  There may be others as well.  The Missouri government website shows that there are 550 male veterans in Douglas County Missouri over the age of 65 and 20 female veterans over that age.  There are a total of 875 veterans living in Douglas County Missouri.  Chances are pretty good that a person will run into a veteran just about anywhere he goes.  Champions are pleased to acknowledge their service and to express the Love and Gratitude that they are due.
¬†¬†¬† ¬†¬†¬† The Green Corn Moon is giving way to The Harvest Moon and soon people will be singing that song again.¬† The year rolls around so quickly now and this summer seems to have been like a dream.¬† Some Champions better wake up and get busy!¬† Those beans don'Äôt get in the jars all by themselves.¬† Firewood will be the subject of conversation soon, and Frost!¬† Champions enjoy it all and are just now thinking about another song from Roger Miller:¬† 'ÄúWalking in the Sunshine, sing a little sunshine song.¬† Put a smile upon your face as if there'Äôs nothing wrong.¬† Think about a good time you had a long time ago.¬† Think about; forget about your worries and your woe'Äôs.¬† Walking in the sunshine.¬† Sing a little sunshine song.'Ä̬† Sing that one out on the porch at Henson'Äôs Store on the north side of the square in Downtown Champion.¬† Send sunshine songs to Champion News.¬† Go see for yourself:¬† Champion'ÄĒLooking on the Bright Side.
August 17, 2009
CHAMPION'ÄĒAugust 16, 2009
 
¬†¬†¬† ¬†¬†¬† In Champion August is more than half over and the walnut leaves are swirling through the air in flirty spirals, twirling and floating down singly–bright yellow against the unseasonably green grass.¬† Perhaps the wet summer is portentous of a colorful autumn.¬† Champions take what they get and are Grateful.
        Skyline folks, friends and firefighters are Grateful for another beautiful picnic and are glad it is over.  Some of those volunteers are going to be relaxing with their feet up for a couple of days.  They are over-doers by nature.  While they are just kicking back, there are great lists of people to thank going through their heads.  Thank you cards will go out with the hopes of acknowledging everyone who made it such a delightful affair.
        Skyline resident Dorothy Dye bought the winning ticket for the $100.00 of electricity awarded by White River Electric Cooperative this year.  Jeff Pardeck of White River confirmed the credit to Ms. Dye's account on Monday morning.  She is Grateful.
        Alice Hopper had the winning quilt ticket and Johnny Boyd won the 10/22 Reuger rifle.
        Then there were a great number of grateful people who won door prizes of Savings Bonds and new merchandize from local merchants who so generously support the fire department.
¬†¬†¬† ¬†¬†¬† Founding Skyline Fire Department member Esther Wrinkles was absent from the picnic on Friday evening.¬† It is the first time she has ever missed one.¬† Eighty seven people signed an enormous get well card for her and she was able to make it out on Saturday evening, though she stayed in her car but close enough to see and hear the music.¬† People were stopping by to visit with her all evening.¬† The quilt that she donated to the picnic made over $1100.00 this year.¬† On Monday morning she was still feeling poorly.¬† Everyone wishes her well.¬† Her neighbor, the General, went to great lengths to distract her at the picnic.¬† Back Yard Bluegrass was in the middle of their set when, sporting an outsized straw Stetson complete with turkey vulture feather, he strode up on the stage.¬† From a battered guitar case he extricated the most bizarre contraption seen outside of a Rube Goldberg Traveling Exhibition and Medicine Show.¬† It was comprised of a rusty antique Folgers'Äôs coffee can, attached by a hinge to a length of 1'ÄĚ x 6'ÄĚ on one end and to a short hunk of broom stick on the other with some binder twine strings.¬† The General elbowed his way to the front of the stage and parked himself on a bar stool (probably not the first time) and lent his questionable talent on this hillbilly basso profundo violoncello.¬† Already struggling to pat his foot in time to the music he was plagued by tuning issues, which he addressed with a pair of vice grip pliers to the amusement of onlookers and consternation of band members.¬† They maintained a professional decorum as their sit-in received cell phone calls and waved wildly to the crowd.¬† There will be a series of photos depicting this episode at www.championnews.us.¬† It was all in the spirit of fun.
¬†¬†¬† ¬†¬†¬† Fire Chief, Doug Hutchison, took the stage at nine o'Äôclock Saturday evening to say, 'ÄúOn January 20th of this year, the fire department lost a person that was an essential part of this fire department and picnic.¬† He was an original founder of this department.¬† He was a friend to many, a much thought of neighbor, and was loved very much by his family.¬† He loved working and playing music and doing anything that needed to be done at this picnic.¬† He was a successful educator and farmer and wasn'Äôt afraid of work.¬† I was a neighbor to this man many years.¬† Several times I needed help, he quit what he was doing and came and helped me and he did the same for the rest of the community.¬† I, for one, miss him very much as do many others.¬† He was raised and lived most of his life in the Champion Community.¬† He is not with us any more, but the memories will live on.¬† As many of you have guessed by now, this man was a friend to all.¬† His name was Lonnie Krider.'Ä̬† Musicians from around the community gathered on stage for a jam session of some of Lonnie'Äôs favorite songs.¬† His influence is far reaching and his absence is much felt.
¬†¬†¬† ¬†¬†¬† Before the evening was over the Fire Chief had been presented with a gift of appreciation for his sterling efforts for the picnic'Äôs success.¬† Some of his picnic volunteers contrived to give him an electric chain saw.¬† He will find uses for it.¬† As his neighbor and distant relative Wilburn says, 'ÄúGalatians 6:9 And let us not be weary in well doing:¬† for in due season we shall reap, if we faint not.'Ä̬† Paul said that first but Wilburn pretty much uses it as his motto.
        Master of ceremonies, Ray Bradley, sang the National Anthem each evening. He does an excellent job of it, hitting those high notes with power and confidence.  Many joined together to recite the Pledge of Allegiance and the American Legion made a stirring presentation of the Colors.  People gathering at little country fairs and picnics all across the United States are happy to display their patriotism and are pleased to express their Love and Gratitude to those who serve at the Nation's request, both in and out of uniform.
¬†¬†¬† ¬†¬†¬† Champions are back out in their gardens now and are busy in their kitchens 'Äúputting by'ÄĚ for the winter to come.¬† Linda'Äôs Almanac from over at the Plant Place in Norwood says that the 24th through the 27th will be an excellent time to plant leafy vegetables and other aboveground crops.¬† Linda donated some beautiful plants for door prizes and for the silent auction.¬† Charlene Dupre from the Gift Corner did a splendid job of painting a Champion scene on a cream can for the silent auction.¬† Bob Berry was happy to win it in the auction for a bid of $40.00.¬† Alvin and Beverly Barnhart donated some great items including a very round and beautiful little watermelon that brought much higher than market value for the fire department and some very good cheer to the lucky buyer.
¬†¬†¬† ¬†¬†¬† Picnic memories are welcome at Champion Items, Rt. 2, Box 367, Norwood, MO 65717.¬† Elvis Costello has a song out called 'ÄúThe Other Side of Summer.'Ä̬† It is said to have a very September feel about it.¬† E-mail wistful farewell to summer songs to Champion News.¬† Sing any kind of sweet song out on the porch at Henson'Äôs Store in Downtown Champion.¬† If your voice is no better than the General'Äôs, just hum while you gaze up and down the broad and beautiful thoroughfare of Lonnie Krider Memorial Drive.¬† If you don'Äôt have a motto of your own, feel free to use Champion'Äôs'ÄĒLooking on the Bright Side!
August 10, 2009
CHAMPION'ÄĒAugust 10, 2009
 
¬†¬†¬† ¬†¬†¬† In Champion people are adept at living in the moment.¬† That is to say, when things are good for people they say so right out loud.¬† 'ÄúThis is so nice.'Ä̬† 'ÄúIsn'Äôt this beautiful weather?'Ä̬† One old Champion said to another, 'ÄúThis time next week that picnic will be over!'Ä̬† Her point was to comfort and reassure her friend that the exhausting and hectic days ahead in the intense heat and humidity will be forgotten when the band strikes up and the crowd gathers full of old and new friends and dear family.¬† Laughter and happy talk, kid ruckus, and glad handshakes are the ties that bind to pull glad hearts together.¬† Everything else is icing on the cake!¬† Meanwhile, the President of the Steering Committee, was heard several times reciting from a recent correspondence he had received, 'ÄúRemember, if you act like you are having a good time, pretty soon you will be!'Ä̬† He used the sentiment liberally to encourage the volunteers preparing the grounds for the Picnic.¬† Several times his cousin, Wilburn'Äôs sonorous and compelling voice ¬† was heard extolling the virtue, 'ÄúNever weary in well doing!'ÄĚ
¬†¬†¬† ¬†¬†¬† Monday and Tuesday after the picnic will be an excellent time to plant root crops like beets, turnips and onions.¬† That is according to Linda'Äôs Almanac from over at the Plant Place in Norwood.¬† Linda generously provided plants for the landscaping of the newly dedicated 'ÄúBridge To Nowhere'ÄĚ on the picnic grounds at Skyline.¬† Picnickers are in for a treat.¬† This completed 'Äúshovel-ready'ÄĚ project exemplifies what a significant contribution a real stimulus package can have.¬† The spirit of volunteerism has been plumbed.¬† Champion!
        Wally Hopper writes that he will be coming over from Republic on Saturday.  He has recently completed his second family history book.  This one is about his great grandfather, William A Hopper, and his service in the Civil War.  He said that the research was very interesting particularly concerning the meals he received.  His first book was bout his father, Jimmy Hopper, and was written after his death in 1977.  Wally has copies if anyone might be interested.
¬†¬†¬† ¬†¬†¬† Bill Poole from Nashville shared more good tomato information on Sunday afternoon.¬† He says that the plants don'Äôt need all that much foliage and that getting rid of the excess, particularly damaged or diseased leaves, reduces the strain on the plant and lets it do a better job of making tomatoes.¬† One Champion appreciates the 'ÄúTums'ÄĚ tip to help with the blossom end rot, so she will probably spend her Monday pruning the tomato plants.¬† In an article in the New York Times about the rampant tomato blight in the Northeast the expert indicated that as much as possible gardeners should use plants grown in their area.¬† It said that a tomato plant that is shipped from 2,000 miles away is pretty much like a tomato shipped from that far.¬† Bill really called to pass a message on to his cousin Eva to say that his mother, Esther, had been taken Sunday morning from the nursing home in Mountain Grove over to Cox South in Springfield.¬† She is having some heart issues.¬† She will be 94 on September 27th.¬† A Champion son-in-law had a birthday on the 8th.¬† He was born 08-08-68.¬† Foster and Kalyssa do not think their Dad is old.¬† Foster sported chocolate cake on his sleeve and britches leg on Sunday, just from helping his lucky Father celebrate.¬† Kalyssa is about to have a birthday too!¬† She'Äôll be three!¬† How fast the time goes!
¬†¬†¬† ¬†¬†¬† Some Champions were born in Champion and may live within a few feet of the very spot where they first entered the world.¬† They have deep roots and are deeply connected to the community with history, family and friends.¬† Other Champions moved here from other places.¬† Sometimes they moved away from their family.¬† Sometimes the family moved away from them.¬† For whatever reason there are Champions rooted to their adopted spot, but with deep longing in their hearts for their distant loved ones.¬† Everyone is familiar with the feeling on some level.¬† Most times the lonesome Champions can just enjoy vicariously those filial feelings as other people'Äôs grandchildren run up to hug their old folks.¬† But sometimes it takes a real Champion to look on the Bright Side.¬† Some newly transplanted Champions are joining right in to help get the picnic going.¬† Steve and Darlene Conner from over on WW in Champion West were busy at the picnic grounds Friday with rakes, tarps, and various technical help getting the place ready for the fun.¬† Saturday saw a wonderful swarm of Griswold children (but not Michael) hauling brush and picking rocks and sticks, wielding rakes and shovels in the hot sun.¬† It is a treat to see some willing and productive young folks participating and 'Äėnot weary in well doing.'Äô¬† They might have been weary, but they were not complaining.¬† Champion!
        A large contingent of the Patriot Riders passed by the picnic grounds Saturday on their way to honor Sgt. Charles L. Wilson, the Korean War Veteran who was laid to rest in the Vera Cruz Cemetery.  Love and Gratitude is the due of those who serve.
¬†¬†¬† ¬†¬†¬† If Uncle Al, the Lonesome Plowboy, could join in at the picnic, he would be sitting in with The Backyard Bluegrass.¬† Their repertory is so similar, they must have shared some of the same influences.¬† Uncle Al often performed at Civil War reenactment venues and for such important groups as the South Central Texas Coon and Cat Hunting Association.¬† He was a jolly fellow with a comedic approach to music.¬† Someone said that a comedian is about to approach the Backyard Bluegrass at the picnic.¬† The audience will do well to arrive early as this group is scheduled to play early both evenings.¬† Once when she was a very young girl, Uncle Al shared the stage with fellow Texan, Janis Joplin.¬† She sang, 'ÄúIn this world, if you read the papers, Honey, you know everybody'Äôs fighting with each other.¬† There ain'Äėt no one you can count on'ÄĒnot even your own brother.¬† So if someone should come along who's gonna give you some love and affection, I say get it while you can.¬† Oh yes!¬† Get it while you can.¬† Don'Äôt you turn your back on love. Oh! No no no no!'Ä̬† Janis sounded kind of lonesome.¬† There is some cathartic relief sometimes in a sad song.¬† Champions are reminded of a gathering at Denlow one time when someone started out a song, 'ÄúHear that lonesome whippoorwill.¬† He sounds too blue to cry.¬† The moon just went behind a cloud and I'Äôm so lonesome'Ķ..'ÄĚ ¬† Well, at that point the General burst into such inconsolable and desperate sobbing that the whole tenor of the gathering thereafter was of a rather subdued embarrassment.¬† If he behaves himself at the picnic, it will be a wonder.
¬†¬†¬† ¬†¬†¬† A good old sad song or lonesome kind of song is welcome at Champion Items, Rt. 2, Box 367 Norwood, MO 65717.¬† Upbeat, lively, happy, sunny side songs are welcome at Champion News.¬† There will be plenty of them at the picnic too, so go enjoy.¬† While in the neighborhood, step over to Henson'Äôs Store on the main drag in Historic Downtown Champion where discerning shoppers can find a full compliment of Champion Picture Postcards.¬† Emblazoned on the front of each and every one is that time honored and sincere motto:¬† Champion'ÄĒLooking on the Bright Side!
August 3, 2009
CHAMPION'ÄĒAugust 3, 2009
 
¬†¬†¬† ¬†¬†¬† Champions hold fast the pattern of sound words and are ever busy about promoting the good.¬† It is part of the Champion Identity to be optimistic and busy with good neighbor business.¬† The Skyline VFD Picnic is currently the focus of much good neighboring.¬† Gray-Mc Contractors out of Norwood were over on the picnic grounds the other day trimming trees and assisting with some infrastructure that was ready for a boost.¬† Everybody is excited to see the weather warming up.¬† 'ÄúJust in time for the picnic!'ÄĚ they chortle as they go about gathering door prizes, silent auction items and pie promises.¬† The word is spreading and the days are flying by!
¬†¬†¬† ¬†¬†¬† Wow!¬† What a tomato!¬† Elmer Banks was down at Henson'Äôs Store on the Square in Champion last Thursday talking about some 'Äėold boy'Äô who was showing off a huge tomato that he had grown.¬† He said the guy lived over by Skyline and that the tomato was enormous and red and beautiful.¬† Then Alvin Barnhart'Äôs picture shows up in the paper holding that 'ÄėDelicious'Äô wonder.¬† It'Äôs a good picture of the tomato and a good one of Alvin too who doesn'Äôt look old at all!¬† Banks is prone to colorful language since he is from Transylvania, Louisiana.¬† His sweetheart is from Alsatia, Louisiana a little further South.¬† They both went to Lake Providence to school.¬† Someone said that Alvin and Beverly went to school together too.¬† Ah! Sweethearts!
        More interesting neighbor news has to do with Sgt. Charles L. Wilson who died in Korea in 1950.  The soldier's remains will arrive at Lambert Field in St. Louis on Wednesday and will be escorted by the Patriot Guard Riders back to his family in Ava.  The VFW in Mountain Grove is organizing a tribute as the procession passes through that town about 6:25 in the evening.  The information on the Internet indicates that the procession will be traveling at highway speeds until it turns off on to 5 Hwy at Mansfield.  Then it will go about 40 miles per hour for the last 14 miles to Ava.  Sgt. Wilson will be buried at the Vera Cruz Cemetery on Saturday, August 8.  The Patriot Guard will again escort him starting from the Clinkingbeard Funeral Home at about 12:30 p.m.  The date of Sgt. Wilson's death is estimated to be on or about Nov. 27, 1950, five months after North Korea invaded the South, when the U. S. Army committed its first divisions to battle by battalion.  The battalions usually fought often without artillery, heavy mortar or air support.  Sgt. Wilson received the Purple Heart Medal, the Army Good conduct Medal, the National Defense Service Medal, the Korean Service Medal with 2 Bronze Starts, the United Nations Service Medal, the Republic of Korea War Service Medal, The Republic of Korea Presidential Unit Citation, and the Combat Infantryman Badge.  The Patriot Guard Riders are escorting fallen soldiers home every day.  They are showing the Love and Gratitude Champions and all good citizens feel for the sacrifices of those serving the Nation in and out of uniform.
¬†¬†¬† ¬†¬†¬† More good neighboring news comes in the form of a benefit pie supper for Debbie and Mike Stone of Drury.¬† They lost their home to fire recently and the Vanzant and Champion communities joined Drury and others to help out.¬† Some pies were sold and then resold a number of times bringing in 'Äėbig bucks!'Äô¬† The overall proceeds reflect a generous and compassionate populace.¬† To have a good neighbor, you have to be one'Ķ Champion!
¬†¬†¬† ¬†¬†¬† Some bridge players are Buddhists but not all are.¬† Some Buddhists play bridge, but not all do.¬† Those that do live a life that promotes a doctrine of peace, inner resolve and tranquility and moral living.¬† Fortnight Bridge celebrated the birthday of a favorite Buddhist bridge player from Seven Springs.¬† She is ailing, but it is hoped that she'Äôll be shuffling and dealing again soon.¬† Saturday'Äôs game, hosted by Vera Cruz, was fast moving with only 910 points separating winner from loser.¬† The host won the match and Champion split the money as low, each collecting $.35.¬† Penalties for unbid slams made it an expensive evening, particularly for the Brushy Knob player who had to pay up four times and for Norwood'Äôs player who had to pay for three unexpected slams.¬† During the course of the evening a total of twenty games were won and seven contracts were lost and a luscious peach pie was consumed with ice cream.¬† The phenomenal number of rules, conventions and possible contingencies make bridge a game that occupies most of the cognitive powers of a player.¬† For the duration of the hand the declarer is completely occupied, giving a rest to the rest of the whirl of thoughts that routinely take up the consciousness.¬† It is like a little vacation'ÄĒlike a meditation.¬† No wonder they play.
¬†¬†¬† ¬†¬†¬† Some feedback has come into the Champion News mailbox regarding using 'ÄėTums'Äô to treat blossom end rot in tomatoes.¬† One old Champion girl thinks it works.¬† 'ÄúThe calcium seems to be getting to the tomatoes!¬† The blight is still making the plants look bad, but the fruit looks wonderful.'Ä̬† Now, perhaps with some sunshine and summertime, some ripening will take place and other heat loving crops will benefit.¬† Dwarf, non-bearing, ornamental okra is ready for a change.¬† Linda'Äôs Almanac from the Plant Place over in Norwood shows that the 8th and 9th will be good days to plant root crops again.¬† Turnips and beets will be welcome when the weather gets cold again'ÄĒsoon enough.¬† 'ÄúTime is filled with swift transitions'ÄĚ is one of those songs that gives a person pause to think.¬† Champions recognize when things are good.¬† 'ÄúSummertime and the living is easy.¬† The fish are jumping and the cotton is high.¬† Your Daddy'Äôs rich and your Ma'Äôs good looking, so hush little baby!¬† Don'Äôt you cry.'Ä̬† Songs about when things are good are welcome at Champion Items, Rt. 2, Box 367, Norwood, MO 65717.¬† Sing one of those or another one out on the porch at Henson'Äôs Store.¬† Go inside and get some tickets for that $100.00 power drawing from the White River Valley folks.¬† Or get some quilt tickets for that Skyline Picnic Quilt.¬† There is a great color picture of it on the www.championnews.us website and it has sparked interest from far away places!¬† A new shipment of Champion Picture Postcards has arrived so the sad, dull and dreary old world outside can get some of that good Champion view.¬† Champion!¬† Looking on the Bright Side!