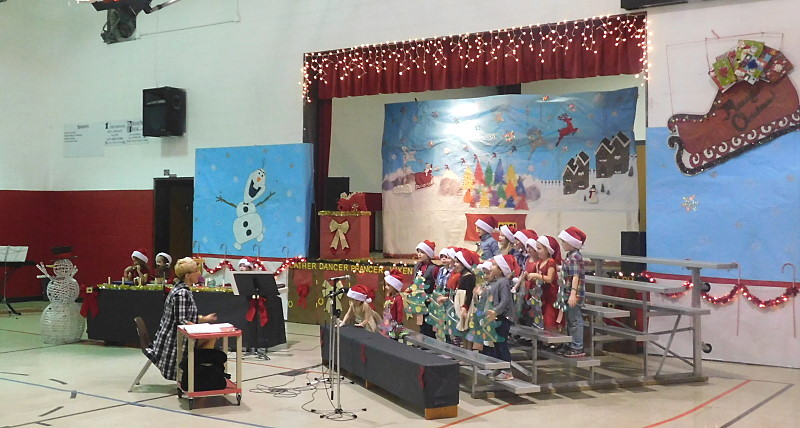 Skyline R2 School's Christmas Program on December 20th.
Christmas greetings came from Wes and Suzie Freeman, hillbillies at heart, living down in McKinney Texas, say they are still kicking.  Champions, Royce and Jody Henson, celebrated 61 years of marriage on December 13th.  They have long Champion roots and leanings.  Herbie Johnston, whose birthday is the day before winter starts, has had a nice thing happen.  He fiddles in the Possum Trot Band, nominated for Album of the Year with SPBGMA Midwest (Society for the Preservation of Blue Grass Music in America).  The band will be performing at the awards show and convention January 10-11, 2020, at the Capitol Plaza Hotel in Jefferson City.  Yea! Herbie!
The house was packed for the Champion Christmas pot luck luncheon.¬† Butch came in sporting a new hat, something like a business man'Äôs Stetson, but not quite.¬† It needs a feather.¬† Charlie Lambert asked if he could have it, since he had come out without his own chapeau.¬† They did not strike a deal, but it was a pleasant get together nonetheless.¬† The Prominent Champion had to leave before the festivities were under full swing.¬† He said he had women waiting on him.¬† 'ÄúHand and foot?'ÄĚ he was asked.¬† He indicated that it was more like women waiting on him to do things.¬† Deward'Äôs granddaughter and her husband are in the perpetual fence repair business (not for hire).¬† They were regaled a few nights earlier by a bellowing, growling bear in their very yard.¬† A noted local woodsman affirmed their suspicions and suggested that the bear was female advertising her presence.¬† Three times she roared, enough to put a chill on a person.¬† Beverly and Alvin Barnhart have bears in their neighborhood too.¬† It is good to see Beverly feeling better.¬† The Partells (too blessed to be stressed) made their long journey back to this favorite place for the day.¬† There was Reba, wearing different colored shoes, though no one noticed.¬† Leslee joined in the music to sing 'ÄúStar of Bethlehem.'Ä̬† Thanks to a gracious host for providing such a lovely place for a couple dozen Champions to share good food and the pleasure of fellowship.
Happy New Year!¬† A prominent Champion spouse posts, 'ÄúOK.¬† Now that Christmas is over, can we just go straight to spring?'Ä̬† She has a birthday in January and a party in May.¬† Between now and then there will be days when she can wear her flip flops.¬† Christmas day and the day after were such days and there were no complaints to be heard.
While visiting a friend during the holidays, the friend received a phone call with pictures of a newborn great-nephew'ÄĒjust hours old and already known across the country.¬† Technology has changed the way we do things.¬† An uncle told a story about visiting his sister down in the Rio Grande Valley in the late 1930s.¬† She had a new baby, her first.¬† Their Mother lived way out in west Texas and was not likely to see the little one for some time.¬† As a way to share a 'Äėpicture'Äô of the baby, his sister took off the infant'Äôs clothes, her little dress and bonnet and her booties.¬† She made a bundle of these precious things to send to her Mother via her brother, who was going directly to see the old folks.¬† He was riding the rails, as many did back in those days.¬† He recounted that he was running alongside the box car and tossed his pack in the open door.¬† Then he stumbled and missed his chance to scramble in.¬† He said that he still felt bad about it all these many years later.¬† Technology has made the world smaller and larger at the same time.¬† It is hard to imagine a time when parents might have their child leave home with no expectation of ever seeing them again the way it must have been for many immigrants to America or for those in the western migration.¬† We are all here because our forbears made those perilous journeys with no GPS or internet.
Two presidential quotes to start the New Year:¬† 'ÄúThe only thing we have to fear is fear itself.'Ä̬† And 'ÄúReal power, I don'Äôt even want to use the word–fear.'Ä̬† The opposite of fear is love, according to some, others say faith, and others, peace.¬† They say that courage is not to not be afraid, but to act even if we are afraid.¬† Whatever we must do to counteract fear, we must do.¬† Champions are vigorously promoting optimism and patience, particularly with those with whom we disagree.¬† Listen respectfully to the other side.¬† No name calling.¬† Civility is the mod-o-day in Champion.
Champion grandson, Eli Oglesby, has the 30th for his birthday.¬† His sisters will help him celebrate.¬† 'ÄúI'Äôd just like to gain a little weight'ÄĚ was the answer to the question about New Year'Äôs resolutions posed to The General on Thursday evening at the Vanzant Jam.¬† He exhibited a modicum of annoyance at having his New Year'Äôs Eve birthday broadcast to the crowd.¬† 'ÄúThank you,'ÄĚ he said, though the statement was not fraught with sincerity.¬† Nevertheless, he has been immersed in family during the holidays who always find him a convivial avuncular figure.¬† Now we will call him 'ÄėUncle General.'Äô¬† Arvin Schroeder will be one year old on New Year'Äôs Eve.¬† He is a big music lover, seems to favor the guitar.¬† The year ahead will be full of learning and growing for people Arvin'Äôs age and, hopefully, for the rest of us as well.
Kaitlyn McConnell visited Champion on Friday to share her first Passport to the Ozarks with the Champion Library.  She is looking for individuals, some local regular people, to profile as she works to expand her portrait of the Ozarks Alive.  Send any suggestions to champion@championnews.us and we will relay them to Kaitlyn.  Come down to the wide, wild, wooly banks of Auld Fox Creek to enjoy her book.  No passport needed to Champion!  Looking on the Bright Side!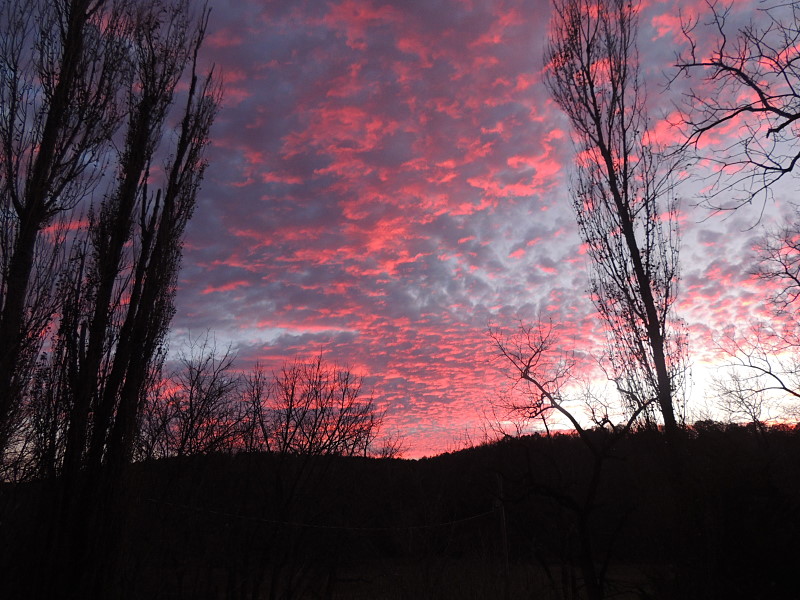 Champion winter skies.