The Kansas City Chiefs' wonderful win in overtime on Sunday was a nail biter.  Linda, up in Norwood, said she did not know if she would be able to sleep after all the excitement.  Fortunes reversed frequently, with each side thinking all was lost, then things would change again–three big changes in the last two minutes.  There is no glory in defeating a weak opponent, and it is glorious to see the respect and appreciation for each other that these fearsome opponents exhibit.  Like football, politics is brutal.  Would our Nation's leaders show such sportsmanship and be so humble as to help an adversary up off the field!  Obliterating a rival does not further the game.  Darrell Royal had a great friendship with Willie Nelson and his bunch.  Football and music.  It was said that songs found a home in his heart and kept harmony in his remarkable life.
Champions leaving the Wednesday gathering at the Historic Emporium found a short episode of freezing sleet had iced over windshields and door handles.  But, while they were inside enjoying the warmth of the ancient Charter Oak stove, they also enjoyed a luscious chocolate birthday cake, each slice generously dolloped with ice cream, in celebration of their favorite storekeeper.  Ethel said she and Town and Country, were responsible for the cake and The General stepped up to provide the ice cream, his usual contribution for any festive occasion.  Hardly a crumb was left.  Lovely Grandmother Gina's steady, melodious bass backed up all the musical endeavors of the Summertime Porch Band.  It will be some while before they are back outside, but music persists.  A big Gene Autry fan is looking to hear "The Cowboy Blues."  Champion friend Kaitlyn McConnell has a great piece on her website www.ozarksalive.com about McClurg and the McClurg Jam–music persists.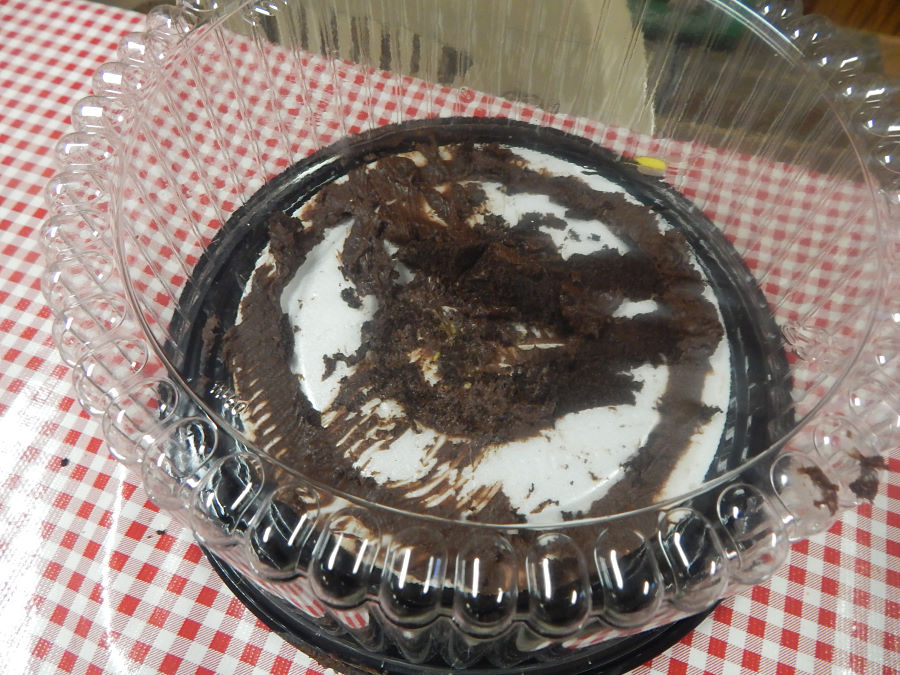 Burns Night is an annual party in honor of the life of Romantic poet Robert Burns, born in January 25, 1759.  In addition to his famous poems, he is well known for his contribution to over three hundred songs that celebrate love, friendship, work, and drink.  Because he exhibited great humor and tenderness, we still celebrate his birthday.  Joyce, The Cowboy's sweetheart, has her birthday on the 26th, and Champion epic hugger and photogenic Queen of Sarcasm celebrates on the 27th, also the auspicious 60th wedding anniversary of Beverly and Alvin Barnhart.  Congratulations.  Sherry's lovely daughter, Loneda, and James Brixey both have birthdays on the 30th.  James was 40 years old in 2012, so wow!
Say what you will about Texas (but be careful), the place has exported some lovely people.  Such a pair briefly owned lands in Champion before eventually settling north of Macomb.  These two were born in the same Dallas hospital though they only became significantly acquainted with each other twenty-two years ago.  Now, in retirement and, as it frequently happens, they are working harder than ever and getting big things done.  Among her passions are growing things, food and cooking.  She also is an avid Bluegrass fan.  He is a beekeeper and science nut who says he is a pretty good luthier but claims to be only a neophyte guitar player.  (He may just be shy.)  They plant one hundred trees per year on their new property as they get rid of the multiflora rose and other invasive species.  This busy pair made a pleasant sashay through the old neighborhood on Saturday, spreading cheer and excellent victuals on their way to the Historic Emporium.  Champions are scattered from Texas to Alaska and across the wide Atlantic.  Once a Champion, however briefly, always a Champion!  Looking on the Bright Side!