CHAMPION'ÄĒAugust 31, 2015
Orville's old barn
disappearing into the vegetation with a new patch of sky
showing through the roof'ÄĒthe only constant is change.
        The full Green Corn Moon showed itself magnificently on Saturday night all over Champion.  Scattered clouds only added to the drama as the big golden orb broke out and dazzled the Square and all roads leading to it from every direction.  The wide, wild, wooly banks of Old Fox Creek were awash in the glow and big trees on the edge of quiet fields and the Behemoth Bee Tree on the South side of the Square shot long moon shadows out into clear still spaces.  Revelers leaving Champion past midnight were shown rare sites, winding through narrow lanes with the big moon appearing first in this direction and then in that, tangled in the trees as coyotes gathered to provide night music with the frogs and cicadas.
¬†¬†¬† ¬†¬†¬† The Champion School Reunion will have the Square full again on Saturday.¬† Former students and their families and friends will gather again to renew old acquaintances and to relive a period in their lives that hindsight has told them was precious.¬† There will be surprises for some who have not yet seen the changes in first base.¬† 'ÄėChange is the only constant'Äô is something that is often said to soften the shock.¬† Take a tour of previous Champion School Reunions on the website at www.championnews.us.¬† While you are out there enjoying the pictures, listen to some music.¬† You'Äôll find Lonnie Krider and Wayne Anderson and Wayne'Äôs family singing 'ÄúOnce More.'ÄĚ
¬†¬†¬† ¬†¬†¬† Wayne Anderson'Äôs birthday was September 2nd, not the 30th of August as was reported numerous times in The Champion News.¬† He had such a beautiful send-off last Monday.¬† His life was full of the love of family, friends and music.¬† To be in the company of hundreds of others who were touched by his kindness, good humor and generosity of spirit was an honor'ÄĒmany said it was the sweetest one of these they had ever attended.
¬†¬†¬† ¬†¬†¬† A small Wednesday gathering at the Historic Emporium indicated that some frequent idlers were home working or otherwise meeting obligations in some responsible manner.¬† The Cowboy was there early in the day but did not linger.¬† The next meeting will likely reveal the adventures, excuses, and reports of activities important enough to keep them away from a favorite pastime.¬† Jacob Coon has been down at Champion recently.¬† Friends saw him there with his Dad last week.¬† An update on his health posted on-line by his aunt-the-nurse says that he is starting to school this week.¬† He will still have to be careful for a while:¬† he must refrain from contact sports and rough activity, but otherwise he is good to go again.¬† Jacob'Äôs friends are all glad to hear of it and hope for him that next summer is a lot more fun than this one has been.¬† He will probably enjoy the new paved walking path that winds along the edge of the woods down to the picnic grounds and back up around the green house.¬† Four times around makes a mile and the grant from the Douglas County Health Department made it happen for the Skyline School.¬† The DCHD has been a good ally for the school.¬† They joined with the Skyline R2 School Foundation in replacing the water fountains in the school with much needed modern versions.¬† They also provide blood pressure and other health screenings at the school each month.¬† They are at Champion on the last Tuesday of each month doing that as well.¬† Their website, www.dchd.org has a wealth of useful information on everything from how to avoid tick bites to the latest recall of foods contaminated by shards of glass and Listeria.¬† DCHD'ÄĒChampion neighbors!
        Betty Thomas, Larry Wrinkles and Wilma Hutchison all share September 1st as their birthday.  They probably all know each other and know who among them might be the oldest and the youngest.  Once people are old enough to vote, they are considered to be adult and age no longer matters.  Some of these folks have been casting ballots for some while now.  The 2nd was to have been Wayne's 79th.  The third belongs to Phoebe Ward.  She is the Mother of Richard and Kaye's beautiful granddaughters, Madelyn and Shelby.  Vernon Upshaw and Dailey Upshaw share the 4th of September for their birthday.  Dailey and Dean can be found most every Thursday evening at the Vanzant Community Building.  They enjoy the pot-luck dinner at 6 and then sit back for splendid entertainment as the musicians take turns singing and playing the music they like best.  Maybe that Happy Birthday song will come up this time.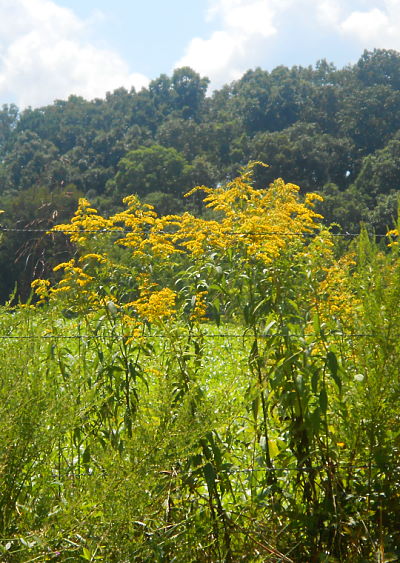 ¬†¬†¬† ¬†¬†¬† Linda will have The Plant Place open for business up in Norwood on September 8th.¬† Her mums and other fall plants will be ready to make your home place beautiful for your own enjoyment or to present a lovely view for any passing wagon train.¬† Linda was the big winner in the Fortnight Bridge Club Marathon on Saturday night.¬† Fourteen hours of bridge–17 rubbers–gave her a score of 16,870, followed by Veracruz with 13,870, and Brushy Knob with 13,420.¬† Champion had the pleasure of hosting the event and had a wonderful time in spite of an extraordinary string of poor hands.¬† She won the low money with a score of 5,960, so will not complain.¬† It amounted to $3.50.
¬†¬†¬† ¬†¬†¬† J.C. Owsley had some flattering things to say when he changed his profile picture on Facebook:¬† 'ÄúI stole this picture from www.championnews.us.¬† If you need a delightful read about life and people in a Missouri Ozarks community, I recommend it to all my friends who read and have some time to do so.¬† This weekly column does much more than report who had Sunday dinner with whom.'Ä̬† Kind words like these are not the only reason J.C. is welcome in Champion.¬† He comes for Bud Hutchison'Äôs trail rides and hopes are that he will make the fall ride sometime early in October.¬† Stay tuned for exact dates.¬† Meanwhile, Jerry Wilbanks posts on The Champion News facebook page:¬† 'ÄúSeptember 14-18:¬† The West Plains Wagon Club and the Gee and Haw Wagon Club will host their yearly wagon ride from West Plains to Mansfield.¬† Plans are to be at Champion on the 17th of September at noon.¬† Hope to see everyone there.'Ä̬† This grand adventure will be different this year as many of the roads over which the wagons roll have been washed and rutted in new ways by the unusual rains and the lush growth of weeds and shrubs may make the lanes seem more narrow.¬† Orville Hick'Äôs old barn is about to disappear into the vegetation and there is a new patch of sky showing through the roof.¬† The only constant is change.¬† Change has been big for Lannie Hinote up in Mountain Village, Alaska.¬† She has eaten her first beluga whale recently.¬† She said, 'ÄúI am not a fan'Ķ.it was tough and didn'Äôt have much flavor'Ķ.Will try it again if fixed another way'Ķ.This was raw.'Ä̬† The 'ÄėNotes from Hunter Creek'Äô was full of Alaska adventure, but it is fairly well figured the fish of the day was salmon and most likely cooked.
¬†¬†¬† ¬†¬†¬† In 2012, Noam Chomsky said, 'ÄúThe general population doesn'Äôt know what'Äôs happening, and it doesn'Äôt even know that it doesn'Äôt know.'Ä̬† Aristotle said, 'ÄúIt is the mark of an educated mind to be able to entertain a thought without accepting it.'Ä̬† Guess who said, 'ÄúLove thy neighbor.'Ä̬† Champions say, 'ÄúLook on the Bright Side!'ÄĚ