CHAMPION'ÄĒOctober 27, 2014
        At age 8 days Carson Cline made his first visit to Champion on Sunday.  His brother, cousins, parents, aunts and uncles, grandmother and friends all enjoyed a good look at him.  He is a fine looking fellow starting out in life with a wonderful support system.  He is a real Champion!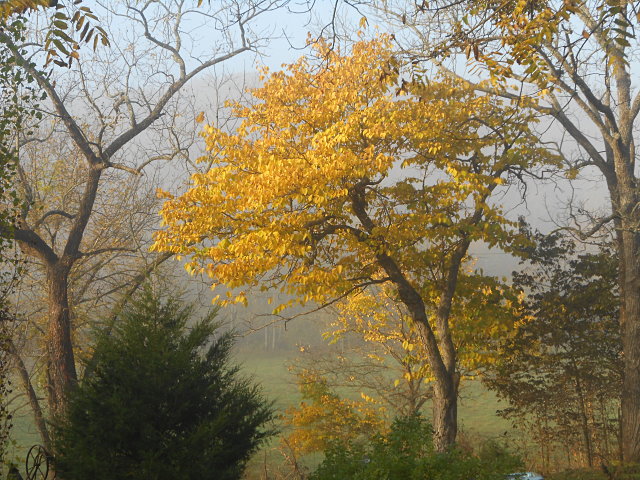 ¬†¬†¬† ¬†¬†¬† Halloween is just around the corner 'Äúand the goblins will get you-if-you'Äďdon'Äôt'Äďwatch-OUT!'Ä̬† It is All Hallows Eve that marks the time in the year dedicated to remembering the dead, including saints (hallows), martyrs, and all the faithful departed believers.¬† The theme of using humor and ridicule to confront the power of death shows up in the costumery and trickery, so enjoy the ridiculousness and irony with treats for the children, knowing that the sugar is not good for them.¬† 'ÄúThe Day of the Dead'ÄĚ in Latin American countries happily celebrates those dear departed ones with gaily painted skeletons bedecked with flowers.¬† In Celtic lands, the Beltane Fire Society observes Samhain on October 31st where Winter symbolically slays Summer in a great pageant full of drumming and fire and blue painted people.¬† Earliest Irish literature mentions the event as part of the time when preparations were being made for winter, when there were feasts where places were set at the table for souls of the dead kin.¬† Great bonfires were built and were thought to have healing and cleansing properties.¬† Certainly the Beltane Fire Society is doing its part in keeping the traditional Scottish skills of street theatre, music and pageantry alive.¬† The end of summer and rise of winter is celebrated in Champion with standard trick or treat fare and elaborate pumpkin art.¬† Locals spend time up on the wide veranda at the Historic Emporium gawking at the beauty of the season'Äôs changing and relishing sweet memories of loved ones gone on.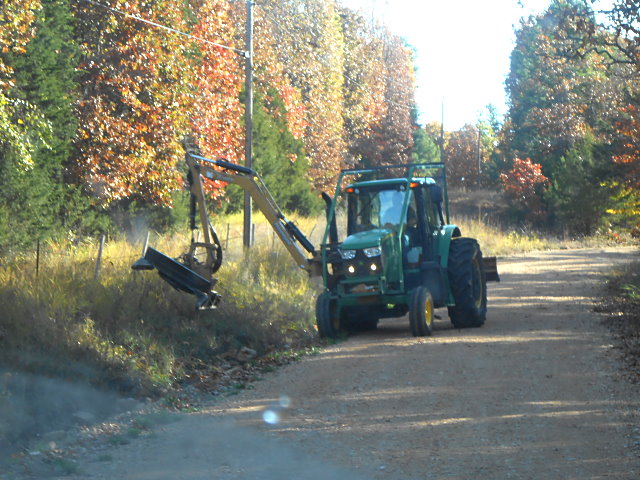 ¬†¬†¬† ¬†¬†¬† More things are visible from the road now as the leaves are falling and vegetation is wan due of the lateness of the season and the dry conditions.¬† Up and down the roads lately a very specialized tractor has been pruning and preening.¬† This instrument is operated by one of the fine gentleman of the Douglas County Road Works.¬† The bright green tractor has a closed in cab that is surely equipped with super safety glass sides and 'Äėsun roof.'Ä̬† It has a blade on the back, but the main attraction is an articulated bush hog boom mower.¬† 'ÄúArticulated'ÄĚ in that it has pivoting joints that allow the big chewing machine to operate overhead or at any necessary angle with maximum flexibility ('Äúarticulated'ÄĚ the impressed observer.)¬† The overgrown roadsides are now opened up so the school busses do not get scratched going through the tunnels.¬† In places things look rough and mangled, chewed-up, but the fallen leaves conceal some of the brush and by spring it will all be just glorious'ÄĒlike a bad haircut grown out again.
¬†¬†¬† ¬†¬†¬† Asked about the Dobbs Reunion, Laine Sutherland said that they missed Uncle Ralph Dobbs who passed away this past summer.¬† He was born in Bertha in Douglas County in 1922.¬† He graduated from Ava High School and joined the CCC.¬† He earned his bachelor'Äôs degree in agriculture from Southwest Missouri State and joined the U.S. Marine Corps in 1942.¬† He married his sweetheart, Sherry Sherwood, and they raised five daughters while he continued his education, worked as a county Extension agent, taught graduate level courses at the College of Education at MU and became a professor emeritus in 1985.¬† He raised top quality Registered Polled Hereford cattle.¬† He was active with the Central Missouri Honor Flight program.¬† Professor Dobbs lived to be 91 years old.¬† J.C. Owsley said, 'ÄúR. C. was my teacher, mentor, and friend for many years. The insight into adult education and group process skills that he shared contributed to my career success. His respect for his roots, love of polled Herefords, and his sharp wit will always be remembered.'ÄĚ

¬†¬†¬† ¬†¬†¬† The extended season has some gardeners still enjoying tomatoes, peppers, beans, and greens.¬† One family is overrun with turnips waiting on Lem and Ned to come do some trading.¬† Meanwhile, the thought of year round gardening is not an original one.¬† Jeffrey Goss Jr. is a Chartered Herbalist who has written articles for the Countryside & Small Stock Journal concerning winter gardening.¬† 'ÄúThe 365-day Vegetable Garden, no greenhouse, no plastic, no containers, no joke!'ÄĚ looks like it is going to be an interesting read.¬† Meanwhile he suggests that 'ÄúThe Harris Farmer'Äôs Almanac'ÄĚ is most suited to the Ozarks of all the major almanacs.¬† He says that the almanac is available through Shelter Insurance.¬† Rick DeGraffenreid of the Ava office says that they generally get the almanacs in toward the end of November and he will include their arrival in his weekly ad in the newspapers.¬† He says that Shelter Insurance has been giving these away since 1946, and that people in this area really rely on them. ¬†Linda'Äôs Almanac from over at The Plant Place in Norwood is a compilation of Ramon'Äôs Brownie Calendar and Blum'Äôs Almanac.¬† With luck, next year the amalgam will include this new old publication.¬† Thanks, Jeff and Rick.
¬†¬†¬† ¬†¬†¬† Vanzantians were busy over the week end.¬† The General, his amazing wife and other family members took a stroll down memory lane with a tour of the old home place once occupied by Morton and Mable Upshaw.¬† They scrambled up bluffs that may have had a hidden panther den long ago and where grapevine swings out into the air provided plenty of excitement.¬† There was also talk of a search for water one time'ÄĒaided by dynamite.¬† Internet pictures and videos of the outing sent waves of nostalgia through extended family members.¬† Other day trippers paused for lunch at the Vanzant Country Store where River cooked up some excellent burgers and curly fries and had genuine ginger ale on hand to wash it down.¬† Neighborhood changes may be turning this thriving interim enterprise into 'ÄúRiver'Äôs Bistro.'Ä̬† Bravo!
¬†¬†¬† ¬†¬†¬† Oklahoma neighbor Woody Guthrie had a sign on his old guitar that said, 'ÄúThis Machine Kills Fascists!'Ä̬† Scotland'Äôs Bobbie Nicholson has adopted the slogan and it is a good one.¬† A friend recently posted, 'ÄúNot voting is not rebellion; it is surrender.'Ä̬† Whatever your views, the voting franchise has been hard won and hard maintained.¬† So much is at stake.¬† Participate!¬† 'ÄúThis land is your land, this land is my land from California to'Ä̂Ķ Champion!¬† Looking on the Bright Side!