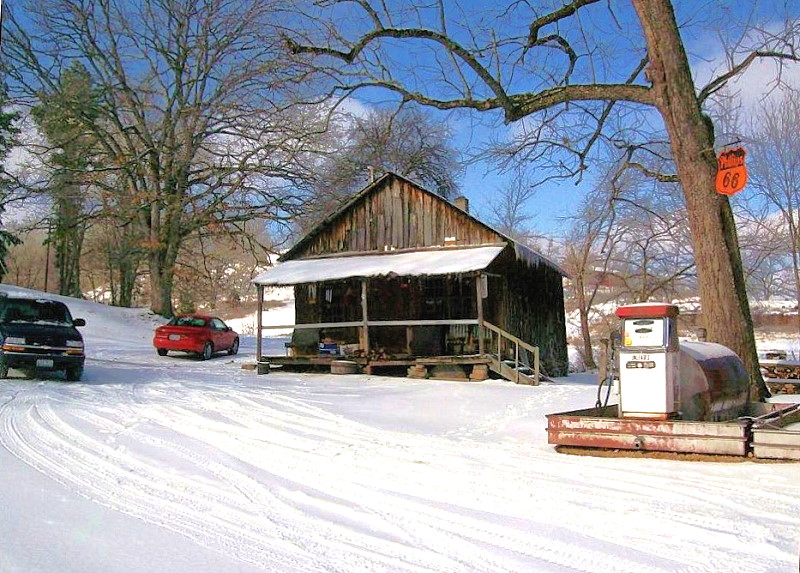 Photo by Brent Nunn
Wednesday was another lovely day down on the wild, wooly banks of Auld Fox Creek. Shelby came from the Douglas County Health Department to help Champions keep track of their blood pressure. Henceforth, she will be at Henson's G & G on the 4th Wednesday of each month. Hopes are that she can rework her schedule a little so that she can stay just a little bit longer into the morning. This last Wednesday she had to scoot to get to a class she teaches about diabetes and healthy eating. She says diabetes is on the rise in this area so we are glad that the DCHD is actively addressing the problem and we are always glad to see Shelby. Thanks!
Brent Nunn shared a picture of the old Champion Store on line. It was a great shot of the old building in the snow. He said, "I remember the older gas pump, before unleaded gas. The old pump had a manual crank that was turned by hand to get gas. The road ran in back of the store and followed Fox Creek past where we lived, and on to Denlow." Mark Hutchison responded to the picture and said, "I remember going there with my grandpa Herbert Hutchison. Life seemed more fun in those days–sitting on soda crates, eating a candy bar and visiting with Ed Henson. For a little boy life didn't get much better than that." Jasper (Donnie) Alsup, who lives in Oregon now, said that the school bus stopped there on the way to Skyline every day. He caught the bus up the road with his cousins, Proctor boys. He is glad to know that some of the good things about the world have not changed.
Around here we have beautiful landscapes, great live water, a pretty good infrastructure, a lot of nice people, and something that is called a 'live-and-let-live' attitude. All of that goes to make this a pleasant place to enjoy life. One of the keys to getting along is that 'let-live' part of the equation, as in 'mind your own business.' A newcomer, someone whose parents or grandparents were not born here, need not stroll into the community with the idea of improving it overly. Improve yourself all you like, and if you have done a good job of it and set a good example over a few decades, you might perceive a subtle shift toward your goal, though there is no guarantee.
Judy Sharon Parsons
That recurring theme about the swift passage of time is again appropriate. We will soon turn a page on the calendar, looking at February 1st, 2020. That is a big day for young Zack Alexander, a handsome adolescent with a back belt in Taekwondo and an appreciation for Tasmania. He has Champion grandparents. Just on the other side of Fox Creek from the Historic Emporium lives a man, Linda's husband, who will have completed his 8th decade and will embark upon his 9th on the first. Good luck to you, young and old. Happy Birthday.
On February 2nd friends remember a great woman. She said, "I have loved loving you guys." She knew then that she was fading away and she did, but she is still very much in the memories of her many friends and family and in the conversations of her precious granddaughters who called her Nana. Her youngest grandchild, Felix, just turned two years old. He may not remember much about her because she passed away when he was so young, but he looks like her and has that open loving way that she embodied so beautifully. We smile when we think of you, Judy.
On Groundhog Day we consider Punxsutawney Phil. Some here are fans of the folklore, but do not necessarily ascribe to it, since Gobbler's Knob is about 850 miles northeast of Brushy Knob, the weather patterns are dissimilar. Still, we liked the movie and are willing to listen to Sonny and Cher sing, "I got you, babe" over and over. February 2nd is about half way between the Winter Solstice and the Vernal Equinox, so it is a pretty good bet that we will have six more weeks of winter. Three remarkable ladies enjoy the day for their birthday. Angie Heffern up in Springfield, tornado survivor and mother of sterling Champion grandchildren, shares the day with talented artists and grandmothers Charlene Dupre of Norwood and Florida, and Connie Grand, grandmother and quilter deluxe.
Some folks do not understand Roman numerals and do not know what NFC and AFC mean. Yet they will be in front of their televisions for the LIV Super Bowl. They will enjoy the game without the frenetic audio–just with some relaxing music playing in the background. There will be beverages and snacks and sound speculation that a win for the Chiefs will result in many little boys being named Patrick and little girls named Lavon come November. Good luck. Go Chiefs—you wonderful Champions! Looking on the Bright Side!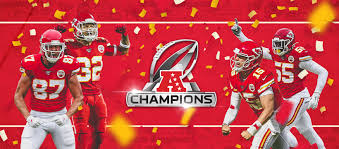 Kansas City Chiefs