CHAMPION'ÄĒApril 27, 2015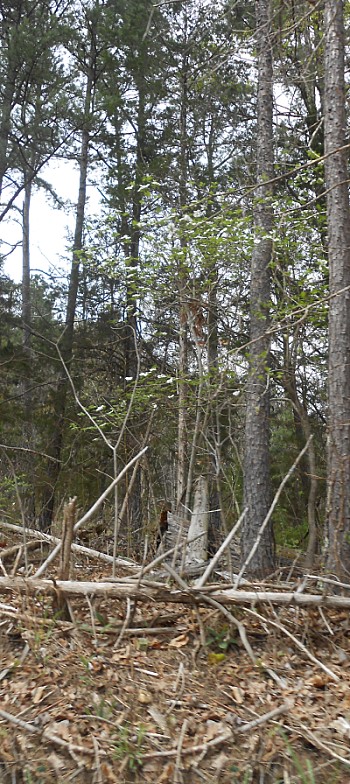 Even with the relentless winds on Saturday some Champions were grateful not to have to be wearing their coats to mow their yards.  Picking ticks out of one's long handles just does not seem fair.  Fair weather will come in waves intermingled with cool snaps, storms and gentle rains.  If the lilacs can stay on the bushes in this kind of wind, who is willing to complain.  Standing solitarily here and there amid the ravaged aftermath of some particularly brutal logging are a few spindly dogwoods blooming to beat the band.  It is heartbreaking on the one hand to see the devastation and heartwarming on the other to know that those little trees, freed from competition, may reach their full potential.  Change is constant in Champion.
¬†¬†¬† ¬†¬†¬† This is an exciting time of the year for school children.¬† Teacher Terri Ryan was excited about the cinnamon rolls that would be waiting for her when she arrived at school on Friday.¬† There had been a 'ÄėMuffins with Moms'Äô day and there are many interesting days ahead as the school year winds down.¬† Silvana Sherrill in the second grade has her birthday on the first day of May'ÄĒMay Day.¬† That is a special birthday.¬† She shares it with Mrs. Ryan, the cinnamon roll lover, and with bus driver Beth Caudill.¬† They all share the auspicious day with a special double cousin who lives in the Magic Rio Grande Valley.¬† Silvana'Äôs mother, Nathaly J. Sherrill, had her birthday on the 19th of April.¬† She is the owner operator of The Finishing Touch Nail Studio in Ava who will get double business when this very special cousin comes to town again.¬† Madison Shearer is in the 6th grade.¬† She shares her birthday on the second of May with (Brenda) Lee Mastin, a good friend who lived west of Ava for some while and now lives in Springfield.¬† Her granddaughter is the famous Olivia Trig Mastin of Mill Pond crawdad fame.¬† Madison will be the age of young ladies who are in the sixth grade and (Brenda) Lee will be seventy!¬† They share their birthday with Nellie Hector Miller, an Arkansawyer, returned to her Texas roots, who will be 100, i.e. one hundred years old.¬† She was the fourth of four sisters followed by three brothers, cotton farmers in Texas.¬† Nellie did not spend much time in the field, but kept house and helped her ailing Mother in the kitchen.¬† These days she goes to exercise class twice a week and teaches Sunday school to ladies 80 years and older.¬† She admonishes them to keep their eyes open in class, lest they be mistaken for dead.¬† Aunt Nellie has a sense of humor.
¬†¬†¬† ¬†¬†¬† In 1864, President Lincoln wrote in a letter to Colonel William F. Elkins, 'ÄúI see in the near future a crisis approaching that unnerves me and causes me to tremble for the safety of my country.¬† Corporations have been enthroned and an era of corruption in high places will follow, and the money power of the country will endeavor to prolong its reign by working upon the prejudices of the people until all wealth is aggregated in a few hands and the Republic is destroyed.'Ä̬† He was a far thinking individual who today has admirers across the whole spectrum of political belief'ÄĒfar left to far right and all in between.¬† There is definitely some trembling going on.¬† Beliefs are strong and rarely change.¬† The road to Damascus does not pass through Champion.¬† A person could get there from here but it would take some doing.¬† Mr. Hubble was a far thinking man too.¬† He was born in Marshfield, just a few miles from Champion.¬† His discoveries and insight are allowing us to see far beyond the limits of our eyes into the amazing and expanding universe in which we are but a speck.¬† It is good to get a perspective about our relative insignificance, but good also to see that each of us is as significant as any other.¬† Our participation in the political process is our only tool to preserve the Republic.¬† Apathy does not fly.¬† Register and vote.
¬†¬†¬† ¬†¬†¬† Pete Proctor had the honor to sit right down front at the dedication of the Vietnam Veteran Memorial at the College of the Ozarks on Wednesday.¬† There were hundreds in attendance, veterans, friends and family members as well as students of the College and local school children.¬† A large group of Patriot Riders and members of the Rolling Thunder had already assembled in Branson preparing to gather, 35,000 strong in Washington D.C. for Memorial Day.¬† Pete said the dedication was very impressive with a presentation of colors, a 21-gun salute, and Taps.¬† Little children opened the ceremony laying roses at the base of the statue that depicts three soldiers in combat uniform poised for action.¬† The statue is flanked by two granite walls that contain the names of all 1410 Missouri Veterans.¬† Each of the 1410 casualties was represented by a red rose.¬† Pete reminds us that there are still 1,700 missing soldiers of that conflict.¬† They have just discovered remains of a young soldier from Centralia, Missouri and his name will be added to the memorial.¬† Jerry Davis, President of the College of the Ozarks said the project was long overdue.¬† They have been working on it for four years.¬† Pete said he shook a lot of hands and that there was a lot of emotion being expressed, 'ÄúWelcome home.¬† Thank you for your service.'Ä̬† He says it is something that everyone ought to get to see.¬† Take the first exit off of 65 just past Branson.¬† It is easy to find.
¬†¬†¬† ¬†¬†¬† Saturday found Pete mowing the Denlow cemetery.¬† He and Robert Upshaw keep the cemetery and the parking area around the church and pavilion in good shape.¬† They do it just as their fathers did.¬† It was not unusual to see Cletis Upshaw there in years past just sitting on a bench or out in his truck.¬† Many Champions would like to go back to spend another hour listening to Cletis.¬† He knew every nook and cranny in these parts and what happened in each one going way back.¬† The General posted a note on the internet, 'ÄúThe Denlow School Reunion for 2015 will be Saturday, 23 May (Memorial Day weekend) at the Denlow Church and Cemetery.¬† This year and future reunions East Fairview and Denlow School will be held samueltam, simitameous, simlar, ah, ah, at the same time.¬† Hey, we could have a spelling bee:¬† Fairview vs Denlow students.¬† I will disqualify myself from the competition as I attended both schools.'Ä̬† On Sunday of the Memorial Day weekend Proctors will gather at Denlow from all across the country for their reunion.¬† The family will be reminiscing all over the place.¬† For example, that beautiful log house just east of Denlow on 76 Highway was built by Andrew Proctor.¬† He was born in 1869.¬† The house was last occupied by Dess Coffman.¬† It has fallen into disrepair, but even as its bones are starting to show, the house shows itself to have been well constructed.¬† Imagination fills in where history is absent and a person can easily imagine what life might have been like living there in the early part of the last century.¬† If these hills could talk, or if we had paid better attention to Cletis, less history would be absent.
        The spring social season is well underway.  Bud Hutchison and his bunch will head up the Spring Trail Ride in Champion on the morning of May 6th. They will take off going East or North and go ambling around the way they do.  They will have adventures and stories to tell when they wind up back at their starting point a few hours later.  No word is out yet about whether Cowboy Jack will join the group.  If he does, the outfit will be having more fun. Wilma will come and organize a good photograph and another epic escapade will go down in the books.
        These are busy days getting the garden ready, gathering with family, planning the spring and summer events.  River's yard sale has been postponed until the good weather on the week end.  A trip for manure might be possible with a few dry days ahead. There is spring cleaning to do and regular obligations that require attention. Meanwhile, many thousands around the world are in dire straits.  The huge earthquake in Nepal has affected much of the population of four countries.  The erupting volcano in Chile has covered large areas of several neighboring nations in ash.  Our own west coast is in severe drought and the east coast is experiencing tornadoes for the first time.  With prayers for those suffering and gratitude for our safety Champions are Looking on the Bright Side!