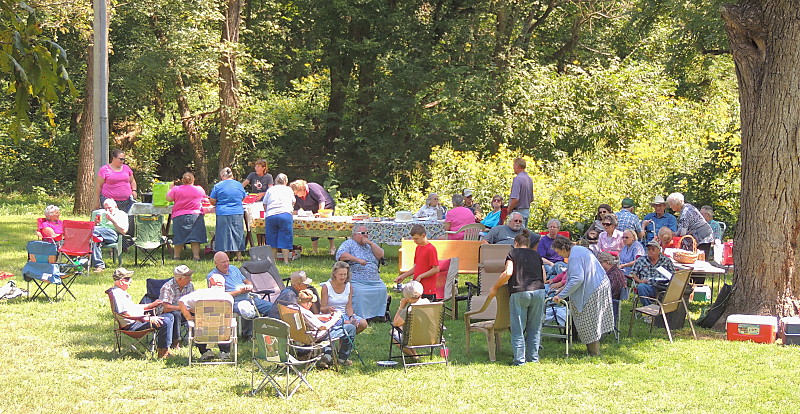 It was a beautiful day for the 33rd annual Champion School Reunion. Those enjoying a pot luck lunch and the pleasure of each other's company were: Elsie Curtis, Debra Massey, Kaye and Elizabeth Johnston, Ruth Daharsh, Ethel Anderson, Robert Brown, Connie Brown, Lee Brown, Paul Brown, Louise Rinebold, Fae Krider, Tanna and Kalyssa Wiseman, Robert Graham, Tommy and Barbara Sutherland, Wayne and FrancesSutherland, Irene Dooms and Beverly, Larry Floyd, Vivian Floyd, Harley and Barbara Krider, J.R. and Janet Johnston, Alvie Dooms and Garret, Wes and Pat Smith, Doug and Sami Hutchison, Delmar Dooms, Modeen McGowan, Benton Hutchison, Darrell Hutchison, Royce and Jo Henson, Tom and Valli Mills, Alex Mils and Alexis Berks, Vaugh and Cara Henson, Whitaker and Larissa Henson, Linda Watts, David, Mindy and Chase Cauthron, Roger and Foster Wiseman, Amy Hicks Collins, Pete Proctor Wilda Moses and Betty Henson.
[
enlarge
]
Some of the Henson bunch on the road to Champion.
Sisters Ruth Daharsh and Louise Rinebolt walked down to Clever Creek just for the fun of it.
Ruth and Louise came with their mother Ethel Anderson from Kansas for the Champion School Reunion.
Taegan Krider, Kalyssa Wiseman and Luxe Krider enjoyed visiting with a horsewoman from Drury and her horse.
There were ten of them in the Henson Bunch: Royce and Jody Henson, Valli and Tom Mills, Alex Mills and Alexis Berks, Vaughn and Cara Henson, and Whitaker and Larissa Henson.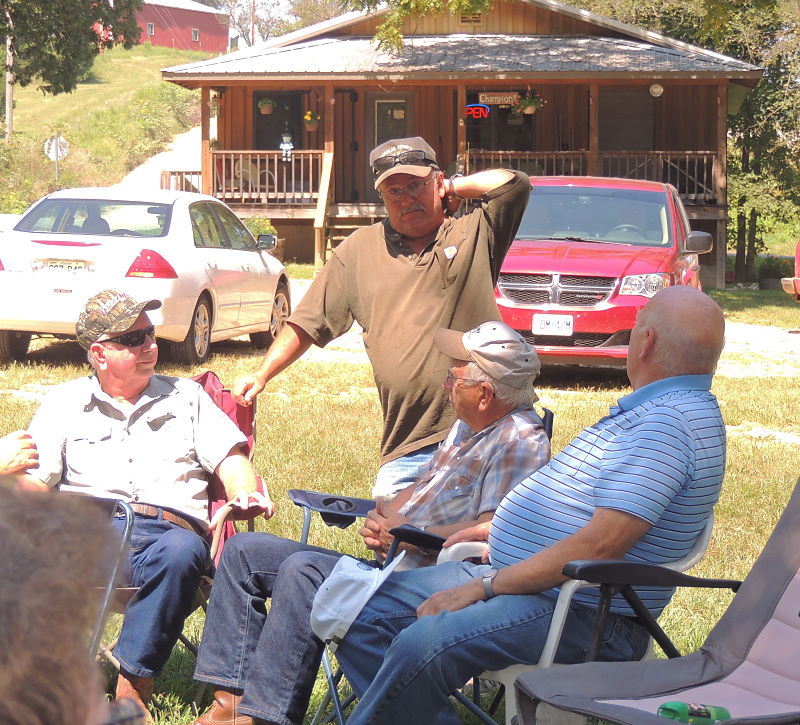 Darrell Hutchison, Wes Smith, Benton Hutchison and Harley Krider had things to talk about.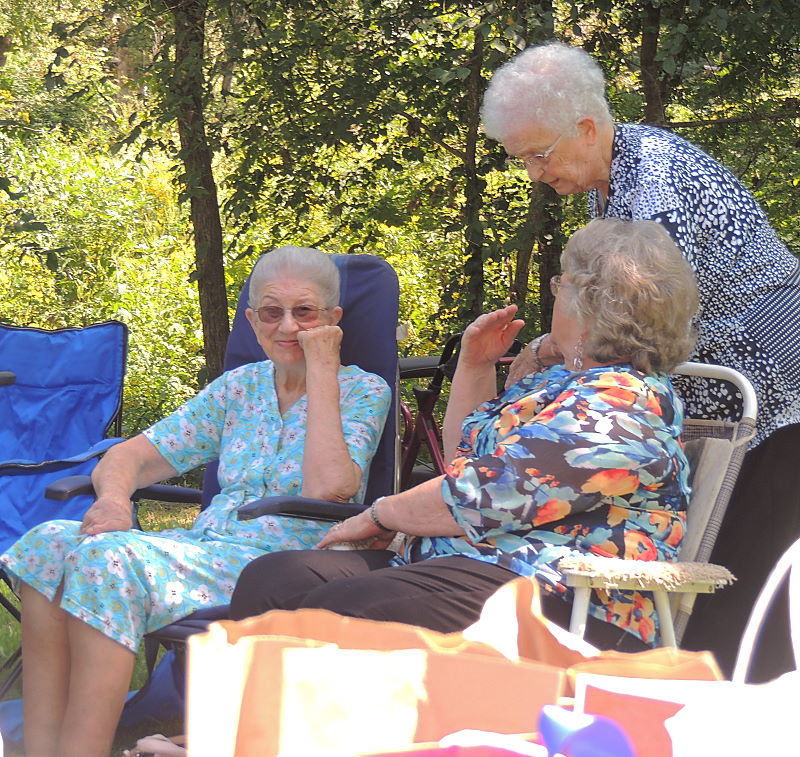 Frances Sutherland, Amy Hicks Collins and Barbara Sutherland enjoy a visit.
Champion School Alumni…(standing L to R) Vivian Krider Floyd, Irene Keller Dooms, Darrell Hutchison, Doug Hutchison, Janet Johnston (not a student but very photogenic), Harley Krider, J.R. Johnston, Benton Hutchison, Frances Sutherland, Alvie Dooms (seated L to R) Royce Henson, Tommy Sutherland, Wayne Sutherland. Also attending, but not pictured are students, Amy Hicks Collins, Elsie Curtis, and Ethel Anderson.
No Comments Yet
Sorry, the comment form is closed at this time.