Sometimes it is wonderful to be wrong. For example: We thought there would be few walnuts this year because we saw hardly any blooms in the spring, but the harvest was phenomenal! Then it was generally figured that our fall colors would not be particularly spectacular because the summer had been so dry, but the sassafras and dogwoods and mulberries and sumac are telling a different story. Then we thought we had seen the last of Wilbur, but he showed up Wednesday to glean tomatoes out of the compost. Another mistake had to do with the new typesetter at The Douglas County Herald, Tiffany. In a conversation welcoming her to the staff, she seemed to be suggesting that The Champion News was about twice as long as it needed to be. Rethinking the conversation, that was probably not what she implied, and we may have jumped to conclusions. An email arrived from regional manager, Kimberly Combs, saying "We do not have a limit on words for your column. You are welcome to write as much as you want. Normally, we are looking for copy to fill pages." So, the good news is the words may flow freely, though, as to quality, perhaps less is more, which is advice often given by real writers. Tiffany is the sixth or seventh typesetter with whom we've become acquainted since 2008. It's a difficult job and the changes to The Herald over the last couple of years have been unsettling. They say change is inevitable, but sometimes it takes a while to adjust. Good luck to Tiffany, from folks on the Bright Side.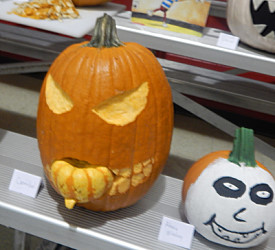 The community turned out in a big way for the Skyline R2 School Fall Carnival Friday. Local merchants contributed interesting items for the silent auction. Imaginative games and contests kept the fun and laughter going all evening. Talented pumpkin carvers competed for the grand pumpkin prize. Mr. Luna said he had never seen so many baked goods as were covering the library tables for the cake walk. Had Mary taken the chance this time, she might well have won her first cake ever in all her many miles of cakewalking over the years for every good cause. Mary is a good sport. She and Bob made it all the way over from Studibakerville for chili, Frito pie, and hotdogs. Skyline VFD fire fighters, students, staff, parents, grandparents, alumni, and nice folks like Bob and Mary came together for the fun of it and to support our great little rural school. The PTO reported a profit of $1800.00, which they will doubtlessly put to good use for the benefit of our students.
A Champion football fan, new to the sport, surprised herself by shouting, "Get that so and so!" Realizing that she found herself almost happy when a player on the opposing team was hurt during the game gave her pause. The players are full of adrenaline, energy, and excitement, but they are not angry. Often players are seen helping an opponent up off the field they hit so hard. They are competitors, the opposition, but not the enemy. They have respect for each other, understanding that there is no game unless there are two teams. That is quite a lesson for a grown up old person to learn watching football for the first time. Anger serves no purpose. Too bad the Chiefs had a hard time in Tennessee, but they will live to play again. Hopefully they will be more successful in the future. The best hope is that lessons learned from football can translate into healing some of the divisiveness that seems so pervasive these days. As the World Series begins, we will see if we can root for both teams like Champions! Looking on the Bright Side!