Phyllis Proctor is about to have her second vaccination.  She said Pete had chills and felt bad for a while after his second shot, but it sounds like he is doing better.  He and other members of the American Legion have stayed busy this whole last year officiating at the funerals of Veterans.  They were sometimes called on twice a day and were often called far afield.  It is a moving ceremony for the families of those Veterans being honored and they appreciate the solemnity and dedication of the Legion officers.  Recently another post up north of here has been certified to perform the ceremony which will ease things for Pete and our other local officers.  When Thomas Edison needed a wheelchair, his friend, Henry Ford, bought one too so they could have wheel chair races.  That is a mark of real friendship.  Phyllis said that the American Legion has wheel chairs out on loan to local Veterans.  If you have one you no longer need, they will gladly accept it as a donation and will put it to good use.
Elderberries, lilacs, dogwoods and those beautiful non-bearing Bartlett pear trees are swelling and budding and leafing.  March is marching on as we progress into Spring.  Does that make us progressive?  Two people looking at the same field may see it differently.  One sees a sea of weeds to be dealt with, while the other rejoices in the wildflowers.  Attitude might be the difference.  Looking back through the archives here, the same bunches of daffodils, the same creek crossings and distant vistas show up about the same time every year.  The website began to regularly have photos attached in about 2014.  For the seven years before that, all the pictures were painted with words.  Music links came along a couple of years ago, so progress is being made.  A neighbor in Vera Cruz called to introduce TCN to Lou and Peter Berryman who are purveyors of old time music in the folk/cabaret tradition.  There is something about the old time music that is comforting and reassuring.  Describe what progress you are making or what comforts and reassures you in an email to champion@championnews.us or let John deliver those good words in a letter to The Champion News, Rt. 72 Box 367, Norwood, MO 65717-9446.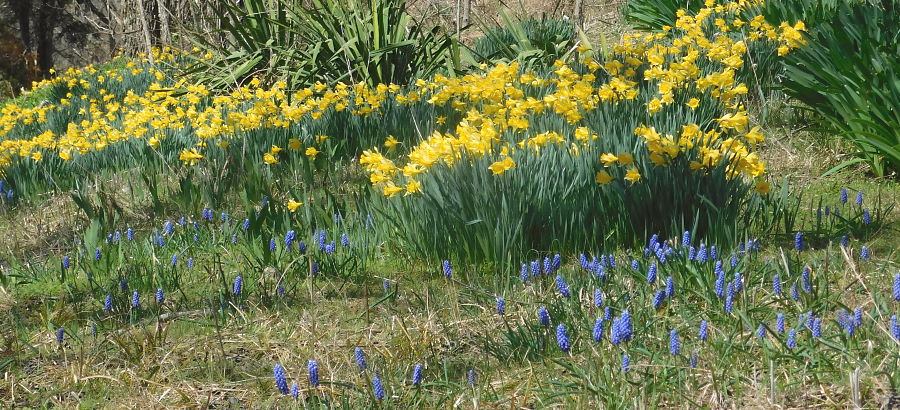 Some of the synonyms for the word 'liberal' are tolerant, unprejudiced, broad-minded, open-minded, enlightened, and forbearing.  Others are abundant, ample, and generous.  Marge is liberal in her use of chocolate chips when she makes cookies for Doug.  She has not been baking much lately, so he has had to eat store-bought cookies.  "Poor Doug," she says, but he is not complaining.  (She did write that she made brownies using their abundant garden zucchini that she shredded, froze and brought with her from Wyoming.)  Esther always liked to cut her pies in five pieces so that everyone had a generous slice.  Days are suddenly getting longer and warmer with copious amounts of sunshine.  Among the few complainers concerning the changes of the seasons are those with ample dislike for lawn mowing and picking ticks, yet they forbear to keep peace in the family.  'Family' is another of those words full of deep good meaning, though there are hardly any other words that convey that special significance.  If you are lucky enough to be part of a tolerant, accepting, affectionate family then you are liberally blessed.  Champion—Looking on the Bright Side!