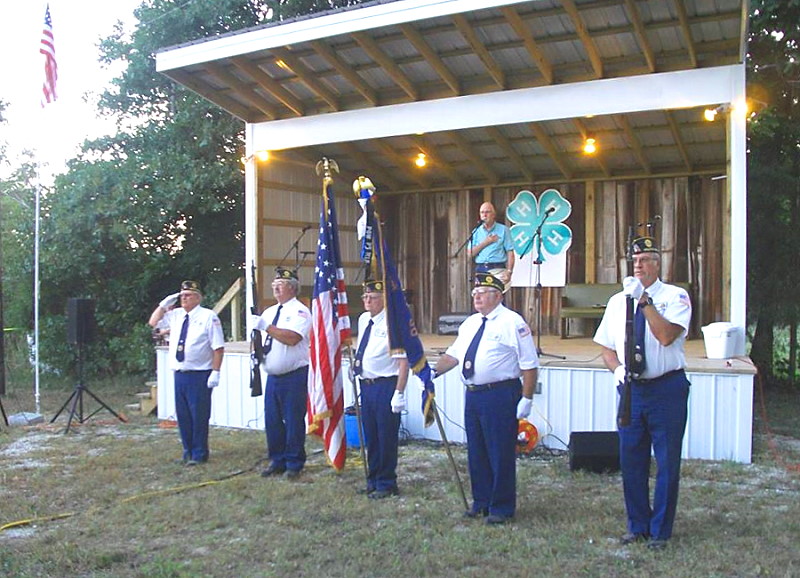 Steve Moody on stage and the Veterans from the American Legion Post 30 in Mountain Grove, kicking off
the Holt 4-H Picnic with the National Anthem and the presentation of the Colors.
The longest lunar eclipse of the century was visible in Australia, New Zealand, Europe, Africa and Asia and the final stages were visible in parts of South America, but not in Champion or any part of North America. The moon, however, shown in its full splendor between the clouds and after they had dissipated and moved on. Mars the Red Planet glowed–a brilliant red dot. Celestial events offer us an expanded perspective–a good thing. Marvelous weather made for a great Up and At It 4-H Holt Picnic. Sherry Bennet, Sharry Lovan, David Vaughn Jr. and Pete Proctor posted pictures and reports on the internet for those who were unable to attend–great music, great food, games with good friends and neighbors—-all for a good cause. The young folks of the 4-H Club pledge: "My Head to do clearer thinking, my Heart to greater loyalty, my Hands to larger service, my Health to better living for my club, my community, my country and my world."
Sonja Hodges is a Health Educator with the Douglas County Health Department. She was at Henson's Store on Friday doing blood pressure screenings and promoting a program to help prevent type 2 diabetes. Risk factors for people 45 years old and older are: being overweight, having a family history of type 2 diabetes, being physically active fewer than three times a week, or having had gestational diabetes or having given birth to a baby that weighed more than 9 pounds. The health department is offering a free Prevent T2 program. Contact DCHD at 417-683-4174 for more information. Sonja says having prediabetes means your blood sugar level is higher than normal but not enough to be diagnosed as diabetes. This raises your risk of type 2 diabetes, heart disease, and stroke. It is not just a matter of having better quality of life—feeling better, but the financial costs are significant to you and to your overall community.
Poverty charges interest. If you cannot pay to clean your teeth, next year pay for a root canal. If you cannot pay for a new mattress, next year perhaps you can pay for back surgery. Low wages are not good for anyone. The statutory measure, Proposition A (Right to Work) is on the ballot because hundreds of thousands of people in Missouri signed a petition to give voters a choice in the matter. There is some evidence of economic advantage in right to work states. But evidence is lacking that right to work, rather than other factors, is the cause. The whole point of the bill is to diminish permanently the power of unions. There is no evidence what-so-ever that unions pose a threat to the people of the state of Missouri. They only pose a threat to the profits of greedy corporations. Unions have always been a benefactor for every worker in the state, regardless of union affiliation. Work place safety, hourly wages, benefits, 40-hour work week, paid vacation, fair bidding and a long list of positive working conditions all come directly from collective bargaining by strong worker unions. The ballot language is designed to be confusing. The gist of it is if you own a helicopter, this bill is for you. If you cannot afford a helicopter then you cannot afford to pass this bill. President Ronald Regan said, "Where free unions and collective bargaining are forbidden, freedom is lost." One Old Champion has new-found appreciation for the gentleman, a union member and former union president.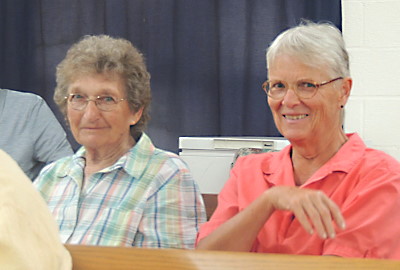 Cathy and Bonnie
Cathy Odneal did not know if she would be able to stay for the whole evening at the Vanzant Jam on Thursday, but she did. After her fancy procedure up at Barnes Hospital in St. Louis, she was cautioned to 'take it easy' for a while. She is following directions, but she was ready to be out among friends again and to enjoy the music. She said she left feeling better. That seems to be the case for many of us. Music has healing properties and the wonderful pot-luck is the best meal of the week for a number of bachelors. Supper is at 6 p.m. and the music starts at 7. Everyone is welcome. Bring your acoustic instruments and your singing voice and have some wholesome fun at the Vanzant Community Building every Thursday.
The summer picnic season is on. We have just enjoyed the Vanzant Picnic and the Holt 4-H Picnic and now the Skyline Area Volunteer Fire Department Picnic is coming up on the 10th and 11th of August. Merchants are already setting aside nice things to share for door prizes. The picnic grounds are being groomed and excitement is building. In addition to providing some great family activity and entertainment, the proceeds from the picnic go toward operating expenses of the fire department. This is a vital organization for the community. Our firefighters are all trained first responders. They protect our homes and property and are there for us when we have serious health issues or accidents. The picnic is a great way to show your support and appreciation for our volunteers. They are all Champions.
Gardeners are busy with the harvest. Beans and black-eyed peas are going in the jars. The garlic braids are hanging and herbs drying against the winter when they will help us remember glorious summer. A few beautiful cool days have had some old folks out planting for a fall harvest
more cucumbers and squash. Perhaps some beets and greens can go in soon. Meanwhile, a big sliced tomato on the table at lunch is a wonderful treat. Cool weather has encouraged weeding that might otherwise have gone undone or have been done under duress. The garden always has some chore ready to be done.
School will be starting again soon. Hopes are that teachers and staff have all had a good break and are ready to get back to the important task of educating our young people. We need bright, critical thinkers to take over. Soon enough they will be running the world, a very different world than the one where we old retired people grew up. Thanks to the hard work and caring of our education professionals, they stand a pretty good chance of salvaging some of the messes we have made. The 'Save a Label' program is still going on. All those bar-codes from the Best Choice and Always Save grocery products can be redeemed for cash that gets put to good use in our little school. Most of the General Mills products have Box Tops for Education coupons that are worth $.10 each. Just collect them and the bar-codes and drop them by the school or send them in the mail: Box Tops, Skyline R2 School, Rt. 72 Box 486, Norwood, MO 65717.
Happy birthday to Clark Shannon on August 3rd. Some of his friends call him Sparky behind his back. In the U.S. there are about 10,800 births per day. Jim Reeves sang, "Welcome to my world. Won't you come on in. Miracles, I guess, still happen now and then" in Champion! Looking on the Bright Side!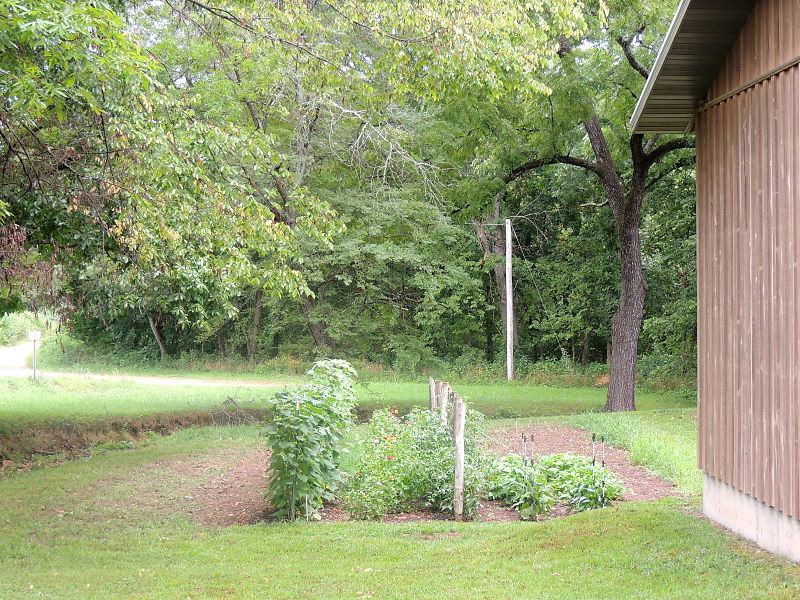 A very tidy Champion garden!