Felix Parsons at 6 months.
It was a grand birthday celebration for the Nation last week. The crowd swelled to near fifty over at the Brush Creek Farm where The General cranked home-made ice-cream until everyone had his fill. Birthdays which have slipped by The Champion News include that of Beverly Barnhart, who celebrated with Alvin on July 2nd. That was also the birthday of Skyline 3rd grade student, Jasmine Hutson. Virginia Canada, who now lives closer to us up in Columbia had her special day on the 5th. The Dalai Lama was seen on-line celebrating his birthday with Willie Nelson on the 6th. Janet Burns was probably partying that day as well. Young Felix Parsons was six months old on the 6th. He weighs over 17 pounds now and is one of those very young people who seem to have the wisdom of all the ages in his eyes. Walter Darrell Haden was born July 6, 1931. He passed away in 2014, and his friends wonder just what kind of song he would be able to write today, considering that his tune, "All the Late News From the Courthouse," created such a stir in Ava that it was banned from the radio back in the day. Kruz Kutz has a great grandmother who lives on Cold Springs Road. His birthday is the 7th of July. That happy birthday song resounded at the Vanzant Jam on Thursday for JoAnn Newberry, celebrating on the 9th. Skyline kindergarten student, Bentlee Seaborn has a birthday on the 10th and second grader, Jude Hicks will have his birthday on Bastille Day, July 14th. Down in Texas, the fair Sophia Zappler will be 16 on the 13th. Your Champion friends and family wish all of you a Happy Birthday and a great year ahead.
Lucas on the keyboard.
Some thought that the Starvy Creek Bluegrass Festival would decimate the music circle at Vanzant Thursday, but it proved not to be the case. While a number of regulars were absent, newcomers and musicians, seldom seen, filled in the ring nicely. A ten year old keyboard player named Lucas from Chandler, Arizona was a big hit. He is the grandson of J.P. and Rosa Roy of Drury. He played a lively and complicated piece on his Yamaha electric keyboard which impressed even the most accomplished musicians in the house. Young Thomas Jarnagin had a busy day and was passed out cold in his Mother's arms until his Dad, Todd, sang, "You are My Sunshine." That woke him up, but before long the two year old was ready for bed and called it an early night. His Granddad enjoyed the visit. He had been looking forward to it for a long time and will fairly well tell you that Thomas is the world's best grandson. Dwayne Collins was pretty happy to be in the presence of his twin granddaughters. They will be in the neighborhood for a few weeks, making the whole place prettier. They love to hear their beautiful Grandmother sing. It is most encouraging to see young people enjoying and participating in the traditional music of this part of the world. Talented young folks like Dave Bean, Bo Parker, Elias 'Banjo,' and Darrius of Cabool, all of whom played that night, will carry it forward and keep the music going. Good cooks and good neighbors will keep the potluck supper going as well as the fellowship.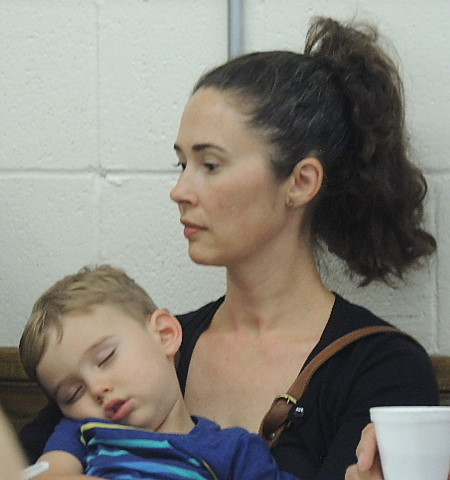 Young Thomas in his Mother's arms.
Good news comes from Barb Krider up in Elmwood, Illinois: "Harley had a great day yesterday. Tubes out. Walking and talking. Much more alert. Can talk on the phone and appreciate visitors." Friends and family in Champion who have been following his progress are all encouraged. Barbara might get some well-deserved rest now. Encouragement is being applied to Cathy Odneal as well. She is off to Barnes Jewish Hospital in St. Louis for some sophisticated heart surgery on Tuesday. Her community will give her time to recuperate, but will be looking forward to seeing her at the jam in a couple of weeks or as soon as possible. She will miss the Vanzant Picnic this year, happening Friday and Saturday, the 13th and 14th. It is always a lovely affair. Preparations for it are well underway. Those of us who just attend these great country funfairs may not be alert to the planning and hard work that goes into making them happen. There will be music, good food, games, and the chance to see all those people you only see at these events. It is a win-win situation. The spiffy new bingo parlor is sure to get some good use. Thanks to all the community minded volunteers there is fun to be had!
On a hot, sunny afternoon, Jonnie, the fierce yard dog, barked up a stranger who had come with an invitation to attend a movie up at the Springfield Expo Center. "The story of Jonah—A Lesson in Courage and Mercy" surely is an exciting tale. After three days in the belly of the great fish, our hero hit the ground running to Nineveh, where he did a bang up job of doing the work he had tried unsuccessfully to avoid. In conversation with the stranger, it was agreed that it might be timely to have a school of those great fishes to swallow up the whole of today's regime for long enough to have those politicians once again enthusiastic and repurposed. When spit out upon Freedom's Shores up there on the Potomac, they would all leap headlong, fervently resolved to represent the best interest of all the electorate. What a fantasy! They say the Book of Jonah highlights the sometimes unstable relationship between two religious needs: comfort and truth. These days we have the odd phenomena of the interchangeability of opposites. We think truth is verifiable. It makes us uncomfortable to think it mutable or subjective. If these kinds of thoughts give you a headache, go out into the garden. Tomatoes are beginning to ripen. Potatoes are coming out of the ground. Kitchens are overflowing with peppers, cucumbers, and squash from the early gardens. Later gardens will be producing when the early ones are played out. A few drops of rain from time to time help, but there is still watering and weeding to do. Out there, alone early in the morning when it is nice and quiet, sing "Sleepy-eyed John he stole a goose. The goose flopped but she didn't get loose. Said John to the goose, 'If you don't be still, I'll miss my supper down at Candy Hill.'" Champion—Looking on the Bright Side!
A sudden, summer Sunday shower in Champion!