Last Thursday afternoon an Old Champion leaned back in his chair, smiled up toward the ceiling, lacing his fingers loosely over the little round bread basket that has in time grown up on what used to be called his abs.  "Well," he said, "I sure do feel a whole lot more like I do now than I did a while ago."  (In truth, it sounded more like "shore do" and "a wholla go.")  He went on to say that if he always felt like this, the price of groceries would not be anything at all.  Thanksgiving dinner for two old folks netted leftovers clear through Monday and beyond.  In many places all over the country the traditional banquet was celebrated in clusters of two.  Some fortunate families were able to gather in bigger lots.  In Champion, Kriders, Wisemans, Watts and Clines, and perhaps others of that clan were fortunate to be able to spend the day feasting together.  Some of The General's brood visited the nest over in Vanzant for biscuits and gravy and, doubtlessly, for old family stories going back generations.  If there is one thing that Covid-19 has taught us, it is that family and dear friends are the most precious things we have.  Until we can safely hug the stuffing out of each other again, we will have to keep the phone lines, internet, and post office humming with our declarations of love and concern and, most importantly, those old family stories that tell us who we are and how we got here.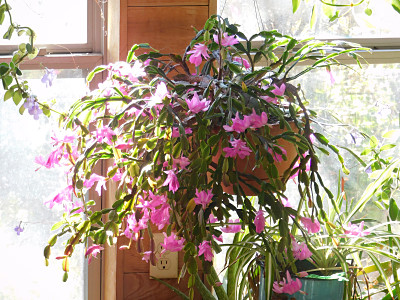 Esther Wrinkles' Christmas cactus
A regular patron of the Historic Emporium in Downtown Champion hails from down on the Bryant and celebrates his 75th birthday on the full November Beaver Moon and this one is special for having 85% of the visible surface  darken at 3:42 a.m., central time, as a result of the last penumbral eclipse of the year.  Whether Mr. Birthday was awake to see that special sight, we hope he knows he is as special to the Champion as a rare full moon is to the heavens.  There is a wonderful story about "
..that big old yellow moon a hangin up there, and God's sweet lanterns a hangin in the sky."  It involves a still that produced something akin to 'honeydew vine water.'  And then there was the bear.   That good neighbor from down on the Bryant, has plenty of stories to tell, including that one about how the 7th Calvary's mascot mule got shot up in Vietnam and the one about Waterhole Ike, the boar hog that got his Social Security card and food stamps.  It is a true story.  Champions hope it was a happy 75th birthday for one of it favorite story tellers.
Shirley Emerson is one of those charming ladies who used to visit Champion on behalf of the Douglas County Health Department to help us regulate our blood pressure and general health.  It was a great amenity to the community and we miss their monthly visits since the pandemic has been on us.  Shirley still checks in on her favorites, in particular those whom she deems may not take care of themselves as well as they should.  Part of taking care of ourselves is staying positive.  As Mr. Python said, "If life seems jolly rotten, there's something you've forgotten, and that's to laugh and smile and dance and sing."  Do as much of that as you can and tell those old family stories like Champions—Looking on the Bright Side!