April 15th found the first hummingbird of the season buzzing around a Champion feeder. The second one arrived on the 18th. Careful record keeping in years past revealed the seasonal cost of sugar to have been about $25.00, if a couple of pies and a scant teaspoon per cup of coffee were included. Overall, that is fairly inexpensive entertainment from April until October.
The Skyline Tigers' Prowl 2021 5K Donut Run is scheduled for Saturday the 24th. So if you are out on Highway C, keep your eyes open for some bright young athletes in neon t-shirts burning up the road! A Tiger Granddad was happy to buy himself one of the t-shirts so long as he didn't have to run. Students are learning the importance of being physically active and the old folks are too, but in moderation. Go Tigers!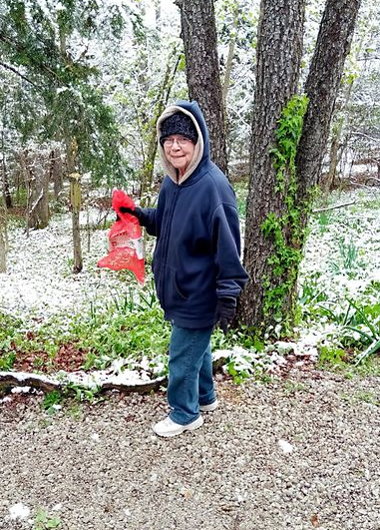 Judi hunting frosty mushrooms.
No man ever steps in the same river twice according to a Greek philosopher born in 544 B.C. Champion's new friend, Julie Heyer, has a small cabin near the Little North Fork of the White River over around Thornfield. It may be riverfront property where her family enjoys their refuge from St. Louis, but even if it is not, they can wade into tranquil country life whenever they need a break from the city. She has been reading the Douglas County Herald and the Ozark County Times for three years now, so she has a pretty good idea about the lay of the land in these parts. Perhaps on some extended stay, maybe summer, they will have time to amble over to Champion. They can dip their toes in Auld Fox Creek or in Clever Creek if rains have been plentiful. Francis Bacon (1561—1626) said, "Without friends the world is but a wilderness." New friends are a blessing. An old friend, Susan Dempsey of the Giggle Box, says, "I've been to a lot of places but I've never been in Cahoots. Apparently you can't go alone. You have to be in Cahoots with someone. I've also never been in Cognito either. I hear nobody recognizes you there. I have, however, been in Sane. They don't have an airport. You have to be driven there. I have made several trips."
If the cool/cold weather slows down mushroom season and gives you a chance to collect more ticks, you can send them (the ticks not the mushrooms) to Deb Hudman, Senior Research Associate; Dept. of Microbiology and Immunology; 800 W. Jefferson St. Kirksville, MO 63501. Check out the link to get more information about the collaboration between the A.T. Still University and the Missouri Department of Conservation and the importance of the study. Deb prefers to receive the ticks live and tells you how to send them, but will take them dead.
Entertainment was special at Vanzant on Thursday. Dean's cousin, the Daring Idaho Darcy and her charming posse of D'Andra, Donelle and Mario drew admirers from one end of Champion to the other, friends, new friends and family. Uncle General started with his now signature song, which he dedicated specifically to his many family members present: "Go and Wash Your Dirty Feet." At his next turn he asked the musical question, "Where do Cowgirls go when they die?" Between choruses he deftly used the spoken word in rhyme to let Darcy know just what he thought of her. Other offerings especially for her were Sherry Bennett's "Five Pounds of Possum," and a shaky version of "The Ode to the Little Brown Shack," inspired by a memory she shared in Champion on Wednesday. It was of her Grandma's outhouse up on Fox Creek and the big spider. She met the young fellow who owns that old home place now and was given permission to go on a nostalgic tour. She and her bunch were headed off to Branson early Friday morning. Probably no one thought to call ahead so the town could be prepared. She will be back in the fall and her devotees will be ready. Champion—Looking on the Bright Side!