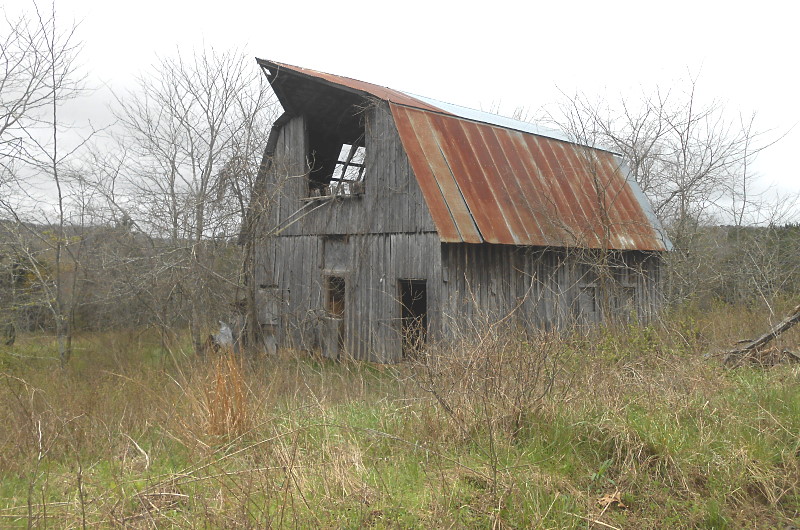 Orville's Barn
It is a fine sight to see an old home place being rejuvenated.  The spot that had once been the home of Orville and Ruth Hicks has changed hands a number of times since they departed.  At some point the house burned, leaving steps, the well, some old out buildings, an enormous forsythia, and a carpet of daffodils.  The new owners were delighted with the unexpected flowers and are most interested in the history of the place.  (Herbert and Ida Hutchison deeded it to Joe Hicks in 1935.)  It will take some while for the New Champions to become permanent residents.  Their neighbors are looking forward to getting acquainted with them.  Over the years the beautiful old barn that was Orville's has slowly decayed.  Now buzzards roost there and there is a patch of sky where there used to be roof.  Maybe there is help for it yet. Someone said that one of the Sutherlands helped Orville build the barn.  Any information or anecdotes about these folks and the place will be appreciated.  Address them to champion@championnews.us or to TCN Rt. 72 Box 367, Norwood, MO 65717.
Skyline third grade student, J.P. Rhodes, always has a special and cool birthday, April 1st.  This year, in addition to April-Fool's Day his birthday will also be Easter Sunday!  Miranda Cannucci will celebrate her birthday on April 3rd.  She is a fifth grade student.  Second grade's Larissa Pendergrass has her birthday on April 6th.  Champions wish all you dynamic young Skyline students the very happiest of birthdays!  Old timers looking back on their elementary school days get a charge out of seeing this wonderful little rural school in operation.  It has only a few more students now than Denlow had at its high point.  A photograph from 1912 shows 68 students and two teachers.  Denlow and five other school districts consolidated into Skyline in 1955.  Eventually there were a dozen or so little school districts involved.  It must have been an exciting time.  One student, later of the Mountain Grove Class of 1964, said that Skyline had the first indoor plumbing she had ever seen.
The Skyline Wellness Committee is hosting the Skyline Fun Run on Saturday, April 14th.  The General was almost willing to accept the challenge but he saw on the flyer that check-in time is 7:30 A. M. and the race starts at 8:00 a.m.  (The hour is not commensurate with his lifestyle.)  In addition to promoting health and wellness in our community, the event will benefit the Practical Parenting Partnership (the PPP) which does many good things to support the school.  To register for the Fun Run, contact Helen or Bridget at 417-683-4874 by April 11th.  There will be medals awarded and free snacks and water and the good feeling of being part of a thriving community.  Teacher Terri Ryan reports that the kids had a good time at the Branson archery tournament.  She said there were 3000 archers competing over the two days and they were the best in the state.  The four Skyline students who qualified this year were Levi and Wyatt Hicks, Grace Crawford, and Cyanna Davis.  Champions all!
Coddiwomple is a new word for The Champion News.¬† It means to travel in a purposeful manner toward a vague destination.¬† That may be what the folks are doing when they take the garbage from your can or your dumpster and find a secluded back road to go through it.¬† A commercial refuse company spokesman said this is a new occurrence in this area.¬† Rural residents are reminded to segregate any personal information'ÄĒanything with banking, credit card, or health information, etc.¬† Those things need to be shredded or burned or otherwise dealt with in a secure manner.¬† Your bank has good information about protecting yourself from identity theft.¬† As for the litter resulting from this kind of shenanigan, if it makes your eye sore, just pick it up.¬† Meanwhile, gardeners are on a Coddiwomple getting ready for a fruitful season.¬† Skip and Ina from over near Gainesville have shared some cucumber seeds.¬† They are regulars at the Vanzant Bluegrass Jam and shared cucumbers way into the fall last year.¬† The cukes were wonderful'ÄĒsmall seeds, crisp, bright flesh, thin skinned and good keepers.¬† Skip says for best pollination, plant at least three plants to the hill.¬† It is a little early to plant them, but there is plenty of time to transfer some of that good old stuff the cows, chickens, donkeys, and horses make out of the hay and grain they eat.¬† 'ÄėOld'Äô is the optimum word.¬† Not only does the fresh stuff stink, but it burns tender vegetation.¬† Work the old stuff well into the soil.¬† The almanacs say the next good days for planting will be the 30th for crops that bear their yield above the ground and the 31st for root crops.¬† Old Champions who sat around watching 'ÄúGunsmoke'ÄĚ all winter and then jumped up to do a little something with the shovel and the rake have creaking joints and sore muscles.¬† They need a more leisurely Coddiwomple.
Our freedoms to peaceably assemble and to petition the government for redress of grievances are also part of the guarantees afforded by our glorious democracy.¬† As the next generations of voters engage, hopefully, they will revitalize the process of governance, currently in disarray.¬† National Vietnam War Veterans Day, Thursday, March 29 gives us a chance to acknowledge our Vietnam Veterans and their sacrifices.¬† There are still hard feelings between some Veterans who served and anti-war protesters who did not.¬† Emotional divides are powerful ones.¬† Courage is described as not being fearless, but acting even though you are afraid.¬† Generation Z kids, Veterans and Baby-Boomers have more in common than might be apparent.¬† They all sing, 'Äú'ĶGod shed His grace on thee and crown thy good with brotherhood from sea to shining sea'ÄĚ with equal fervor.
Ease on down to the wide, wild wooly banks of Auld Fox Creek for an opportunity to peaceably assemble with neighbors and friends.¬† Discuss current events or history, music, literature, or gardening.¬† Whatever the topic of conversation, look up and around to see that you are in one of the world'Äôs truly beautiful places.¬† Up on the ridges fruit trees are beginning to bloom.¬† The Prominent Champion girlfriend is too young to remember Pat Boone who sang, 'ÄúApril love is for the very young/ Every star'Äôs a wishing star that shines for you/ April love is all the seven wonders/ One little kiss can tell you this is true.'Ä̬† She probably knows more current love songs and she recently revealed that the Second Annual Champion Spring Fling which celebrates her birthday will be on May 5th in Champion'ÄĒLooking on the Bright Side!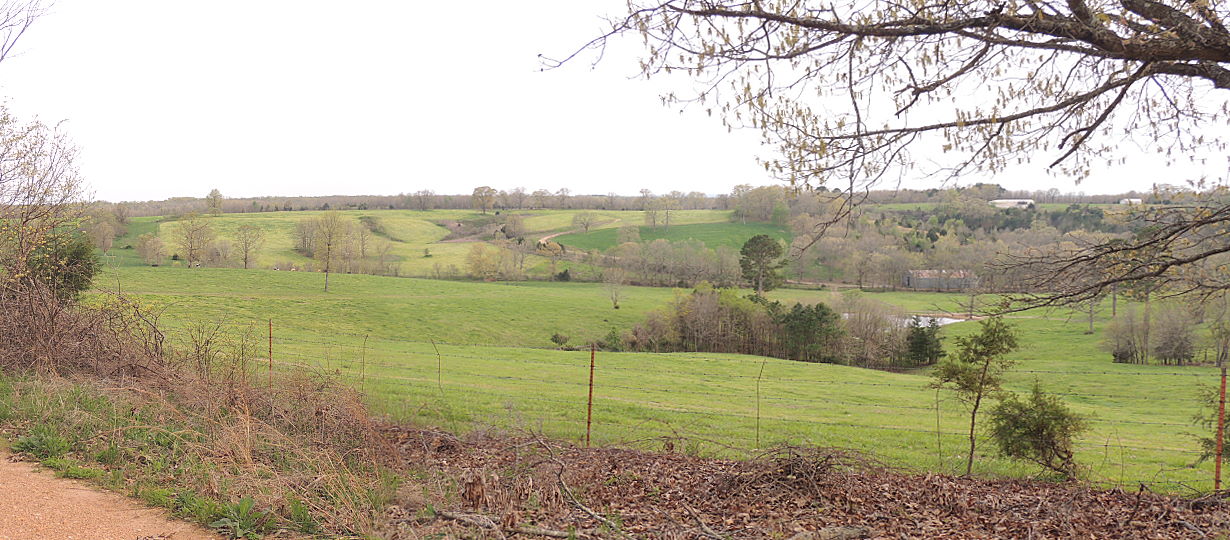 Spring approaches Champion…
[enlarge]