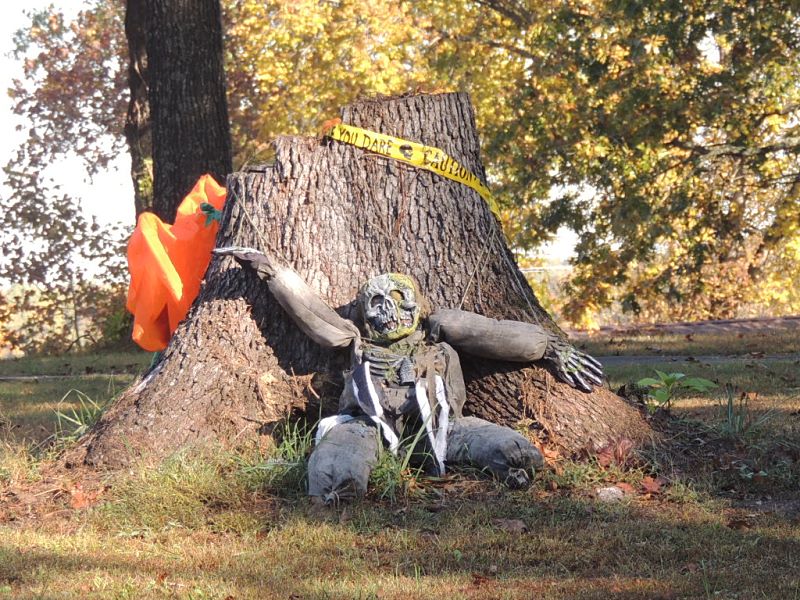 Halloween Howdy
Health advocates using the beautiful quarter mile walking path at our wonderful Skyline R2 School should be careful. Stationed, as if by plan, along the route are ghost, goblins and ghouls, as well as witches, spider webs and other spooky things. By Friday it will likely be safe again. Not that it is really unsafe now, but it is indeed spookily symbolic of Halloween. The architects of these apparitions are to be commended for their artistry. The trail is not so unnerving during broad daylight and, truly, it is a lovely walk. It was a project by the Douglas County Health Department several years ago and it has been a real boon to the whole neighborhood, as well as providing a good exercise facility for the students. The pre-kindergarten students, the first and second graders were able to raise $265.00 for their trip to The Wonders of Wildlife next spring. Lauren Collins was the winner of the Fall Basket they had put together and Linda Kutz won the beautiful autumn wreath that Helen Batten had made and donated to the cause. They may put another raffle together before Christmas, because they have a long way to go to cover the expense of the trip. It will be a chance for the whole community to step up to support the kids who will be running things in a few short years.
A Champion Fall
This is the time of the year when we are reminded of the Blue Man of Spring Creek. The State Historical Society of Missouri recently shared a newspaper clipping from 1915. The legendary individual was reported in the wilds of Douglas County as early as 1865. Over the years there have been many sightings of the mysterious, imposing figure. Bob Leach is an imposing figure, albeit with a lovely smile. He does not live in Booger County, but he is a frequent visitor at the Re-creation of the Historic Emporium—most Wednesdays. His birthday is on November 4th. Emerson Rose Oglesby has Douglas County roots through her sweet Mother. Her birthday is on the 5th of November. Her great uncle was referenced in The Champion News as early as 2009 as General Upshot. He is generally recognized as the authority concerning all things Denlow and adjacent environs. He doubtlessly has insight into the fabled Blue Man, but avid readers will have to wait until November 7th for his report. Until the 6th he will be busy making special birthday preparations for one of Lucille's daughters. How exciting to have a birthday on perhaps the most important Election Day of our times. Bruce Lee said, "One of the best lessons you can learn in life is to master how to remain calm."
A Champion Fall
A sojourner through the wilds of Booger County, awed by the glory of the foliage, said, "Last year it turned from green to brown overnight. This year we have color!" The internet is flushed with fantastic photographs of fall verdure. Travelers just from here to there have to allot more time so they can stop for photo opportunities or just to gawk. This week has been spectacular and will likely be remembered as the peak of autumnal splendor. Is it the prettiest fall you have ever seen here? How do we judge memories against our current experience? One old Champion says it is the prettiest fall she can remember. The rains and frosts have come at just the right intervals. Linda Clark said that she had an appointment in Springfield on Monday afternoon, "
and I must say I really enjoyed the drive up and back. The trees are absolutely beautiful." She admonishes us to get out and take a drive if we can. "This is the prettiest fall foliage we've had in a few years." Linda has triplet grandchildren, so she must know three times wonderful stuff as the rest of us. Trish Davis has twin grandchildren, as does Reba Bishop. They must be twice as informed as the rest of us. Grandmothers are cool.
A Champion Fall
Our recent Pioneer Heritage Festival of the Ozarks was the second year for this affair. It was inspired by the 15 year history of the Pioneer Descendant's Gathering that Dale and Betty Thomas hosted down at Yates—at the Edge of the World. We remember that one as having been a great event and this new one has a great future before it. As we learned about many of the various skills our ancestors had to employ in order to survive and thrive, the question occurs: Why did our people decide to settle here? Many just moved west from Appalachia because it had become crowded there or because of the egregious whiskey tax or maybe just for a fresh start after the terrible war. How did our people's predecessors wind up in Appalachia to start with? Where did they come from and when did they get here? If they came from Europe, they probably came because it was crowded there, or they suffered religious persecution, or there were epidemics or lack of opportunity. The Colonies, and then America, and then the USA offered safety and a chance for a better life. There are reports that some new history books euphemistically say that the people who were here already, the indigenous people, just moved west to give the newcomers room. The renowned Native American song writer, Buffy Sainte-Marie incongruously writes, "I am proud. I am proud. I am proud of my forefathers and I say they built this country. And they came from far away to a land they didn't know, the same way you do, my friend. So, Welcome, Welcome Emigrante, to the country that I love." She also wrote a powerful piece called, "Now That the Buffalo's Gone." In these particularly odd times, we just have to figure out what we believe and do the best we can at the ballot box.
In this part of the world there will have been great family gatherings with costumes, and feasting and fun for Halloween and great quantities of candy consumed by little trick or treaters. The internet revealed some particularly jovial activity over in Vanzant. Over in Scotland, high on Caultin Hill, the ancient Celtic festival of Samhain occurs on October 31st with a pageant that depicts the death of summer at the hand of winter. In these parts, we just enjoy every day as it comes along–Champion!—Looking on the Bright Side!
A Champion Fall