CHAMPION'ÄĒApril'ÄĒ25, 2016
An oriole stopped on a hummingbird feeder in Champion to add its voice to the sound of Spring.
¬†¬†¬† ¬†¬†¬† The week began on an eventful note with flooding in Houston, Texas.¬† Harold Phillips of Bella Vista, Arkansas sent a message to Dawn Henson in Houston asking, 'ÄúAre you high and dry or awash?'Ä̬† She replied 'ÄúWe are okay.¬† We live almost out of Houston to the south.¬† The heavy flooding was in the northwest.¬† Melanie lives in Katy, which is northwest.¬† They got a lot of rain but it didn'Äôt get in their house.¬† Roads are impassable though.¬† Katy schools are closed all week.¬† We had Avery yesterday and might have her again tomorrow.¬† One of the creeks is still out of its banks, but it is north of where they live.¬† Thanks for checking on us.'Ä̬† It is nice to have the internet to keep up with distant Champions.
¬†¬†¬† ¬†¬†¬† Two kindergarten students at Skyline are celebrating birthdays–Eli Johnson on the 28th and Taegan Krider on the 30th.¬† Beth Caudill drives a bus for the school.¬† She shares her birthday on May Day with Mrs. Ryan of the library.¬† Seventh grader, Madison Shearer, celebrates on the second.¬† A non-resident Champion double cousin living far away also celebrates on May Day and Olivia'Äôs grandmother up in Springfield will be partying on the second.¬† Happy day, dear Champions!
¬†¬†¬† ¬†¬†¬† A neighbor from over near Tedrick lolled away a pleasant spell in the Historic Emporium on Wednesday.¬† His name is Hase Tetrick.¬† He has a great-great grandfather, a Civil War Veteran, buried in the Tedrick Cemetery.¬† The community was named for the family, but the spelling was confused somewhere along the line. Mr. Tetrick hopes to get it all fixed one of these days.¬† He is one of seven survivors of a large family.¬† There were five boys born, then a girl, then five more boys and one more girl.¬† He said that when people asked about the size of his family, he said that he had nine brothers and each of them had two sisters'Ķ¬† It sounds like a family of 30!¬† Anyway, some of the remaining family still lives in these parts and he lives not far, as the crow flies, from his old home place.¬† He talked about riding a horse over to Champion when he was a kid and all the ball games.¬† He lived 12 years up in Davenport, Iowa, where a number of young Champion fellows found work for a while.¬† There are lots of stories about goings on up there, but it sounds as if some are better left untold.¬† Meanwhile, Deward'Äôs Granddaughter had a picture on her phone of a seven foot long snake.¬† 'ÄėOld Timers'Äô there at the store identified it as a coach-whip and shared a few stories about their encounters with them in years gone by.¬† She said that she had met the snake just as she was about to step off the porch.¬† She tried to coax it with a broom to turn around and head out of the yard, but the snake raised its head high and bolted strait under the porch.¬† It is a warning to be alert for snakes this time of the year.¬† Many of our local reptiles are beneficial.¬† A snake is a snake, but they are not all 'Äėbad.'Äô¬† The Idaho Dooms brother will take his Champion brother fishing in Oklahoma again before he heads back north.¬† Mr. & Mrs. Partell had pumpkin pie to share with friends on Wednesday in honor of their wedding anniversary.¬† They say they will endeavor to carry on with married life.¬† Richard Johnston has used the tailgate of a Chevrolet pickup truck to make a bench.¬† The seat is wood and the backrest is the tailgate.¬† He has donated it to the Licking Senior Center.¬† It will be given away in a drawing on July 21st.¬† Hopefully tickets will be available at the Historic Emporium on the North Side of the Square.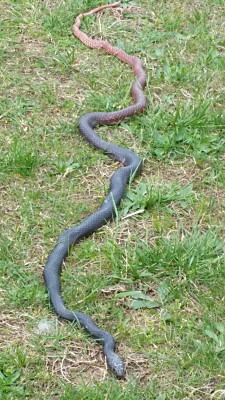 Seven-foot Champion coachwhip–not a bad snake.
¬†¬†¬† ¬†¬†¬† The Douglas County Historical Society announced that the Summer 2016 edition of the Douglas County Historical & Genealogical Society Journal is available now.¬† If you are not a member of the society you can find the Journal at the Museum, open from 10:00 a.m. to 2:00 p.m. on Saturdays, or at Memories on the Square in Ava.¬† The Journal is $7.00.¬† Membership in the Historical Society is $20 per year and with membership comes two Journals per year.¬† Join by mail at Douglas County Historical Society P.O. Box 986 Ava, MO 65608.¬† The current issue has a dedication to Dora Jo Mahan, stories on Skyline and Dora schools, Topaz Mill reopening and much more.¬† The picture on the cover is of Skyline'Äôs First Year'ÄĒ7th and 8th grade class in 1955.¬† It will be an exciting read for some.
¬†¬†¬† ¬†¬†¬† Seldom seen friends over on the other side of Ava have a lovely little family of Dutch Bantams helping to keep the bug population down in their garden.¬† These chickens are replacements for chickens that met a cruel and gruesome end by a raccoon a while back.¬† They are fascinating to watch and the garden is an inspiration–already full of greens, onions and legions of the Stinking Rose.¬† The gardener had been concerned about dogwoods as it seemed that they have been dying out in recent years.¬† This year, though, they are vigorous and more visible and hopefully more numerous.¬† It is a pleasant sight in to see them strewn across the hills like popcorn.¬† The woods are filling in so quickly, the dogwoods will soon be out of sight.¬† Nature is overtaking, embracing, and hiding cabins deep in the woods as well as many homes along the road sides. They will reappear next winter.¬† Champions will still be able to find their friends'ÄĒfriends, what a gift.
¬†¬†¬† ¬†¬†¬† The wide, wild wooly banks of Auld Fox Creek are greening up.¬† The Behemoth Bee Tree is alive with bees and signs of leaves showing up on the sprouts far atop the massive stump are reassuring.¬† 'ÄúI never lose.¬† I either win or learn,'ÄĚ said Nelson Mandela.¬† Those inspirational words can apply to politics, sports, love, gardening and doubtlessly other things.¬† Champion gardeners, inspired beyond their capability, remark, 'ÄúI can'Äôt believe how old people of my age are!'Ä̬† The wind in the trees, the birds and frogs add to the tinnitus background for the song, 'ÄúTime is filled with swift transitions.¬† Naught of earth unchanged can stand.¬† Keep your hopes on things eternal.¬† Hold to God'Äôs unchanging hand'Ķ'ÄĚ in Champion'ÄĒLooking on the Bright Side!