CHAMPION'ÄĒApril 11, 2016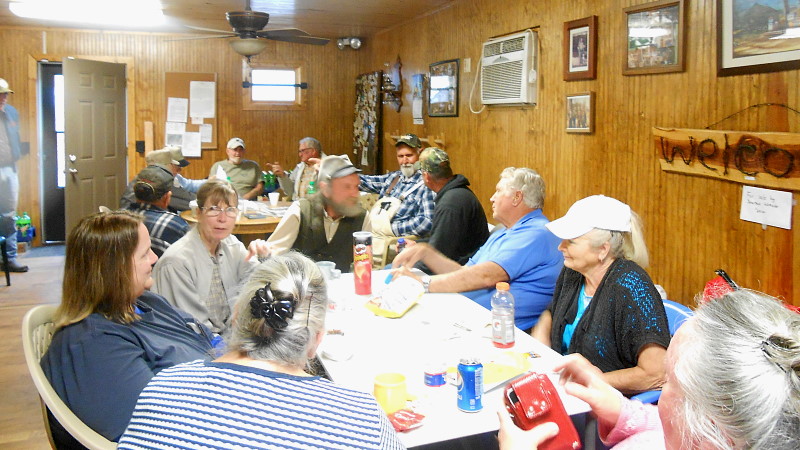 A scan of the room was inconclusive…
        At last, the dogwoods are out even in the low places and Champions are beginning to feel as if Spring has arrived, even though we know there still are multiple chances for frost and freeze before it will be entirely safe to put the tomato plants in the ground.  Meanwhile, the mushroom feast is going on and around every corner some new glorious thing has burst into bloom.
¬†¬†¬† ¬†¬†¬† Champion Grandson Dillon Watts has a birthday on the 12th of April.¬† His friends around here are hoping to see him sometime this summer (or anytime), particularly in conjunction with his cousin Foster–banjo and a mandolin!¬† Foster has added 'ÄúI'Äôll Fly Away'ÄĚ and other tunes to his repertory, and not long ago, Dillon was seen on the You Tube playing banjo on 'ÄúThe Rebel Soldier.'Ä̬† Their Granddad would have been proud of them.¬† Champion family and friends certainly are and are moreover pleased not only to see music passed down through the family, but to see traditional music being appreciated by young people.¬† Dillon is competing this week in an elocution contest and Foster has been turkey hunting.¬† It is an exciting life for young folks.
        Wyatt Lakey is a lucky young man.  He gets to spend his first grade school year at Skyline School and he gets to share his birthday on April 15th with some other great people, like Drayson and Carson Cline's Great Aunt Vivian Floyd and their old Dad, Dusty Mike.  Geo. Gary Jones celebrates that day too and his young friend, Olivia Trig Mastin, celebrates on the 16th.  Readers of The Champion News know Olivia to have caught one of the largest crawdads ever down at the Mill Pond a couple of years back.  Many happy returns all!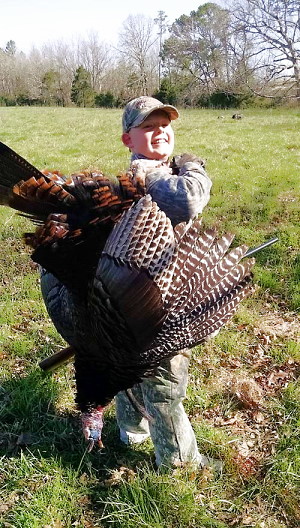 Foster getting it done. Twenty-two pounds with a 10.25 inch beard and one inch spurs–his first big gobbler. Champion!
¬†¬†¬† ¬†¬†¬† Bud Hutchison had a birthday on the 8th of April.¬† On the 18th of May he will host his annual Spring Trail Ride, heading up in Champion and going who knows where?¬† It is always a treat to see all the beautiful horses, and to meet the interesting people who make the trip.¬† Maybe Champion'Äôs friend from Cross Timbers will make it again.¬† The last time he was here, he rode a big white mule.¬† He is most likely very well versed in the history of horse domestication and various uses to which man has put them through the millennia.¬† They are indeed marvelous to look at, with their soulful eyes, their muscular conformation and their luxuriant manes and tails.¬† Somewhere north of Gaskin, south of Croup, between Stifle and Dock, is a part of the horse that is often referenced in connection with a certain human personality type–generally an unpleasant one given to unseemly behavior, flaunting ignorance, disrespect and base morality as if they were lofty traits and some cause for pride.¬† It is the position of The Champion News, its staff and underwriters, that to call such a person a 'Äėhorse'Äôs (behind)'Äô is to defame, malign and insult the noble equine.
¬†¬†¬† ¬†¬†¬† Wednesday was mostly most pleasant down at the Recreation of the Historic Emporium over on the North Side of the Square in Downtown Champion.¬† Dean Brixey came down from Salem with Kaye and Richard Johnston for the day.¬† They met up there with a variety of friends and family.¬† Chief Bob Benge'Äôs ax that was used to kill Sarah Livingston back in 1793 was the subject of some interesting conversation.¬† It is in a museum in Cherokee, N.C. where it has been seen by descendants of Sarah Livingston, who happen to be Upshaws.¬† They have a family tree that looks like the briar patch going all the way back to Noah.¬† Most likely, everyone has one of those, but they happen to know quite a lot about their tree.¬† Donald Dooms was visiting on his way back to Idaho after a few months in Arizona and a few forays down into Mexico, to Puerto Vallarta and Mazatl√°n.¬† He was born just across the creek from Champion and did his growing up here.¬† When he was 18, he and a couple of friends, took off for Idaho to work for the summer.¬† That was on the first of June, 1953.¬† By the tenth he had met Verna there and he never came back.¬† They were married for 54 years before she passed away eight years ago.¬† He was from a family of 13 children, six of whom are still living and some of them around these parts yet.¬† Wes Lambert came in asking, 'ÄúWho'Äôs telling the biggest lie?'Ä̬† A scan of the room was inconclusive.
¬†¬†¬† ¬†¬†¬† It was disappointing that the levy increase for the Skyline School did not pass in the recent election.¬† Terri Ryan said, 'ÄúI don'Äôt think enough information was given so that people know there is a real need.¬† They likely see the walking trail, bike give-a-ways, fresh veggies and fruits, and our school nurse as things that are coming out of our budget, instead of a Federal grant that will not last much longer.'Ä̬† Hopefully, the levy will get back on the ballot and pass.¬† The small increase will bring the total levy up to the minimum amount that will qualify the school for matching funds from the state.¬† Those funds will be critical to the survival of the school in the long run.¬† In the short run, the school busses could use an upgrade.¬† Terry said that someone had recently donated a refrigerator to replace the one in the teacher'Äôs lounge that had stopped working.¬† It is reassuring to see the community step up to help in the ways it can.¬† A little money is still trickling in to the Skyline School Foundation which is still able to keep the Dolly Parton Imagination Library afloat.¬† The program gets children off to a good start, learning to love books and to love learning.¬† An educated population is the best hope out there.¬† Find out more about the Dolly Parton Imagination Library at Henson'Äôs Store in Champion or through the Skyline School.¬† 'ÄúIt'Äôs a universal law'ÄĒintolerance is the first sign of an inadequate education.¬† An ill-educated person behaves with arrogant impatience, whereas truly profound education breeds humility,'ÄĚ said Aleksandra Solzhenitsyn.¬† He won the Nobel Prize for literature in 1970, and after the Soviet Union broke up was able to go back home there after many years in exile.¬† Home is Champion wherever it is.
¬†¬†¬† ¬†¬†¬† There was a man who used to live over on the other side of Bryant Creek, past the monastery, by the name of Jack Ryan.¬† He and Gladys lived there a long time.¬† He loved to grow things.¬† Gladys kept chickens and was a great cook. 'ÄúA society grows great when old men plant trees whose shade they know they shall never sit in.'Ä̬† That is a Greek proverb to which Jack subscribed.¬† 'ÄúWhen you eat the fruit, think of him who planted the tree,'ÄĚ was a saying he said had come from an old Vietnamese gardener.¬† Jack loved Gladys, books, gardening, homemade wine, morel mushrooms, mules and people.¬† He loved life and saw good days in Champion'ÄĒLooking on the Bright Side!