The Honor Guard — Pete Proctor, David Virtue, and Robert Upshaw — "Taps" by Francis Pope
Once again we have Pete Proctor, Sharry Lovan and others to thank for all their good sharing of a great local event on-line for those who cannot venture out.  The Holt 4H Picnic is one of the highlights of the summer.  Head, Heart, Hands and Health are the tenets of the 4 H Club that is benefited by this annual picnic.  The reports are that music was lovely and the food, the games and the camaraderie all made for a delightful evening out.  The American Legion dedicated Taps to Verlin Rogers, who passed away recently.  He was a long-time supporter of all the good causes in the community and is much missed.  The Honor Guard will have officiated at twelve Veterans' funerals this month.
In some ways are we living much as early settlers here lived, rarely going out'ÄĒrelying on home grown food.¬† Gayle Schroeder is busy, as are many Champions these days, canning tomatoes, beans and corn and making pickles.¬† She will be exhibiting her food preserving skills at the Pioneer Heritage Festival this fall.¬† Debbie Berthold and Mary Pruitt will both demonstrate how to make soap.¬† There will be flint knappers, spinners and weavers, black smiths and broom makers, and many others there to show us how to use the past to get along in the future if the need arises.¬† The late Jack Ryan, CB handle 'ÄėFoxfire,'Äô was a great proponent of all the old time skills.¬† He even had his place logged by some guys who used mules instead of skidders.¬† He and Gladys were always pleased to share their know-how with young folks moving into the Ozarks.¬† From The Champion News, June 1, 2008: 'ÄúAs new people move into the community and work to make a place their own, they are just like the people who did the same thing before them.¬† Everyone works to put his stamp on the land, but the land endures while people come and go.¬† There is much to be learned from the past.¬† A person might do well to turn the TV off every now and again and go hunt up an old-timer.'Ä̬† The Pioneer Heritage Folks are busy planning another opportunity for us to mingle with old timers the first week end in October over at the Foxtrotters Showgrounds.
Garden pests are an aggravation.  Green tomato hornworms eat pepper plants too.  Stink bugs/shield bugs/squash bugs sting tomatoes and make them ugly.  But the butterflies are beautiful.  And who can dispute the beauty of the Naked Ladies, known by some as surprise lilies?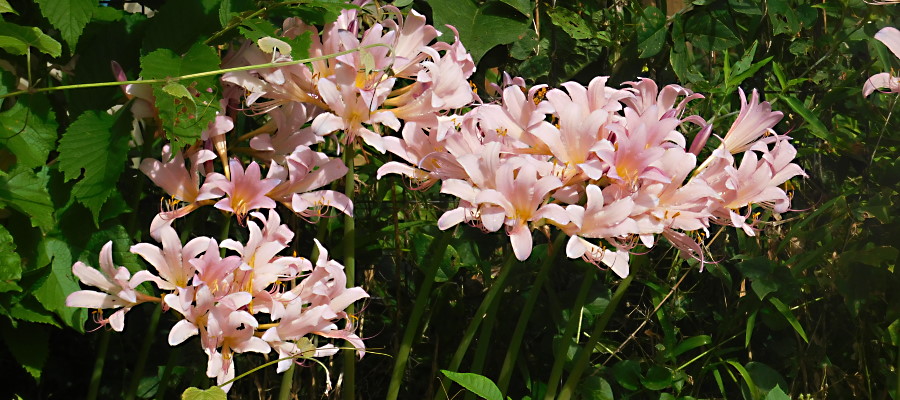 'ÄúPain is inevitable, suffering is optional,'ÄĚ someone said.¬† It is all about the choices we make.¬† A person fighting depression, while nailing some used tin up on a shed, once smashed a thumbnail with a heavy hammer blow and held it up, throbbing and bleeding, laughing and happy to finally have something that hurt that everyone could see.¬† We do not know what anyone else is enduring and the choices people make are often a mystery to us.¬† Champions endeavor to choose hope and optimism.¬† We will go to the polls next week to make some important choices.¬† Local politics seem relatively civil compared to the rancor and divisiveness on the National scene.¬† During the 98 days before the November election, we will strive exemplify decorum with our friends and neighbors who are on the 'Äėother'Äô side.¬† On that day there are bound to be some broken hearts.¬† On that day, let the winners be noble in their victory with consoling compassion for the bitter losses of their friends and neighbors.¬† Good for you if you were able to vote absentee by mail.¬† Good for everyone if everyone votes.¬† Be careful when you go to exercise your franchise, but go.¬† Vote like the choice you make matters.
The Herald reported last week that the COVID-19 has been confirmed in Western, Eastern and Central Douglas County.¬† 'ÄúYou should presume every place or location has some potential for risk.'Ä̬† The jump in total cases from 21 to 57 between the 14th and the 27th of July, (and on July 29th 79 cases) according to the Douglas County Health Department, is reason for concern.¬† Therefore, the official word is that there will be no Skyline Picnic this year.¬† It will be a great disappointment to all those who count on the event for a chance to meet up with seldom seen friends and to enjoy the great music on the stage and the door prizes.¬† It will be a loss to the Skyline Area Volunteer Fire Department, as the picnic is its major annual fund raiser.¬† While we will miss those wonderful picnic burgers and donated pies and getting to play all the games and walk in the cake walk, we can still find a way to support the vital organization protecting our property and our lives.¬† Share what you can at Skyline VFD, Rt. 72 Box 254, Norwood, MO 65717.¬† No sooner had this call gone out than Connie Freeman stepped up to donate a beautiful quilt to the cause.¬† We might call it the Instead of the 2020 Skyline Picnic Quilt!¬† See it in person at the Champion Store.¬† It is a beauty, a king size beauty.¬† If you have good ideas for remote fund-raising, share them at champion@championnews.us.¬† Caring for each other is Champion!¬† Looking on the Bright Side!
Connie Freeman donates her 2015 Quatrefoil Quilt to the Skyline VFD.