CHAMPION'ÄĒSeptember 26, 2016
        The wagon train wandered through on schedule putting us in mind of bygone days.  With it came nostalgia for a time many do not remember and a somber thought that the day will come when even nostalgia will dissolve.  The Cantrells of Mansfield, Wilbanks of Vera Cruz, Sanders of Macomb and McIntosh of Norwood and their passengers were all looking forward to ice cream in Champion and were not disappointed.  Spectators came from Salem, Cross Timbers, Tennessee, Vanzant, Marshfield, and from every corner of Champion.  They took pictures and fed carrots to the mules and visited with the travelers.  At www.championnews.us find pictures of the wagon train going back to 2008.  The train itself goes back many decades.  Ninety-one year old wagon master Clifton Luna had hoped to be able to make the trip this year and his friends were disappointed for him and for themselves that he could not.  It is not an inexpensive pastime and it is labor intensive so their numbers are dwindling, still it is a delight for those along the trail to see them pass by.  Ken Felts and Randal Barnett from Pocahontas, Arkansas camped out in their wagons in Champion Saturday night on their way back home.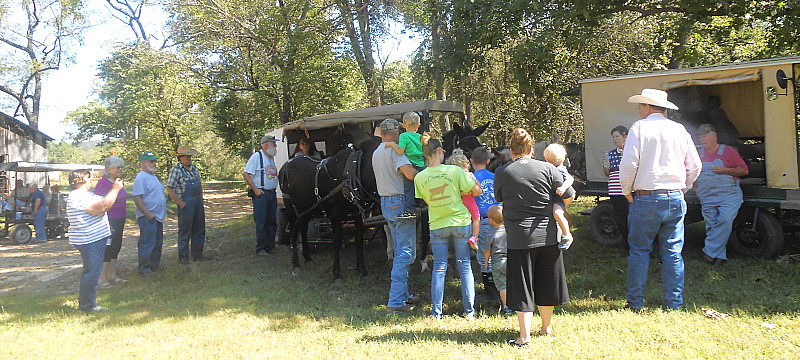 Spectators
¬†¬†¬†¬†¬†¬†¬† Wagon train spectators enjoyed a pleasant time out under the oak trees at the foot of Lonnie Krider Memorial Drive and up on the wide veranda of the Historic Emporium where the left and right political wings met, interacted and proved that respect and tolerance still fly in Champion.¬† From the homeland of George Orwell, a fan of The Champion News writes, 'Äúthat righteous vengeful anger we feel when we are violated, and bereft…that same righteous vengeful anger in the hearts of others… is the greatest enemy…..the only real enemy…clever people manipulate us.'Ä̬† Practitioners of divisive fearmongering in this land must be waiting for clever people to show up.¬† Another reader writes in with information about The Golden Rule which she says is a fairly uniform component of many of the world'Äôs major religions.¬† She cites the following:¬† 'ÄúBuddhism'ÄĒHurt not others with that which pains yourself.¬† Christianity'ÄĒDo unto others as you would have them do unto you.¬† Hinduism'ÄĒTreat others as you would yourself be treated.¬† Islam'ÄĒDo unto all men as you would wish to have done unto you.¬† Judaism'ÄĒWhat you yourself hate, do to no man.¬† Native American'ÄĒLive in harmony, for we are all related.¬† Sacred Earth'ÄĒDo as you will, as long as you harm no one.'ÄĚ
Diane and Jerry Wilbanks and Mr. Schmoody
        Good news comes from North Dakota where the Standing Rock people have received semi-truck loads of firewood from other tribes in the north east as they prepare for a long winter protecting their land and water.  Meanwhile the Virginia Supreme Court has agreed to hear an appeal from an Augusta County landowner addressing the issue of private property rights in relation to construction of the Atlantic Coast Pipeline.  It is another example of eminent domain for private gain and of people standing up for themselves against powerful corporate interests.  Some say that injustice anywhere is a threat to justice everywhere.
Kaitlyn McConnel
        Kaitlyn McConnell is from over around Niangua, but lives in Springfield these days.  Back in 2015 she launched a facebook page called Ozarks Alive (www.facebook.com/ozarksalive).  She posts great pictures and videos celebrating the people, the history and the culture of the Ozarks.  She visited Champion on Saturday where she was impressed to find such a thriving community out in the middle of nowhere.  She took pictures and asked questions and met a number of people as they went about their business.  She was going to stop by later in the day to see the camping Gee Haw folks and was going to check out the Tri-Unity Healing Arts Gathering going on at Chapel Grove on her way to the Ava Historical Society Quit Show in Ava.  She is a busy young woman and her new Champion friends are looking forward to getting better acquainted.
¬†¬†¬† ¬†¬†¬† October first is the birthday of a number of Champions, among them Skyline students, Lydia Harden in the 3rd grade, and prekindergarten student Myson Loveless, and Myson'Äôs teacher, Mrs. Brixey.¬† Pete Mullens celebrates that day too.¬† He lives over in Kansas, but has sweet ties to Denlow and Champion.¬† 'ÄúRemember; if you 'Äėact'Äô like you are having a good time, pretty soon you will forget that you are acting and you will really be having a good time!'Ä̬† That advice goes annually to a Prominent Champion.¬† William Tucker Clark was born October 2, 2015.¬† Mahatma Gandhi was born October 2, 1869.¬† He said, 'ÄúYou must be the change you wish to see in the world.'Ä̬† 'ÄúThe weak can never forgive.¬† Forgiveness is the attribute of the strong.'Ä̬† 'ÄúLive as if you were to die tomorrow; learn as if you were to live forever.'Ä̬† Tucker'Äôs old granddad probably has some wisdom to share and celebrates his own birthday on the 3rd.¬† Skyline 4th grade student, Malachi Johnson, shares his birthday on the 4th with twins who attended Skyline back in the late 1950'Äôs!¬† The General'Äôs little sisters still have a good relationship with their brother.¬† He must have been nice to them when they were little'ÄĒa lesson for little boys today.¬† Champion!
        The 15th annual and very last Pioneer Descendants Gathering will happen on October 1st and 2nd.  There will be much to see including friends and neighbors who definitely do not want to miss this last great event.  Exhibits and demonstrations of the 1860-1960 era will include flint knapping, blacksmithing, rail splitting, molasses cooking, soap making and much more.  There will be live music by local bands.  The advertisements say to bring lawn chairs.  There will be plenty of good food and the opportunity to thank Betty and Dale Thomas who have kept this excellent event going all these years honoring the descendants of Tom Brown and John Burden.
¬†¬†¬† ¬†¬†¬† The 25th annual fall bluegrass festival at Starvy Creek was reported to have been a great success.¬† Friday'Äôs show was a little abbreviated because of the rain but Saturday made up for it with perfect weather and amazing bluegrass shows according to local musicians who say that there are all night jam sessions every night of the festival.¬† They had a chance to catch up on their sleep before the jam at Vanzant on Thursday, but several of them were still off Hooting and Hollering and enjoying similar happenings around the area.¬† Music is a natural healer.¬† Plato said, 'ÄúMusic is a moral law.¬† It gives soul to the universe, wings to the mind, flight to the imagination, and charm and gaiety to life and to everything.'Ä̬† Rudy Valley said, 'ÄúKeep a little song handy wherever you go and nothing can ever go wrong'ÄĚ in Champion'ÄĒLooking on the Bright Side!