CHAMPION'ÄĒSeptember 12, 2016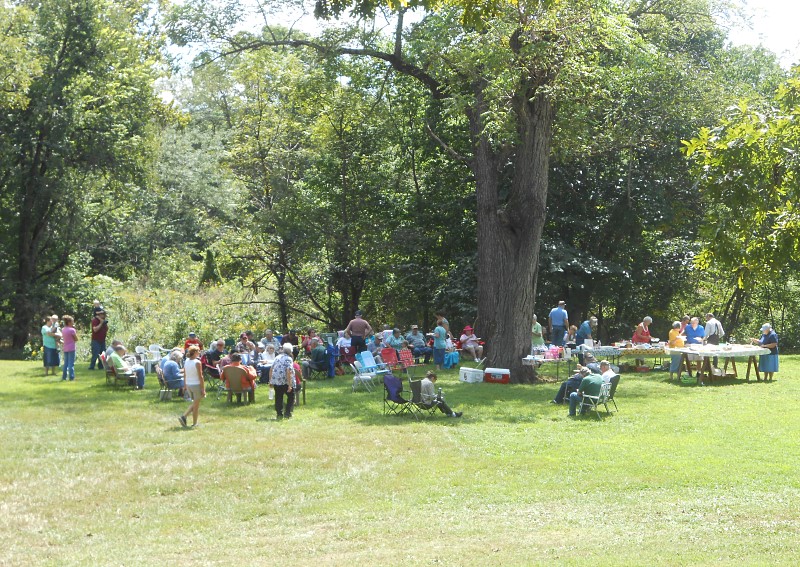 From high atop Mt. Champion the Champion School Reunion spread out on the old school grounds.
¬†¬†¬† ¬†¬†¬† As promised, The Champion School Reunion was a great affair.¬† Last year there had been eighteen students in attendance.¬† This year there were twenty eight students.¬† Students and all, there were almost sixty people young and old milling about under the bee tree that used to be first base.¬† Hoovie made the whole 'ÄúWalk of Ages'ÄĚ from Cold Springs to Champion (starting an hour early), and Royce and party made a fine showing of walking the greatest part of the hilly trek to arrive at the great gathering which was replete¬† with food, fellowship, reminiscences, reconnections, revelations, a few melodies and optimism for another a year hence.¬† Some of these folks represent 90 years of optimism.¬† Carry on!¬† The bee tree seemed vacant during the reunion, but by the following Sunday there were several bee sightings.¬† Reunions and renewals are Champion.¬† Bonnie Mullins said that she and Pete made their trip to Missouri for the Brixey reunion.¬† They had a beautiful day though they missed many who could not come, but the cooking was good with 'ÄúEd'Äôs good fish, chicken, fries and hush puppies and Kaye Johnston'Äôs good peach cobbler.'Ä̬† She thanked Sonja, Ed, Zack and Allison Williams for hosting.
        The turnout for the benefit at Vanzant for Shirley (Coffman) Driskell was remarkable.  Had not a nickel been raised, the outpouring of support and affection for the lady would have been inspiring.  It would seem that quite a few nickels were raised in addition to spirits and hopefully enough to be of significant support during a difficult time for a much appreciated neighbor.
        Champion Birthdays to celebrate are Tanna Krider Wiseman on the13th of September, Frances Sutherland and Konrad Zappler on the 14th.  Elmer Banks on the 15th and that will be a significant amount of celebrating.  It has probably already started and will go on for some while.  Stay tuned.  Grandparents Day at Skyline School on Friday was a great success.  Grandparents arrived at the school at 1:30 and enjoyed an afternoon with some of their favorite young people in their lovely little rural school.  The youngsters had a fine music program to share with some of their favorite old people.  Everyone left smiling.
¬†¬†¬† ¬†¬†¬† Sometime things work out for the best or at least work out.¬† It was reported in The Champion News on June 8, 2015, via a letter from Ms. Aynne Thrope concerning the 'Äúcontinuing genocide of indigenous peoples'ÄĚ.¬† She was appalled that Apache holy land might have been given away by Congress to a mining company owned by Australia and Britain which would have,¬† had they had been able to get their hands on it, made an open pit, thousand foot deep mine.¬† The National Park Service under Presidential leadership has recently made a strong statement with defense of Apache religion and the environment and blocked the sale.¬† Perspective is a gift.¬† The source of this good news is the internet and so it may just be a piece of wishful thinking.¬† It is hard to imagine that any politician could arrange a shady deal to plunder a Christian or Jewish religious site, but maybe it is different with indigenous people.¬† Maybe it is true that the sale has been blocked.¬† The Standing Rock water protectors have finally made a little mainstream media news.¬† That is good.¬† We progress.¬† Champion!¬† 'ÄúWhat is needed now, more than ever, is leadership that steers us away from fear and fosters greater confidence in the inherent goodness and ingenuity of humanity.'Ä̬† Those are the words of a living former President.¬† The views expressed here are the author'Äôs alone and are presented to offer a variety of perspective.
¬†¬†¬† ¬†¬†¬† 'ÄúRolling, rolling, rolling!¬† Keep them wagons rolling, Rawhide!'Ä̬† That song may be a little mixed up, ("though the streams are swollen, keep them doggies rolling'ÄĚ) but the West Plains Wagon Club and the Arkansas Gee Haw outfit are sure to roll into Champion just shy of noon on the 22nd.¬† They welcome visitors and gawkers.¬† The General has pledged to help with a musical rendition of 'ÄúMule Train'ÄĚ if it would be deemed appropriate and would not spook the livestock.¬† The committee is out on that.
        The committee conducted an examination of the mayoral entity on the wide veranda of the Historic Emporium on Labor Day to determine the suitability of his continued service.  While it is true that he mostly failed the test, it is also true that there is no big line of folks ready to take on the awesome responsibilities of the position with all its glamor and high profile.  The nature of the quiz was such that the official was clearly given a hint as to what is expected during the coming year.  Improvement is always welcome.
        If you have ideas for improvement, news, histories, stories, observations, corrections or suggestions, email them to champion@championnews.us or snail mail them to TCN, Rt. 72 Box 367, Norwood, MO 65717.  Recently, Suzie Freeman (a hillbilly at heart, living down in McKinney, TX) sent pictures of the Brushy Knob School, grades 1-8, in 1950 and another of the school in 1910, when it seemed to have been a much larger institution.  Examine those pictures down at Henson's Grocery and Gas on the North Side of the Square in Downtown Champion.  The school looked to be a nice brick building.  It will be interesting to know if anyone can locate the site now.  While attendance was down at last Wednesday's Salon in the meeting room at the Historic Emporium, it was still most pleasant.  Explanations for absenteeism will be weighed next time.  Though the Starvy Creek Bluegrass Festival and the Hootin and Hollerin doings might have an effect on the attendance at the Thursday night Vanzant jam, it is still likely to be a good time with pot luck at six and music thereafter until nine.
¬†¬†¬† ¬†¬†¬† As the anniversary of the September 11th attacks has passed and the acknowledgement of those nearly three thousand lives lost that day, it merits acknowledgement that 6,828 American soldiers have perished in Iraq and Afghanistan since then.¬† There are a million American Veterans who have been wounded.¬† The entire region there is in shambles now and the whole world is less safe than it once was.¬† Laying blame does not repair anything.¬† Learning who profits from this kind of horrible conflagration might be a step in the direction that leads to peace.¬† 'ÄúThere will be Peace in the Valley for me someday.¬† There will be Peace in the Valley for me, Oh! Lord I pray.¬† There'Äôll be no sadness, no sorrow, no trouble for me'Ä̂Ķin Champion'ÄĒLooking on the Bright Side!