CHAMPION'ÄĒSeptember 18, 2016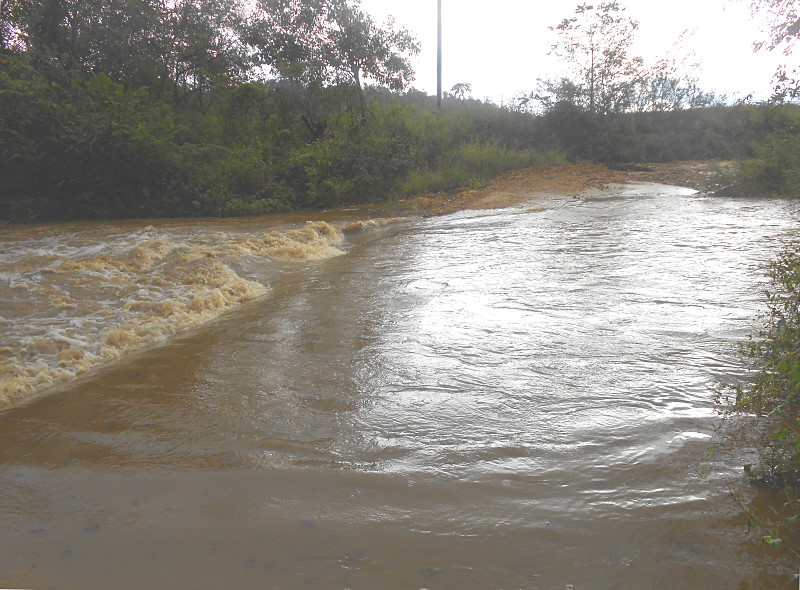 Clever Creek was wide and wild on Sunday!
¬†¬†¬† ¬†¬†¬† Birthdays are a big deal in Champion.¬† Dustin Johnson is a seventh grade student at Skyline School and has a birthday on September 25th.¬† That is on Sunday.¬† Monday will be a holiday for students, not because of Dustin'Äôs birthday, but so the teachers can have a meeting that will help them be even more effective in their important work.¬† Louise Hutchison, who was no stranger to Skyline, and a couple of lovely Texas girls, granddaughter, Zoey Louise, and great niece, Penelope, share the 21st as their birthday, which is also just when summer ends.¬† 'ÄúSearching for Booger County'Äôs'ÄĚ Sandy Ray Chapin'Äôs birthday is in the autumn.¬† He will be 70 on the 24th.¬† Graeme Laird over in Scotland was 42 in 2013 on September 26th.¬† Cathie Alsup Reilly celebrates on the 27th.¬† She is a Kentucky Wonder with close ties to Denlow and brightens up the place mightily on her too infrequent visits.¬†¬† Magnate Becky Heston in Texas has her birthday on the 29th but was celebrating on the Full Moon at the COTA World Cup Enduro Races enjoying 180 mph Lamborghini, Porsche, Ferrari, and Audi.¬† 'ÄúOh! My!'ÄĚ she said.¬† Author, Wolf DeVoon, may celebrate on the 30th, if that is his real birthday.¬† Real or not, enjoy it all.¬† For you people it is just another birthday.¬† For the rest of us it is a celebration of when the world got you Champions.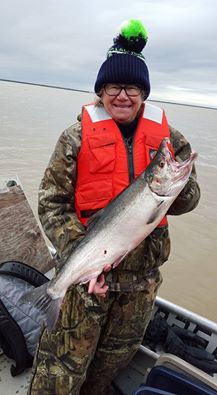 Lannie Hinote's smile is almost
as big as her fish!
¬†¬†¬† ¬†¬†¬† From The Champion News September 18, 2006:¬† 'ÄúDonald Krider is about to have a birthday.¬† He was born in 1927, but nobody seems to know how old he is.¬† He lives in Illinois and is the older brother of Vivian, Harley, and Lonnie.¬† He keeps busy, they say, playing bluegrass music and singing for the senior citizens in his home town.'Ä̬† Donald and Rita were in Champion in the early spring.¬† He had a joke to tell about Eskimos who, he said, are God'Äôs frozen people.¬† Friends will ask Lannie Hinote about that.¬† She is teaching again up in Mountain Village, Alaska.¬† She was home for the summer, but she is back in Alaska teaching and coaching volleyball and having great adventures.¬† Her friends and family know her to be a world traveler, a sports aficionada and an avid fisherwoman.¬† She has helped and inspired many people in this part of the world and is still at it.¬† Some of us are living vicariously through you, Lannie, but we are warmer.¬† Have fun.
¬†¬†¬† ¬†¬†¬† Champions are grateful for the rain, but last Wednesday the rain came so fast and hard that loafers out on the wide veranda at the Historic Emporium first thought it was hail.¬† 'ÄúHail?¬† No!'ÄĚ The General exclaimed as he stepped out into it to roll up his truck windows.¬† He strolled casually across the square, secured his windows and returned without having become wet.¬† It was a meteorological anomaly to defy experts, perhaps even to mystify favorite weather woman, Abbey Dyer.¬† The hopes of daydreamers have been dashed as the climate queen is now sporting a very sparkly ring on her left hand.¬† Fans were concerned earlier in the year when she had what appeared to have been a cast on that arm.¬† She has apparently recovered, but heartbroken hillbilly boys may not.¬† Alas!¬† Excuses were made and accepted for recent absences at the Wednesday confab.¬† It will be an exciting Wednesday coming up, particularly since the next day will be Thursday and the Wagon Train will be rolling through town.¬† They start their journey on Monday and hopes are that the big rains will be over before they get on the muddy trail.
¬†¬†¬† ¬†¬†¬† The happy birthday song came out for Elmer Banks at the Vanzant Jam on Thursday.¬† A card was passed around at the Champion store and someone said, 'ÄúHey! You made it another year, you ornery man!¬† Enjoy it all!'Ä̬† A number of the regular musicians were at Starvy Creek enjoying the bluegrass festival there.¬† It will be interesting to hear their stories.¬† Hopefully the bad weather passed them by'Ķ.and it is sure they had a wonderful time.¬† The Full Moon was all over them out in their camp ground'Ķ.the Harvest Moon at that.¬† The General said there was going to be an eclipse as well.¬† He knows so much.
¬†¬†¬† ¬†¬†¬† The Water Protection folks out in North Dakota, South Dakota, Nebraska, Iowa and Illinois are all making some progress toward getting the attention of the general public for the purpose of protecting the big aquafers from big oil and while they are at it, protecting the sovereignty of indigenous peoples.¬† As support builds for the movement from over a hundred Native American tribes, from First Nations around the world, and from organizations, cities, and businesses, it is exciting to see, even if it is difficult to see.¬† Television coverage has been minimal.¬† Journalists are being arrested along with activists.¬† One is kind of reminded of the 1970s.¬† People who grew up in this part of the world love their plentiful, natural, wild water and are aware that it is an exceptional resource.¬† It is one of the main reasons people have moved here from all over.¬† As oil becomes more scarce, it also becomes more dirty.¬† It is a fact of fracking, tar sands production, etc.¬† Even Mayflower, Arkansas, a quiet little town of 2,234 people, mostly white and Republican has not recovered or been compensated for the 2013 oil spill there.¬† It is a volatile issue.¬† Those four billion dollars dedicated to the pipeline by the Texans could as easily be spent on wind generators providing thousands of jobs for what old time ranchers called, 'Äúa good windmill man.'Ä̬† It is all perspective.¬† We need gas in our rigs to drive down to Champion to meet up with the wagon train.¬† They will be there on Thursday early mid-day with all the perspective they bring.
        A Champion reported the other day that while he had been waiting in line for his sandwich at a restaurant in town, he met neighbors who introduced him to some of friends who happened to have just returned from a political rally in Springfield.  They had been whipped into frenzy and were looking for someone, anyone with opposing views that they could annihilate with their new found zeal.  At the hint that the Champion may have had a different viewpoint, they became belligerent and abusive.  It was embarrassing but mostly sad to be attacked by strangers.  There are fifty or so days to go before the National election.  Tolerance and respect for each other do not need to be lost in the race.  On November 9th we will all still be neighbors, and hopefully friends.  People can believe with equal fervor opposite things and still be civil to each other.
¬†¬†¬† ¬†¬†¬† Stories of tolerance, forbearance, compassion, heartbreak, romance and adventure are welcome at The Champion News, Rt. 72 Box 367, Norwood, MO 65717.¬† Request the complete unabridged news there or find it in the Reading Room in Henson'Äôs Downtown G & G on the North Side of the Square, or at www.championnews.us where there will be pictures of the West Plains Wagon Club when they come ambling into town on Thursday'Ķabout noon'Ķjust moseying on in'Ķwagons swaying'Ķleather squeaking…harness rattling'Ķhorses neighing'Ķmules braying…gravel crunching under wheels.¬† 'ÄúRollin over prairie where there ain'Äôt no grass/ Rollin over mountains where there ain'Äôt no pass/ Sittin on a board, eyein the weather/ Prayin to the Lord we stay together/ Side by side on the Wagon Train.'Ä̬† Friends and neighbors will be there to greet them.¬† Welcome to Champion!¬† Looking on the Bright Side!