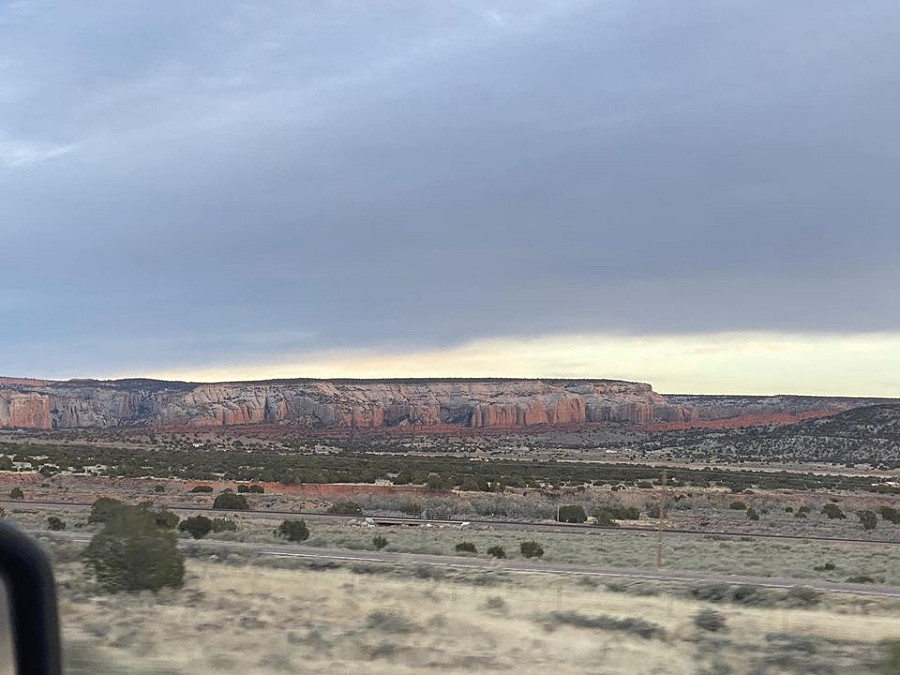 Thanksgivings' blessings and leftovers linger on.  Jack and Sharry Lovan had dinner late.  They had been out on a tear down through windy Texas out to The Cadillac Ranch then on to New Mexico.  They wound up in Sonoma/Napa Valley, California.  Sharry said, "I wish palm trees would grow in Missouri!"  They ambled back home through Arizona sharing many fantastic photographs along the way.  Thanks, Sharry, for taking us along with you.  Pat Kim Smith is out rambling with her daughter on airplanes, in the airport in Paris and all the way to Israel where the sign said, "Welcome to Israel.  Your life will never be the same."  Jessica shared pictures of them on a Mediterranean Sea beach.  She said they took 22,161 steps that day. Friends look forward to Pat's report when she is back around the wood stove in Champion.
Some form of deer season will be going on until January.  Many local hunters who process their own kills are donating the hides to The Veterans Leather Program, a program of the Elks Lodge that provides deer skin gloves for Veterans in wheelchairs.  Find a place to donate by emailing Vets@elks.org or calling 773-755-4736 or by calling the Elks Lodge #409 in Springfield 417-881-8596.  It is a joy to find a way to help a splendid cause.  Hunting season is exciting.  Jacob Moffett combined his deer hunt with his arrowhead hunt and had great success.  Kyle Barker got a picture of a bear on his game camera.  It was in the area that they had previously placed their deer hunting blind.  We live in a wonderfully wild part of the world.  Saturday's early morning fog let the sycamores show up in unusual ways, graceful reaching white arms from the misty valley floor up and bright against the fog.  Then Sunday afternoon's dazzling sunshine reflected in big puddles in the road tells us there is some beauty to be had every day here about.
Brooks Blevins has a birthday today, November 28.  His "History of the Ozarks Volume 3–the Ozarkers" is an interesting read.  The jacket says it "offers an authoritative appraisal of the modern Ozarks and its people."  Back in October he presented a program at the Independence County Library called "Mythological Creatures of the Ozarks."  Hopefully he will be willing to repeat it next October somewhere close to Booger County.  Yesterday was the birthday of W.A. Masters, born in 1917, passed away in 1989.  Among his archives was a set list:  John Henry, Do What You Do Do Well, Out Behind the Barn, Rocks in the  Mountains, Chicken Reel, Jessie James, Cripple Creek, Red Wing.  How we would love to hear him play and sing again.  For that matter, we would love to hear Jerry Wagner play again.  To that end, we might have to matriculate into the barber shop for that some Wednesday morning.  Hopes are that he and the fair Lena Belle have had a beautiful Thanksgiving.
Champion granddaughter Luxe Krider was born December 2, 2014.  Famous crooner, David Richardson, was born on that day but in a year so long ago that he is in his second year of Social Security.  December 4th is the day to remember Lonnie Krider who was so much a Champion that his is the only named street in downtown Champion.  Miss Lorelai Day is new to the area, an aspiring dulcimer player, with a birthday on December 4th.  The 5th has us celebrating Dawn Henson (Mrs. Hovey) and the charming Mrs. Spivey at The Hub.  Two talented, creative young men share the 6th, though they have only heard of each other through mutual friends—Zack Godshall and Ed Bell.  Ethel Leach, who always sends great birthday cards has her day on the 7th.  She likes that tune "Gary Owen."  Many lovely people have been born in December.  We will check in on those among the Skyline School students next week.  Meanwhile, we are grateful to be acquainted with all you Champions—Looking on the Bright Side!