CHAMPION'ÄĒFebruary 20, 2017'ÄĒPresident'Äôs Day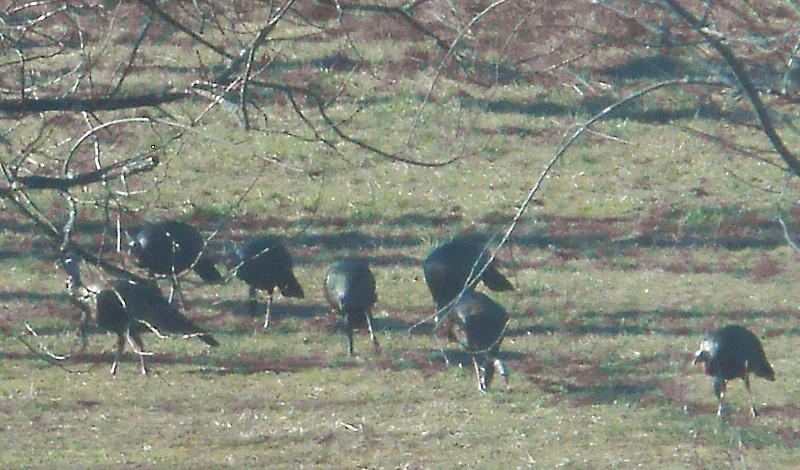 Wild Turkeys on President's Day
Until the Uniform Monday Holiday Act of 1971, George Washington'Äôs birthday was always celebrated on February 22nd.¬† Then it became known as President'Äôs Day and is popularly viewed as a day to celebrate all U.S. presidents past and present.¬† The President'Äôs office number is (202) 456-1111 or (202) 456-1414 but there is currently no one answering there, so if you want to communicate with your President write to him at 1600 Pennsylvania Ave., Washington, D.C. 20500.¬† Theodore Roosevelt, the 26th U.S. President from 1901 to 1909, leader of the Republican party, said, 'Äú'ĶTo announce that there must be not criticism of the President, or that we are to stand by the President, right or wrong, is not only unpatriotic and servile, but it is morally treasonable to the American public'Ķ'ÄĚ The positive aspects of the current situation are significant, i. e:¬† We have unprecedented levels of ongoing civic engagement.¬† Millions of Americans now know who their state and federal representatives are without having to google.¬† The Postal Service is enjoying the influx cash due to stamps purchased by millions of people for letter and postcard campaigns.¬† Millions of Americans now know how to call their elected officials and know exactly what to say to be effective.¬† Many people are now correctly spelling words like emoluments and cognitive dissonance.¬† Everyone knows more about legislation, branches of power and how checks and balances work.¬† Write to Roy Blunt at 260 Russell Senate Office Bldg., Washington, D. C. 20510, to Claire McCaskill at 730 Hart Senate Office Bldg., Washington, D.C. 20510, or at her District Office 324 Park Central W, Ste. 101, Springfield 65806, and to Jason Smith at 118 HOB, Washington, D.C. 20515 or at his District Offices 35 Ct Square, Ste. 300, West Plains, 65775.¬† A member of Jason Smith'Äôs staff will be at the Chamber of Commerce Office in Ava from 1 to 2 pm on March 2nd.¬†¬† That is just off of 5 Highway by the Cox Health Clinic. This person is coming to hear your voice.¬† We can complain or celebrate what is happening.¬† It is wonderful to have a voice.
Meanwhile local birthdays include those of a lovely Champion lady now in Tennessee–the Mom of Drayson and Carson who are Champion grandchildren.¬† She was born in 1983 on February 23rd.¬† On that day in 1945 a special Tar Button black bear siting grandmother of twins and others was born.¬† The big green thumbed Swedish Indian of Highway C celebrates on the 24th.¬† Jack Masters down in Austin has a birthday on the 27th and Frankie Proctor would have his birthday on the 29th if there were to be such a date this year.¬† He might have to wait.¬† Probably he has had to wait before.¬† He must be very young.
News from Skyline gleaned off the wonderful internet includes the information that Vanessa Shannon brought sheep to school to help the preschoolers remember the letter S.¬† Mrs. Coonts and Mrs. Barker took a group of middle school students, who had made positive choices all week, to a nursing home in Mtn. Grove to visit and deliver homemade cards to residents.¬† It was a part of the Random Acts of Kindness Week.¬† Terri Ryan wrote, 'ÄúI wish more people would attend board meetings to better understand where we are.¬† Seven board members sat there desperately trying to find a way to get us buses (used) to replace those we have.¬† Unfortunately, with the amount we have and transportation funds being cut, even the cheapest option seems out of reach.¬† We'Äôve already spent $15,000 repairing our old buses and we have one bus that they no longer make the parts.¬† I live in our district, hate paying more property taxes, but our family voted to increase ours, because I have ridden the buses.¬† Please, folks, get involved.¬† Come to the meetings and help us.'Ä̬† She received a response from a friend who said, "I understand people not wanting to pay more taxes, but this is our children'Äôs safety we are talking about when it comes to the buses.¬† We need good safe transportation that isn'Äôt going to break down with our kids.¬† Everyone around here has a hard time with money, but the extra taxes would benefit our kids and that should be what is most important.'Ä̬† Another says, 'ÄúI have relatives that are older and on fixed incomes that make a point to show up to vote no on every school tax increase.¬† Because it'Äôs not uncommon, they assume that it will be for something like a larger gym, but for small schools like ours, it'Äôs for necessities.¬† We voted yes because we knew how badly we needed to replace the buses.'Ä̬† Governor Greitens (573) 751-3222 is the guy to talk to relating to public school transportation funding.¬† More news is that there is still time to get in on the drawing for the great Hoyt Ignite bow that is being offered by the Norwood Archery Club to help them raise money to go the state championship tournament.¬† The drawing will be on February 25th.¬† Tickets are available from Mrs. Sartor at the Skyline School.
There must have been 10 guitars, 4 mandolins, two fiddles, 1 banjo, 2 harmonicas, 1 ukulele, and 1 bass fiddle at the Vanzant bluegrass jam on Thursday night.¬† Additionally, there were several folks who just love to sing and they were given the opportunity to do just that with some good back up that they probably do not get routinely.¬† Amateur musicians and singers will generally agree that when they are by themselves, in the car or in the shower, they are just great.¬† In the presence of 'Äėreal'Äô musicians and an audience of music appreciators their confidence may flag a little, but music is healing and sustaining and the Vanzantians do not judge harshly.¬† They 'ÄúKeep on the Sunnyside of Life.'ÄĚ
Down on the wide, wild, wooly banks of Auld Fox Creek folks gather any day of the week to swap yarns and enjoy their neighbors.¬† There was a big gathering on Wednesday.¬† Young Chase led the Veranda Band for a few tunes while the hob knobbing was going on inside.¬† Kaitlyn McConnell stopped in on Saturday.¬† She had been over to Gentryville to get acquainted with that neighborhood and to enjoy the artwork.¬† At Champion she learned about the Blue Man, a reported sheep thief, and about the time a mushroom fell over and blocked the road just east of the store.¬† She met Cowboy Jack and heard about when he borrowed a log chain from a neighbor lady to handle his mushroom harvest.¬† She also submitted a written request to interview a famous local flintknapper, which the Prominent Citizen agreed to deliver that very afternoon.¬† It is a bustling place, an exciting place, beautiful place'ÄĒwhere country roads meet the pavement and where, 'Äúthough we meet with the darkness and strife, the sunny side we also may view'ÄĚ in Champion'ÄĒLooking on the Bright Side!