Champions were chasing their hats over the weekend as the unrelenting gusts sent them sailing across their gardens. Getting the soil ready to plant is rewarding work even when it requires more effort than some can muster at any one time. They will be happy for what little they do get done and happier for a rainy Monday to rest and revel in the aquafer being recharged. They will recharge themselves and be ready to get out there again some sunny day.
Skyline students are hoping for a sunny Saturday, April 23rd, for their Fun Run-Donut Dash. Meanwhile they are gearing up for MAP testing, which will be followed by a variety of field trips and end of the year activities. The Sunshine Committee at Skyline is holding a fundraiser selling Krispy Kreme donuts. They will be delivered the day of the Fun Run. Contact any Skyline student to make your order. John Phillip Rhodes, a seventh grade student, had his birthday on April first. Kindergarten' Fredrick Smith had his party on the 4th. Saturday, the 9th, was the big day for Administrator Donnie Luna and third grade teacher, Candace Mayberry. Seventh grader Wyatt Lakey has the 15th for his big day along with G. Gary Jones over in Stockton, Champion son-in-law Dustin Kline, and Champion Vivian Krider Floyd.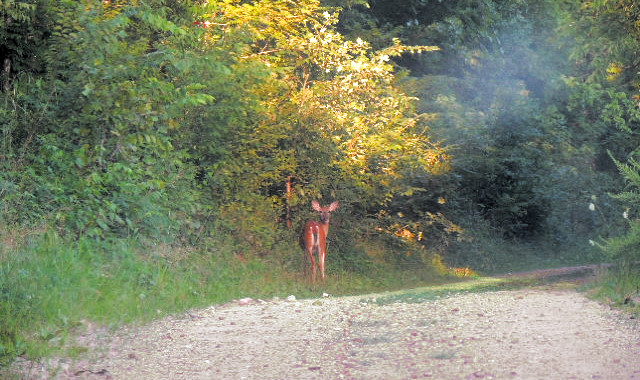 Studebaker Bob Berry will be celebrated in Vanzant on the 14th. Hopes are he and Mary will be there to enjoy the music with their friend, Glen Brandstedder. Champion grandson and banjo player, Dillon Watts, has his birthday on the 12th. Hopes are he and his wife will find their way over from Tennessee to the jam some Thursday. Our favorite fiddler, hit a deer on the way to Vanzant last week. His headlights were still working so he came on. He was in fine voice and grateful the damage to his vehicle was not worse. It is a cautionary tale. Watch out, day or night, next fall's venison on the hoof could cause havoc any time of the year.
April 15th, Tax Day, finds most of us glad to pay our fair share and grateful for the benefits of living in this wonderful country. Tax evaders enjoy those benefits too, and their fair share could greatly enhance them for all of us. A little update in the tax codes and some serious enforcement would help. A friend who is interested in word origins said that politics comes from the Greek word for many and from blood sucking parasites. Certainly, if vitriol were vitri-oil, the energy crisis would be well over. Would we could find a way to extract the ire-oil from the letters to the editor and certain inflationary articles, which should be published in the 'op-ed' section, we could fuel our tillers, our tractors, our trucks, and our Trans Ams. Political fervor can be mollified by a nice walk in the woods. Maybe you will find a mushroom and lower your blood pressure.
A brief, pleasant meeting with Ethel Leach at the feed store revealed that she and Bob are doing well and staying busy. She sends regards to Don and Reba and all their friends down on the wide, wild, wooly banks of Old Fox Creek, where good citizenship and optimism reign in Champion—Looking on the Bright Side!