The effects of the Emerald Ash Borer are clearly visible in Douglas County. Beautifully shaped trees without any leaves stand along roadsides and in open fields. They will provide a lot of firewood for country people and, hopefully, material for our many local woodcrafters and trinket makers. Ash wood is used for all kinds of things including baseball bats, tool handles and boat oars, as well as fine furniture. The U.S. Forest Service says that the exotic insects are likely to kill 99% of the U.S. ash wood trees. The Department of Agriculture is working on ways to mitigate the problem but says it will be years before balance comes back to the ecosystem. Meanwhile we have learned things about trees in general. Every day, a forty foot tree takes in fifty gallons of dissolved nutrients from the soil, raises this mixture to its topmost leaves, converts it into ten pounds of carbohydrates and releases about sixty cubic feet of pure oxygen into the air. Hug a tree if you want to or just appreciate the beauty of this wonderfully forested part of the world.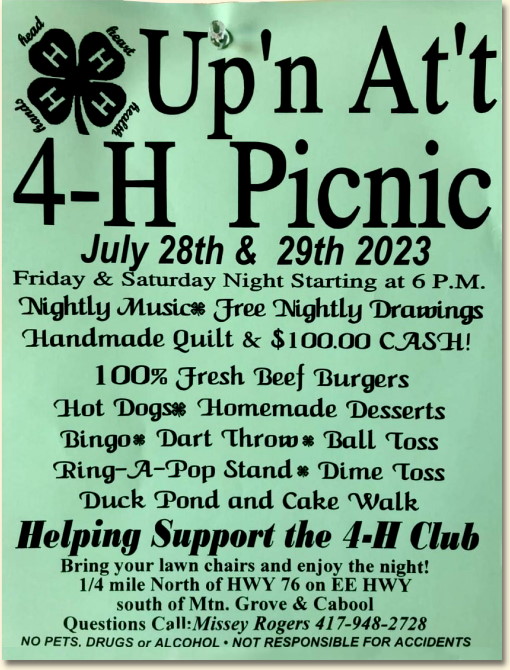 Some old Champions are still thinking about the Vanzant Picnic and the joy of seeing romping children and grandchildren, laughing, and running amuck. We are told that seventy-five percent of the time we ever spend with our children is over by the time they turn twelve. Ninety percent is gone by the time they are eighteen. We are admonished to enjoy these short, sweet years as they will soon be over. They are long over for many, though many fortunate old folks have the joy of being with and seeing their children and grandchildren often. Count your many blessings. Blaine Denlow had her third birthday on Saturday. She runs the Wolf Pen Cattle Company, helping her old Dad with the hay and calling her Mom a tractor driving cowpoke. Her neighbors and her big family enjoy watching her grow.
Our warm Wednesday found the porch full at Champion. An Arizona resident who started life in Bakersfield was back for a visit, and a little surprised that The Champion Store does not sell pocketknives. He is a collector. He buys big wind chimes and would not live here again because he is afraid of tornadoes. There was a little music that day and a lot of visiting. Don Hamby has asked about the best time to get some ice cream on the wide veranda when music was going on. He was encouraged to bring his own instrument or some musician friends to join the band from about 11:00 on Wednesdays until time to go home for a nap. That is when The General leaves. The music is invited to move inside when it gets too hot. Surely someday someone will invent a banjo that can be transported on a Suzuki. Banjos are not like fiddles which can go anywhere on a motorcycle. Ask Mike. Missey Rogers lets us know that the "Up'n At't 4-H Picnic" will happen on July 28-29th. That is another opportunity for some great music and some good chances to join old friends having fun celebrating Head, Heart, Hands, and Health and the young folks learning good life lessons.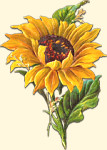 It was nice to see that some of the big longstanding, deep and rugged washed out spots on county road 239 have been repaired. Thanks to a good neighbor, we may not have to see our dentist after all. A particularly favorite hairpin curve can now be navigated at the speed which makes the experience exhilarating. Perhaps Wednesday's evening rain was enough to save some of the big corn patches up on Fox Creek Road. Gardeners say a teacup of rain is better than a gallon irrigation. Weather everywhere is causing concern for those of us living out on the surface of the planet. We have had our share of weather related difficulties here in the beautiful Ozarks, but these days we empathize with the struggles of those suffering unprecedented flooding up in the northeast and searing, unrelenting heat in the south and west. Here, we acknowledge and enjoy it when conditions are lovely and endure them when they are not…like Champions—Looking on the Bright Side!