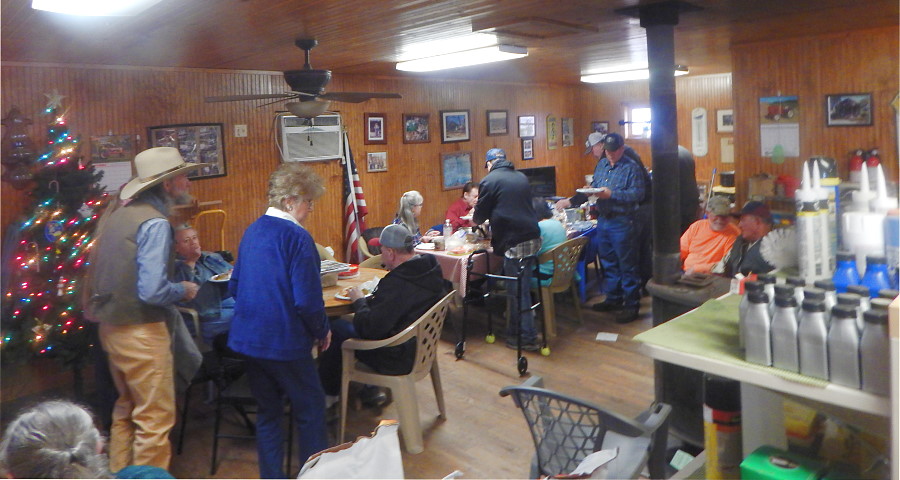 Wednesday's gathering in Champion was all it was hoped to be, except for missing Bob and Ethel. It would have been sweet to have seen Jerry too, but it was his birthday and his brother-in-law said he had gone to the barber shop. He seems to have a standing appointment at the barber shop, always looking good. The potluck feasting in the Historic Emporium was ample and sumptuous, and the attending company was a delight. Old friends and new ones got acquainted and caught up. Bishops, Barnharts, Kriders, Clines, Upshaws, Rays, Stones, Lamberts, Hensons and numerous others, including a McConnell, fed their faces and their friendships, while customers came and went, some pausing to chat and all leaving smiling.
Many lovely things have happened in late December. Gordon and Mona McCann were married in December 70 years ago. We know Gordon from Ozarks Watch Magazine and from his frequent attendance at McClurg. Royce and Jody Henson would have had their 64th anniversary on December 13th. This is Jody's first anniversary without Royce. This this time of the year we miss Royce and the many who brought us great joy when they were here. Tim and Sarah Tamburino had their 40th anniversary on December 23rd. They are out preserving and supporting local music all around the Ozarks. He wears a red shirt, and she smiles. The amazing Corinne Leigh Zappler has a birthday on the 27th. She is as old as her old uncle's truck. She has been to Champion, Vanzant and the barber shop! She plans another trip soon, bringing her big fiddle with her. It is really a viola. She and her old auntie are working up "Ashokan Farewell." Eli Oglesby is a Champion grandson with a birthday on the 30th. He has many musical cousins—Foster on the mandolin, Kalyssa on the fiddle, Dakota on the banjo and guitar. There may be others. Then, of course he has a great uncle who is a proficient accordionist. Young Arvin Schroder has his birthday on New Year's Eve! He has been attending the Sometimes Porch Band jams since he was just a little baby. He shares his birthday with The General, who commands the Vanzant First Alert Weather Team. On December 22nd, he reported that, "
the Team has determined the extremely excessive predicted cold may cause adverse effects to the sensitive 'G' strings," hence, the Vanzant Thursday Night Music was cancelled. (Excessively cold weather is detrimental to B, D, A, and E strings as well.) It is likely to be 60 degrees for the jam Thursday, December 29th, so there will be a splendid opportunity then to sing that birthday song, long, loud, and rowdy to the man who makes the coffee and keeps the community informed and entertained.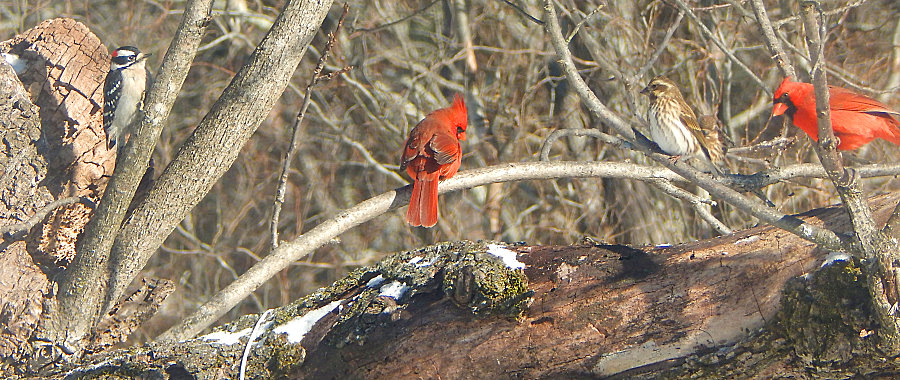 For all you Champions who relished a glorious holiday weekend in the presence of your dear loved ones–family, and friends, count yourselves blessed beyond your deserts. While others enjoyed a quiet little Christmas, they know that closeness has not all that much to do with geography anymore as phone lines chimed and computer screens brought them close, even at great distances. God bless us every one, including all those of us with no one, no power, no warm fire, no food or shelter. There is much suffering and want in the world. War, poverty, famine, disease, and disasters are all taking their toll. In our gratitude for our own good fortune, we extend our hopes for a better day tomorrow for all those not fortunate enough to be Champions. Happy New Year! —Looking on the Bright Side!