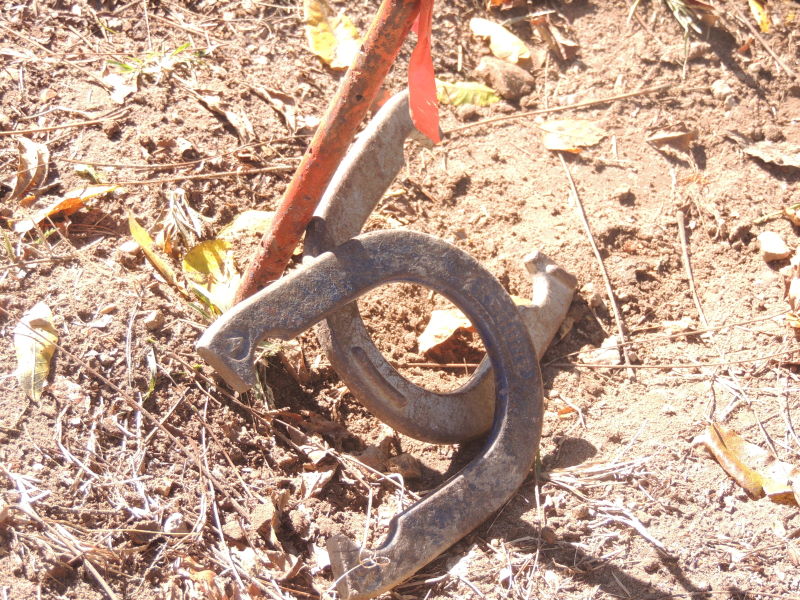 Amazing horseshoe situation in Champion.
The mulberry tree down by the road is blunted by the trimming for the electric right-of-way. The birds like it for its fruit and the wide leaves provide shelter. Those leaves darkened with the frost until the morning sunlight moved across the valley floor and lit them up. They all let go at once and floated down in a hasty pile leaving the trunk a stark, abrupt alteration to the landscape. It is an annual happening. Expected changes can still seem sudden in Champion.
"Gallivantin Galveston Gal" is a Gene Autry song much appreciated by a regular Champion visitor who has a birthday on November 4th. That is also the special day for Skyline sixth grader, Hailey Hall. Champion granddaughter, Emerson Rose enjoys her birthday on the 5th. A sweet smiling, ever pleasant Vanzatiana has the 6th, and Wayne Wiseman and Skyline 4th grader, Mason Solomon, both celebrate on the 7th. Lizzie's granddad over in Champion South will be getting better acquainted with his eighth decade on the 8th. The 9th is for Skyline 5th grader, Justin Borders. Each of these birthday celebrants probably has a favorite song apart from the routine one, but that one is still good.
Frosty conditions over the week end did not chill the numerous Halloween parties in the area. It must have been pretty exciting over in Vanzant. The internet was full of pictures of warmly costumed children and a report of car damage to shrubbery. The bush is reported to be "now teetering at about a 75 degree angle." There was relief that the hurricane resistant gate post was spared and there was reference to a "grasshopper episode at the Amos place." Mystery goes with the holiday. Extortion is another aspect of the observation—trick or treat.
Tim Tamburrino of the Midwest Bluegrass Directory was at Clark's Eatery on Tuesday with Sara and his camera. He gets around to jams all around the area and generously posts videos on the internet. On Sunday he posted that he was at Mercy Hospital in Springfield getting ready for a bypass procedure. His many friends and fans send their best wishes for a speedy recovery. He does a lot for bluegrass. Clark sisters, Paisley and Brooklyn, met him and had their picture taken. They sang "Jesus Loves Me" and "There Was an Old Lady Who Swallowed a Fly." It is beautiful to see children loving music. They will enjoy lifelong benefits. Zoey and Alex, down in Texas, had their piano, guitar, and violin recitals on Sunday; a great experience for their granddad to witness, and the internet blossomed with the videos. There is now a piano in young Chase's house and it is likely there will be lessons on-going there. Music is a critical part of childhood development and a great stress reliever for young and old. Cervantes said, "He who sings scares away his woes."
The Great American Pastime is another timely diversion from the perpetual kerfuffle of political absurdity. (86-45) Old folks remember baseball on the radio with names like Sandy Koufax, Whitey Ford, Hank Aaron and Ted Williams. Red Barber was one of those great announcers that could paint a picture that you could see in your mind's eye. "It's a high fly out to center field. It's going
.going
.gone!" It was exciting in a different way from today. Now there are cameras that show every conceivable angle of every play. The tension is palpable. The visible jubilance of players and fans as a run is scored is something that does not happen in the lives of every day folks. Certainly we have fun and experience joy, but rarely do we leap up in the air and gallop about yelling with complete abandon. The camaraderie and affection of the players for each other is unlike what most of us are accustomed to in our daily lives. The back slapping alone would tax our endurance. Meanwhile there is the entertainment of critiquing facial hair, haircuts, chewing and bubble blowing techniques, and spitting distances. Ten innings in six hours on Sunday exhausted people sitting at home watching—the fifth game of the series.
Week end temperatures were down to as low as 18 degrees by some thermometers. Summer gardens are definitely over for the year. There are green tomatoes ripening on counters and that dish that Ethel of Omo talks about, The Last of the Garden, is bubbling on area stoves. A great bowl of chili is to be had on Saturday, November 4th, at the Eastern Douglas County Volunteer Fire Department chili supper and auction over at the Vanzant Community Building. It kicks off at 5p.m. and is always one of the excellent events of the year. Steve Moody will be providing his famous pulled pork. Proceeds will go toward purchasing new turn-out gear for the volunteer fire fighters. Our little rural fire departments are part of what makes this a great place to live.
The Champion Horseshoe Pitch has seen some exciting action recently. On Wednesday players came into the Historic Emporium looking for someone to witness the phenomena when each of the competitors had his horseshoe leaning on the post. It was a first time event. Look for pictures on line at www.championnews.us. There are ten years of archives there to give you the flavor of the place. Weather will have a lot to do with the outside action there from now on. A checker set is available inside near the stove for anyone who thinks he can beat The General. He could use some practice if he is going to go up against the reigning Douglas County Checker Champion. His school chum, Sharon Sanders, has issued the challenge and will be ready for a match any Saturday (between 10:00 a.m. and 2 p.m.) at the Douglas County Museum in Ava. Come down to the wide, wild, wooly banks of Auld Fox Creek to play checkers or to enjoy a friendly conversation with your neighbors. Talk about history, or sports. Spin yarns. Learn something. Teach something. Get together and decide if you think the tax cut proposal is really going to be good for folks here in Booger County, almost all of whom are not millionaires. You can sing that song, "Once I lived the life of a millionaire, spending my money. I didn't care. I carried my friends out for a real good time
" to Champion—Looking on the Bright Side!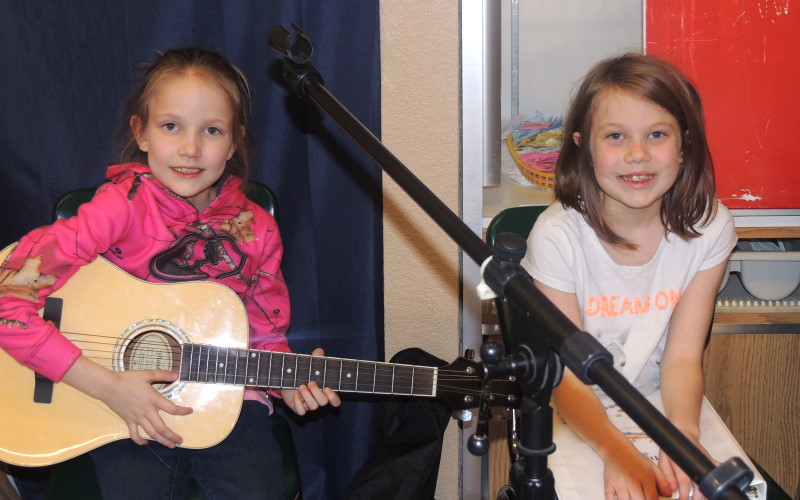 Paisley and Brooklyn at the Clark's Eaterie Bluegrass Jam.