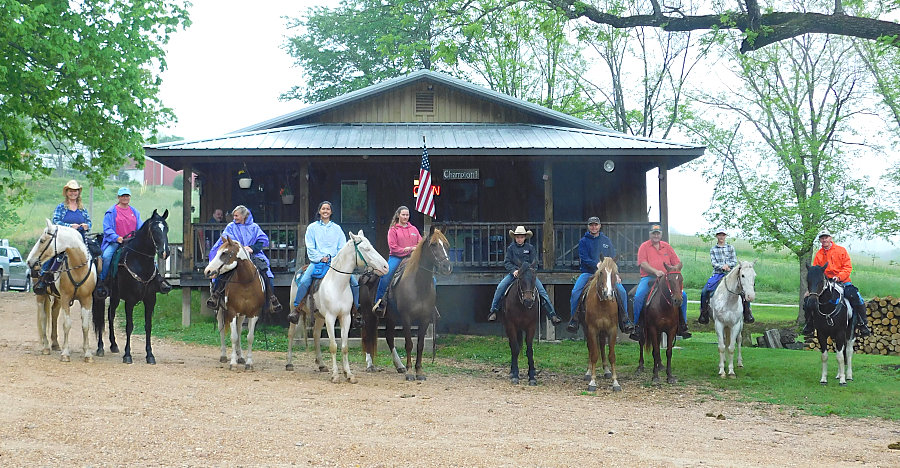 Bud Hutchison's Memorial Trail Riders
Ten riders made the 9.5 mile ride out of Champion and back on Wednesday, May 19th. Sisters, Debi Grace and Jennifer Wolf, went a little further for a total of 15.7 miles. Andrew Harden has been leading Bud Hutchison's Memorial Trail Rides since Bud passed away in 2018. Pictured here, perhaps in order, are Jennifer Wolf of Pontiac, Debi Grace of Edgar Springs, Isabel Warren, Jeannie Kapraum, all of Dora, Dana Harden, Caleb Harden, Andrew Harden, all Champions, Calvin Chambers and Sara Johnson, of Dora, and Bill Winkelman of Ava. About half of them were personally acquainted with Bud, and the rest enjoy hearing the many stories about him as the Champion of the Road Rides.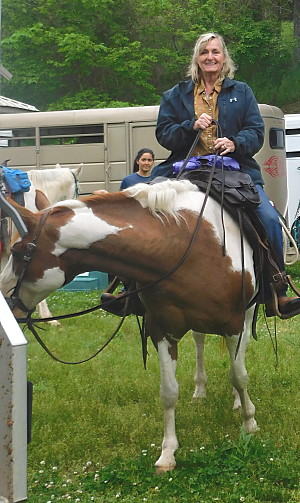 A venerable Old Timer once said that when he was a kid, Champion would be so crowded with people and horses and wagons on Saturdays, that you could hardly get around. It was a market day with buying and selling, trading, and visiting. Wednesday was kind of like that with Bud Hutchison's Spring Trail Riders going and coming and the regulars drifting in and out. It is a treat to sit on the veranda and listen to the old folks reminisce. There were some rowdy days way back then. Ever time I go to town, the boys keep kicking my dog around.
A Fox Creek Family had grandparents visiting from Idaho. They live near the mountains and like to explore the little communities that they say remind them of Champion. This was their first visit here in three years and they were very much enjoying it. One of their grandsons, a Skyline student, beat the daylights out of The General in checkers. The General said he would not play with the youngster any more, but he did pick up his guitar again and the family joined in for a few songs with their sweet harmonies. They are generally acapella singers, but didn't mind a little accompaniment in this informal setting.
Sharon Sanders is another accomplished checker player who has had rivalry with The General in the past. They may each tell a different story about those school days long ago. She says that the Douglas County Museum will have a drawing for a beautiful red, white and blue quilt in August. August 21st, she thinks is the date. The pattern is called Kaleidoscope Star. Stop by the Museum on Saturdays between 10:00 and 2:00 to get a look at it and to buy tickets. Sharon reminds us that the $20.00 membership dues in the Douglas County Historical and Genealogical Society are due on July 1st. You can mail them in: Douglas County Museum, P.O. Box 986, Ava, MO 65608. You can get your quilt tickets in the mail too. Quilts have long been excellent fund raising items in this part of the world. Last year, when we were unable to have the Skyline Area Volunteer Fire Department Picnic because of the pandemic, Connie Freeman donated one of her creations that brought in about $1,200.00 for the fire department. Most of those tickets were bought through the mail at six tickets for $5.00. We live in a generous part of the world and we like our quilts.
After a long year of mostly being at home, it will be a joy to gather again at Denlow for the 35th Annual Denlow/Fairview School Reunion on Saturday. There is always an excellent pot-luck luncheon and then fun and fellowship out in the pavilion. Everyone with a connection to these little schools or with a connection to someone connected with them is welcome to attend. There will be get togethers all over the country during the Memorial Day weekend to acknowledge those who serve and who have served in the U.S. Military. It is a chance to say, "Thank you." While we are at it, we also pay respects to our families and many friends who have passed away. That growing number makes us aware of our own mortality and of the joy and beauty of being alive. It is a good time to express our love for each other while we are on this side of the ground. Champion–Looking on the Bright Side!