August 13, 2018
Sherry Benet and John Webber–all smiles.
Anticipation..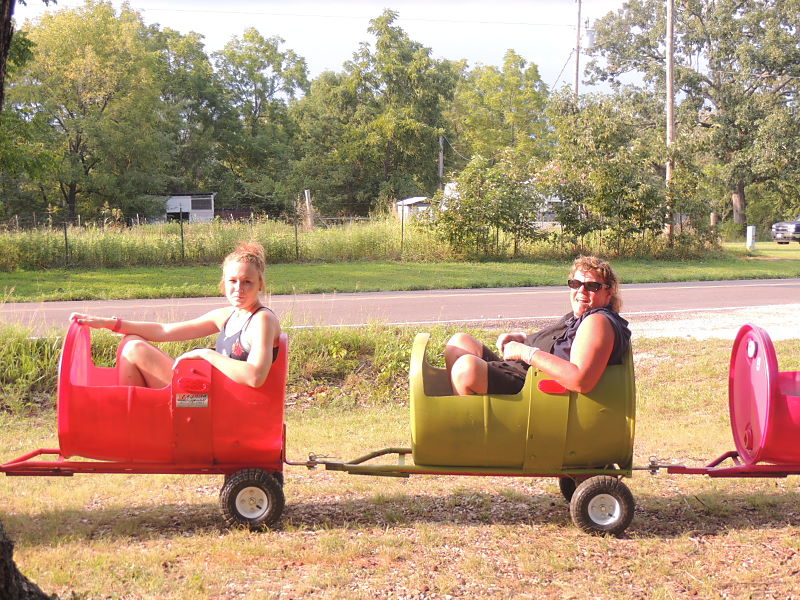 What fun! =:-)
Oops…
Brenda's Rescue!
Rescued!
October 20, 2015
The silent auction set up in the hallway featured some extraordinary student art as well as
Silver Dollar City tickets and a number of items donated by local merchants.
James Brixey, Joshua Strong and Joseph Georges struggle under the
awesome responsibility of judging the pie contest.
Donna and Paul Boyd are always in the middle of the good times at Skyline.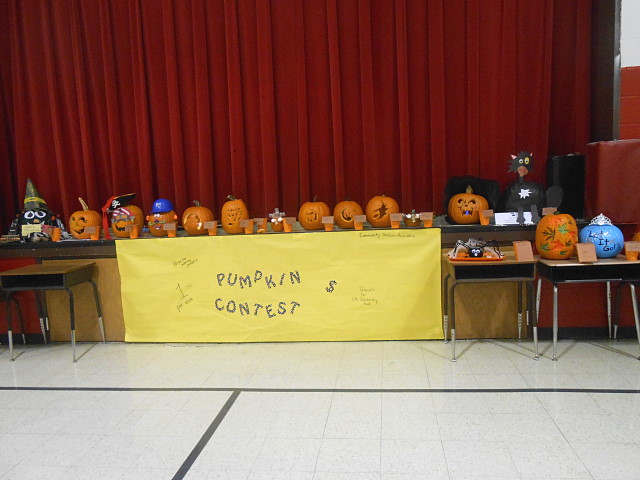 Pumpkin contest entries.
Eli Johnson is a kindergarten student. His teacher is Mrs. Sartor. He won a cup with the message 'ÄúLove Ya!'ÄĚ 'ÄúActually,'ÄĚ Eli said, 'Äúit'Äôs a mug.'ÄĚ
Bridget Hicks won Best Pie in the contest. She has three sons in Skyline.
March 25, 2010
March 6th – Skyline Volunteer Fire Department Chili Supper
(click the flyer to enlarge)
Esther's "Queen Star" quilt: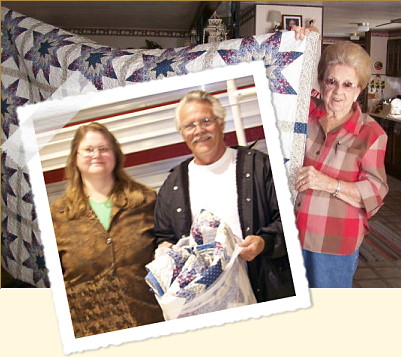 Skyline Ladies' Auxiliary President Betty Dye presents the Queen Star Quilt
to winning ticket holder Terry Chastain of Ava. Terry is a New Member
of the Skyline VFD Fire Department and a welcome one.
July 3, 2009
By: Betty Dye
September 2007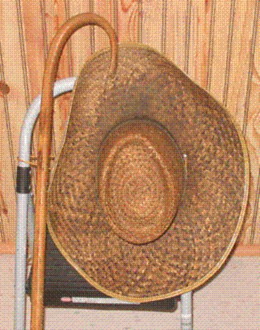 You can see it on a nail in Mom's kitchen now.  The old straw hat my daddy wore is hanging there today. 
        He wore it when he mowed the grass, or when he plowed the fields.  When he cut hay, or fed the cows or hunted in the woods.  If he chopped wood or fixed the fence or any other chore, you would always find a straw hat sitting on his head. When to town he would go, with mom and all us kids.  To buy the food or pay the bills or whatever needed done, an old straw hat would be there to cover up his head.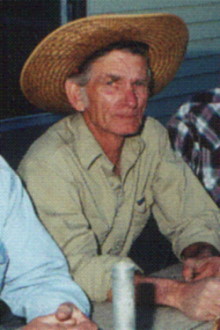 Down through the years the styles would change, the colors would change too, but you would always see a straw hat placed upon his head.  As children grew and grandkids came, and age began to show, a straw hat would be sitting there like a crown upon his head.  The years were long and many, the hard ships quite a few, but the joys he found in his family made the hardships fade from view.
        He taught his children that hard work would get them through this life.  If you gave your word you should always keep it and never take it back.  He believed the truth was always best, and a lie would never do, and a spanking every now and then, would teach children right from wrong.
        He loved our mom for fifty years, with a love so strong and true, and even when they disagreed that love would come shining through.
        The day finally came, and we always knew it would, when dad would not be with us for the Lord had called him home. We miss him in so many ways but the memories are so clear.  The love he gave to each of us, we feel it more and more.
        I know for me, my memories bring tears and even joy. And when I see his straw hat the stronger they become.  I know that in my heart, he's here with me right now.  He'll always be a part of me as I continue on, and his old straw hat will help remind me of all he had said and done, and forever have a part in my memories of time.
July 17, 2008
        This queen size quilt was hand pieced during the course of a winter by veteran quilt maker Champion Esther Wrinkles.  It was quilted by the talented machine quilter Faye Chaney who has since passed away.  The quilt has been offered to the Skyline Area Volunteer Fire Department for it's fund raiser which will occur the second week end in August, 2008.  The quilt will be awarded in a drawing which will be held at the Skyline Picnic on August 9th.  Tickets for an opportunity to win the quilt are available from any Skyline Volunteer Fire Department Ladies' Auxiliary member.   Scroll down to see a picture!
---
 
KIM KELLEY WINS ROSE STAR QUILT 
        Kim Kelley of Ozark, MO is the lucky winner of the 2008 Skyline Picnic Quilt.  She purchased her ticket at the picnic on Friday evening and was delighted on Sunday to get the call from Esther Wrinkles that she had won the quilt. She said that she has been buying tickets from Esther for twenty years now and that it has been worth the investment.  She has only missed one Skyline Picnic since they began over twenty years ago.  Kelley attended Skyline School (Valedictorian 1979) and went on to Ava High School and graduated from Norwood High School.  She has lived in Ozark for fourteen years where she works for AMPAC.  While this is the first Picnic Quilt she has won, it is not the first of Esther's quilts that she has.  Over the years her husband has given her quilts that Esther has made as Christmas gifts.  When she came to collect her prize on Saturday she did a little quilt shopping of her own.  Her daughter Shandi Kelley is getting married in September and she has two younger daughters Dakotah and Myka as well.
¬†¬†¬† ¬†¬†¬† This year the Picnic Quilt earned a record $2,061.00 for the Skyline Volunteer Fire Department.¬† Ms. Wrinkles sold $1,263.00 worth of tickets single handedly before the Picnic.¬† She is one of the founding members of the Fire Department and has been a genuine asset to it from its beginning.¬† She has been saying, however, that this will be the last time she goes out to sell quilt tickets.¬† She is so grateful to all of those who have bought tickets from her over the years and would really like to thank them. 'ÄúIt is a shame that there can be only one winner,'ÄĚ she says and she fears that people will grow weary of buying tickets and not winning.¬† Fire Department and Auxiliary members strongly disagree with her.¬† The essential services provided to the rural communities by the Skyline Volunteer Fire Department are made possible by community support.¬† Kim Kelley would certainly disagree as she fully expects to be buying quilt tickets from Esther again next year.