Looking out at a Champion Spring
A friend, much admired and respected for insight, once said, "If I had twenty thousand years to catch a bus, I would need twenty thousand years and five minutes." An habitual procrastinator is thrown further behind by continuous interruptions. However, one of the few positive aspects of the confounding chaos of the corona virus is that people are reaching out to friends and family in almost unprecedented ways. We say closeness has not all that much to do with geography. It is true and in these unsettling times it is precious to hear a seldom heard voice or read a note from a far-away friend who has been out of touch for far too long. So we are counting blessings and not complaining if our routines are interrupted by too much love and caring. We are all staying home, looking out our windows at Spring. Relax.
Looking out at a Champion Spring
Just because things are different, nobody has put the kibosh on birthdays. They may just be celebrated a little differently. Skyline RII Schoolers with birthdays soon are Mrs. Downs on the 27th and first grader, Brailynn Cumby, on the 28th. Another first grader, Tucker Johnson, shares his birthday with Mrs. Willhite on the 30th. However you go about it, your Champion friends hope your birthdays are sweet ones. School is closed, but good things are still going on there. The school's food service is offering a grab-and-go meal program on Mondays, Wednesdays and Friday at the south door of the cafeteria. On each of those days they will have two breakfasts and two lunches available for pick up free to any child eighteen years or younger. The drive-up service will be open from 10:00-12:00 on these days. Our great school is supporting the community in a substantial way. Hopes are the community will respond in kind at the polls on June 2, 2020.
Looking out at a Champion Spring
March 23rd is the birthday of numerous fine Champions. Among them, newcomer Susan Perry, Seattle Seahawks fan and driver of many long country miles volunteering for Meals on Wheels. She has not been here long, but she makes a positive impact. Don Bishop celebrates that day too. He has a scary stack of firewood that makes people speed when they drive by his house. He fights the groundhogs for sweet potatoes and brings Reba to Champion whenever he can. Judie Pennington up on Tar Button road is a Morrell mushroom aficionado who knows when and where to find them. She has had bears in her yard and she has a smile like a sunny day. Skyline Volunteer fire-fighter and appliance maven, Don Powell, will put out your brush fire and put a new pump in your Maytag. Those volunteers put their own lives on hold while they protect ours. The General's lovely daughter, Elva Upshaw, also celebrates that day. Elva is a much appreciated health care professional at the Ozarks Medical Center. She is grateful that the El Charro restaurant is offering carry out in West Plains. These days we are finding many good reasons to be grateful. Enjoy your birthdays, you Champions. We remember Troy Powell on his birthday, March 26th. He was born in 1926 and passed away on his birthday in 2001. He is remembered for his great love of music and for his smile. Jack Masters down in Austin Texas is a linebacker and a Champion great-nephew. Bobby Nicholson is a Scotsman who sings in English, but you can hardly tell! He sings, "It Wisnae Me." His birthday is on the 29th, just two days before that of the charming Morag Edward–sailor, author, painter, musician, chocolatier, and a producer of exquisite puddings and good ideas. Have a jolly day all of you!
In other good news, the arrogant, ignorant antics of a local rapscallion, flaunting common sense, ignoring his own safety and the safety of others, is somewhat ameliorated by the generosity of women at their sewing machines. All over the country they are producing face masks to donate to nursing homes, rehabilitation centers, hospitals and doctor's offices. Find links to a number of patterns and tutorials on line and contact your local hospitals or health care provider to see how to donate them. It is a great way to use up that stash of quilt scraps and to be part of the recovery.
Prudence was the reason an Old Champion chose not to try to cross Clever Creek again on Wednesday. The last few feet before reaching the far bank had her thinking she may have made a terrible mistake. Turn around. Don't drown! It was a mile and a half to get there and seventeen miles to get home. The unofficial rain gauge (a peach can) at the Historic Emporium showed three and a half more inches the next day. By Friday the creeks were well out of their banks, though Auld Fox did not rise up all the way into the square this time. She had to laugh on Friday when the power went out for a few hours. To be isolated because of the virus, then because of the high water and then to have no contact with the outside struck her as funny and as a kind of a relief to have no news for a little while and no internet stream of fear and blame. The White River Valley folks came down the road and power was back up in time for Jeopardy. Things were back to their new normal again and optimism restored. There will be hiccups but we will get through this side by side like Champions—Looking on the Bright Side!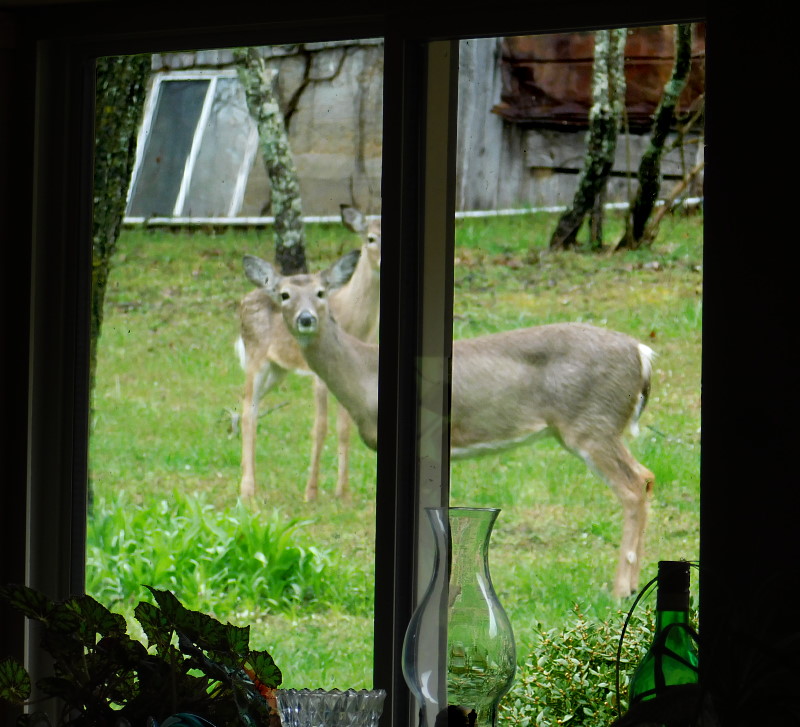 Looking out at a Champion Spring