When he was 71 he used to square-dance. Now he is 81 and has a new hip, a new knee, a stylish walking cane and the same sweet smile photographs going back decades prove he has always had. The big crowd at Vanzant's Thursday Jam (brought out by good weather and good road conditions after a long period of neither) celebrated Duane Collins in advance of his Sunday birthday. The General led that song, and, according to him, did a good job of it. There will have been a big gathering of children and grandchildren at the Collins' house on Sunday and Ruth is always happy for such an occasion. Champion's close neighbor, Glen Cooley, celebrates on the first of February and has been doing so since 1940. Zack Alexander also has his birthday on the first and he has Champion grandparents who love to party with him. His Aunt Angie has the second as her birthday as do Judy Sharon Parsons, Connie Grand, Charlene Dupre, Catherine Mallernee and Nikki Combs. Groundhog Day is a particularly popular day for birthdays of interesting, talented people. Our Skyline R2 School is turning out interesting, talented people, among them eighth grade student, Jeffrey Rineman, who will have his day on the third. You celebrants are appreciated, admired and loved by your families and friends. Be happy.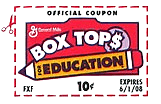 Look for this logo to help support our great little rural school–Skyline R2 School.
Skyline School participates in the Box Tops for Education program. The school gets $.10 for each box top bearing the Box Tops for Education logo–most General Mills products. They also collect Best Choice labels and get $30.00 for each 1000 they send off so, as Ms. Helen says, "That adds up." Feel free to mail your box tops and labels to Skyline R2 School—Box Tops, Rt. 72 Box 486, Norwood, MO 65717 or drop them off during school hours. There are plenty of ways to support our vital little school. Even if we do not have students attending, we all benefit from it. Newcomers and old folks can benefit by being around young people. It is a way to participate in the community and to keep ourselves young at heart. Bridget Seabert Hicks says they are looking for volunteers to work the concession stand on the following evenings: February 6th , February 20th, and February 27th. Call 417-683-4874. Have some fun doing good.
Wednesday was much improved as Sharry Lovan brought her father's beautiful old banjo to Champion to join in with the regular neophytes. The banjo is not that old since her dad bought it new when she was seven. It is beautiful though. On Saturday it was well reported that she and her friends, David Richardson, Lynette Cantrell, Rod Cash, and Wendy and Ed Cline had enjoyed a terrific success as they paid tribute to Patsy Cline. Bravo! Sharry says her four year old granddaughter, Kiley Mae, has a case for her guitar now and is anxious to work up some tunes to perform with her grandmother. Other musical events to put on the calendar include one that Champion friend, Kaitlyn McConnell of Ozarks Alive has put together. On Saturday, February 24th, several of the region's longtime musicians (Alvie Dooms, H.K. Silvey, J.R. Johnston and David Scrivener and others) will gather at the Ozark County Historium in Gainesville to share stories about old-time music and its place in local communities. After a panel discussion led by Kaitlyn, the musicians will play some of the old songs commonly heard in days gone by. This event is free and open to the public. Kaitlyn will inform us of the time.
Whoever refreshes others will be refreshed. That is according to Proverbs 11:25. It could be the reason an Old Champion's Mother would, upon the arrival of any guest, invited or chance, soon offer water, coffee, or tea. There are probably a number of Biblical verses that have encouraged this particular hospitality, which some call Southern, though gracious people of all climates subscribe. This verse also suggests that a generous person will prosper. The King James Version says "The liberal soul shall be made fat: and he that watereth shall be watered also himself." We think of fat and jolly in the same thought if the heavy person is someone we like. Liberalism seems to have a bad name these days, contrary to what a good upbringing might have taught. Champions, on the whole, like a liberal piece of pie but are want to conserve it nevertheless.
Beautiful warm days have some Old Champions out working beyond their capacity. They will nap heavily and groan from the unusual exertion. They will rest up and then get back to it, proud of what little they do get done. The little bit of rain and little bit of greening is encouraging. How nice it is to be out in the fresh air and away from the internet and the dreary political news of television and radio. It is fascinating to think that in less than a year our core principals have been degraded and our free and open society is in one of its worst conflicts among its own citizenry since the Civil War. While preparing the same soil for this year's crops that was worked during the Civil War, one thinks about the terrible strife that occurred around these parts in those not so long ago days—within the memory of some old timers not long gone. It is not just the middle of the road, compromising moderate who needs to ascribe to tolerance, those hard right, poor-hating isolationists need to listen objectively to the other side even as do the left leaning, inclusive, spotted owl-loving, do-gooders. If both teams could be corralled for a manure shoveling contest, Champion would be known as the Fertile Crescent of Booger County. Seed catalogues have been tantalizing all winter. Now it is about time to make some decisions about the garden and the government—approaching, as in the song, with "A Purpose and a Plan" in Champion—Looking on the Bright Side!