CHAMPION'ÄĒApril 18, 2018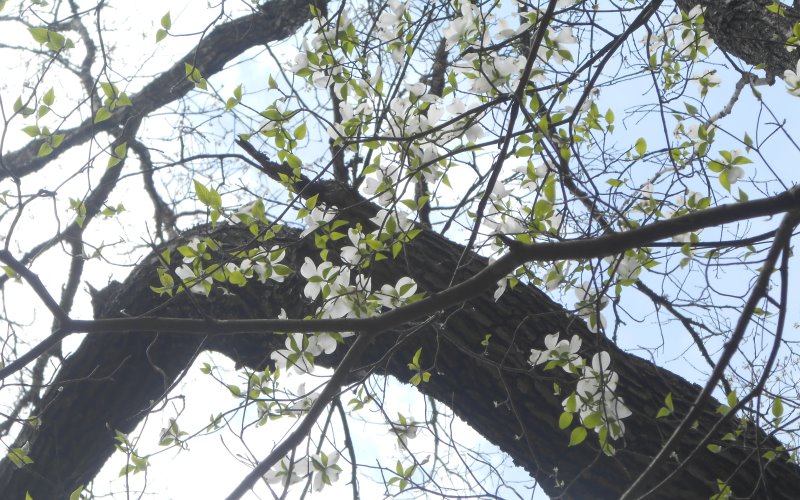 Looking up through Champion dogwoods…
¬†¬†¬† ¬†¬†¬† 'ÄúWell, I took my gal to the picture show.¬† She promised me a kiss when we got home.¬† To take her in my arms I just couldn'Äôt wait, but when we got home her Pappy was awake.¬† 'ÄėIs that you, Myrtle?'Äô¬† 'ÄėYes, Papa.'Äô¬† 'ÄėIs that you, Myrtle?'Äô¬† 'ÄėWell, just a minute!'Äô¬† 'ÄėIs that you, Myrtle?¬† Is that you, Myrtle?¬† I guess you better send that scallywag home.¬† I guess you better send that scallywag home.'Äô'Ä̬† Myrtle Harris is celebrating her 80-something birthday on April 19th.¬† She comes to the Vanzant Bluegrass Jam when she can and is a great fan of all the music.¬† Dave/Robert/Jim/George/Somebody Thompson had his 44th or 45th birthday acknowledged there this last Thursday, but it was never clear if this birthday of his was on Thursday, Friday or Saturday or how many years ago it happened.¬† Over at Skyline R2 School, seventh grade student, Haley Wilson, will celebrate on the 23rd.¬† The next day, the 24th, will be the big day for Shelby Wilson, a second grade student.¬† Another second grader, Chris Alsup, will have his celebration on the 25th.¬† The nice thing about birthdays is that everybody has one every year for as long as they live!¬† Amazing!¬† Enjoy this one and all those to come, you Champions!
        The Goose Nibble Gazette reporter found out that Laverne and Jessie Mae Miller celebrated their 70th wedding anniversary on the 16th.  They live over in Willow Springs.  Jessie Mae is a native of Denlow where she grew up around Upshaw cousins.  It seems as if there was a story about a blind date at a bowling alley that resulted in her getting together with Laverne.  That may not be correct.  When the Denlow School Reunion comes around again there will be a chance to get the story straight.  Laverne has been the auctioneer at that annual event for many years, and sees that there is enough humor on the bill.  That happens on the Saturday of Memorial Day with a pot luck lunch and fun on the grounds.
        The Douglas County Health Department nurse, Rebecca Turcott, will be in Champion from 9:00 to 11:00 on Tuesday morning, the 26th, to offer free blood pressure checks for people who might like to keep up with those numbers.  It has been a lifesaving for some Champions.  She is in Champion on the last Tuesday of each month and then at the Skyline School on the first Tuesday of each month.  It is a great community service and Rebecca is friendly and good at her job, a Champion.
¬†¬†¬† ¬†¬†¬† The world has been shaken in Ecuador and in Japan.¬† By Sunday evening the death toll was 246 in Ecuador and the number of injuries unknown.¬† In Japan–many deaths and missing people.¬† More and more we become aware of how small the world is and how full it is with suffering and tribulation.¬† Ancient Greece, now modern Greece, is having its life blood sucked away by the corporations that own its national debt.¬† The Mediterranean and Europe are awash with refugees fleeing the middle-east as western nations plunder resources and fight proxy wars there.¬† Indigenous people of the Amazon are being murdered for protesting massive dam projects that would destroy their homes.¬† Norwegians are fighting mining interest that will destroy fishing in their fish dependent fjords.¬† It is like Ray Charles said, 'ÄúThe world is in an uproar'ÄĒdanger signs are all around.'Ä̬† What can we do?¬† Be kind.¬† Be conscious.¬† Behave.¬† Help where you can and be grateful for your excellent circumstances, relatively speaking.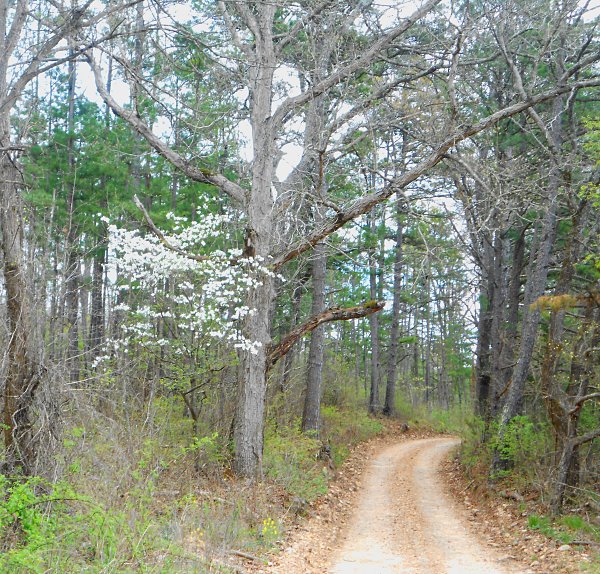 Champion's dogwood drive…
¬†¬†¬† ¬†¬†¬† A frequent unacknowledged contributor to The Champion News (one of its foreign correspondents) presents a new word for consideration:¬† pleonasm.¬† It is a noun that means the use of more words than are necessary to convey a meaning, either as a fault of style or for emphasis.¬† Redundancies such as black darkness, burning fire, or people'Äôs democracy are good examples.¬† It was suggested that another way to look at it is as 'Äúan army of words escorting a corporal of thought.'Ä̬† The Wednesday Pleonasm League had a routine meeting last time.¬† Mr. Partell (too blessed to be stressed) had some interesting old blacksmith tools to show'ÄĒtools for forming edges and making specific bends.¬† He had made a heavy-duty door knocker out of a horseshoe and a marlin spike.¬† Upshaws were well represented with Dean and Daily, Uncle Robert and Aunt Fae.¬† Elmer had interesting stories to tell of his many exploits and acquaintances.¬† This week there will bouquets of wildflowers and lilacs on the table and mushroom bragging.¬† Apparently no one wants to talk about politics.¬† That may be a good thing.
¬†¬†¬† ¬†¬†¬† Gardeners are having a wonderful time playing in the soil.¬† With the promise of a few nice rains in the week ahead optimism is running rampant.¬† The Champion News Almanac says that the 19th through the 23rd will be great days for starting seedbeds.¬† The first two days will be good for above ground crops and the next three days for below ground crops.¬† All those days will be good for planting leafy greens.¬† April'Äôs full moon is called the Pink Moon and it is the smallest full moon of the year as the Earth and moon move to their furthest points from each other.¬† Sweet Pea is the flower for the month and the birthstone is the diamond.¬† A walk in the woods this time of the year is an opportunity for rediscovery.¬† Areas ravaged by the most brutal logging are beautiful again with dogwood drifts.¬† Pale greens are replacing winter'Äôs gray brush.¬† Linda Watts made it back home for a few days to rediscover and relish the beauty of her home place and to enjoy being with her big lovely family.¬† She is back in Tennessee now with her busy life and her own wonderful flower garden to attend.¬† Harley is said to be making a good recovery from his knee surgery.¬† Hopes are all those distant Champions will make it home again soon.¬† The door is always open.¬† To finish that song:¬† 'ÄúWell, I thought of a plan all of my own.¬† We pulled off our shoes about a mile from home.¬† As soon as we turned in off of the street, I believe to my soul he heard the patter of her feet!¬† Is that you, Myrtle?'ÄĚ
¬†¬†¬† ¬†¬†¬† Bring your funny old songs or your unique political perspective down to the wide, wild, wooly banks of Auld Fox Creek.¬† Stand on the wide veranda of the Historic Emporium and gaze out at one of the world'Äôs truly beautiful places'ÄĒChampion!¬† Looking on the Bright Side!