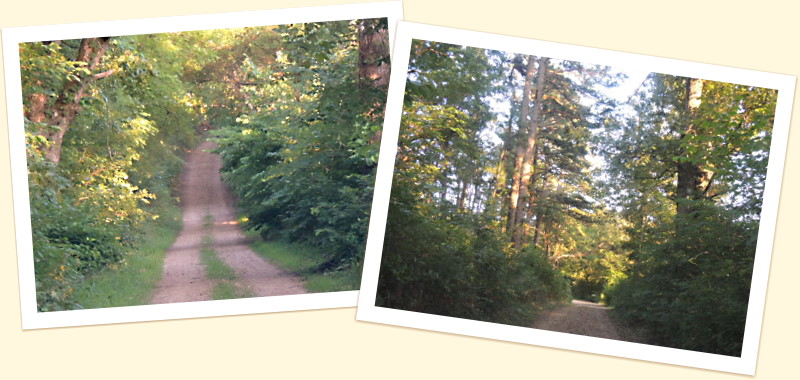 All roads lead to Champion!
The first chirp of the katydid was heard Thursday evening over in Champion East. They say that the first hard freeze will, therefore, be four months hence on October 28th. Champions have known of a first frost as early as September 27th. On these scorching days, it is hard to think about a hard freeze. We still have the 4th of July, the Squires Picnic, the Up and At It Holt Picnic, the Vanzant Picnic, the Skyline VFD Picnic and any number of other things to do before then, including the Champion School Reunion and the Second Annual Pioneer Heritage Festival of the Ozarks on October 6th and 7th. The swift passage of time mixed with summertime fun makes it all seem like a whirr. Over in Edinburgh, Scotland residents were sweltering as the temperature climbed to an all-time high of 77 degrees. It is all relative. A relative over there was said to have become so warm that he took off his hat.
Good news comes from Kriders up in Illinois. Brothers Harley and Donald have both been hospitalized with heart troubles and, as of Friday, they are both stable and improving. Barbara says that the thoughts and prayers helped. Their friends and families back in Champion are glad to hear it, and, as always, hope for the best.
Thursday's Jam at Vanzant was another lovely evening. The music was enjoyable and the gathering of families and friends and neighbors enjoyed a delicious pot-luck supper and a good time visiting with each other. Kenneth and Barbara Anderson are being regular attendees now that they are home for good. They sat with Bob Berry and Mary Goolsby for supper and much laughter was heard coming from that table. Bob and Mary are busy showing Bob's beautiful old cars at the various car shows in the area. It turns out that retired people can wind up being more active than when they were working for a living. Many of the musicians will be absent next week as they will be off at the 33rd Annual Starvy Creek Bluegrass Festival. It is near Conway, about 50 miles north of Champion. It runs from the 5th to the 7th, but campers like to get up there early with their RV's and settle in for the fun. It will be hot, so one in the know says she thinks they will jam all night and sleep during the day. Meanwhile, back at the ranch, The General will hopefully reprise his splendid rendition of "Under the Double Eagle." Last week it was erroneously reported as having been "Down Yonder." His repertory is more expansive than one might think as he freely admits to listening to music from France, Italy, Mexico, Spain, Greece, Turkey and other places. For familial harmony he keeps his accordion and his banjos in a separate building there at the family compound. There is a joke going around that says perfect pitch is when you throw a banjo into an accordion. A sense of humor is a valuable commodity in these worrisome times.
The photograph of the mystery item submitted for identification by Jordan's own J.C. Owsley was examined carefully by a number of knowledgeable individuals on Wednesday in the meeting room at the Historic Emporium. Much as had been speculated, it was deemed to be a black smith's tool designed for handling hot things. While none had seen anything exactly like it, it was similar enough to things they had seen to make the judgement. The combined knowledge of the Champion Panel of Experts is unfathomable!
Kenneth (Hovie) Henson and Dawn have driven the 700 miles it takes to get from Houston to Mountain Grove in order to attend the Alumni festivities associated with having graduated from high school there a long, long, long time ago. Alvin Barnhart had leaked the information that the Alumni Breakfast would be held Saturday the 30th and Hovie got wind of it all the way down in Texas. He said he read it in The Champion News and he also expressed curiosity and amusement that people back here in the hills know about Edmund Burke and Machiavelli. He lollygagged around in Champion on Friday enjoying the memories of the old store in the comfort of the Reconstruction of the Historic Emporium. He had stories to tell about Ed Henson and his own dad, Ezra Henson. They were both named Henson, but were not known to be related. He visited the folks who own his old home place now and had stories to tell about digging the 18 inch deep ditch for the water line from the spring, 450 feet up the hill, all the way down to the spring house. He said a lot of that digging was through rock. Hovie and Dawn will have a nice few days ahead of them with all the renewing of auld acquaintances at the school gatherings and then a get together in Springfield with Royce and Jody. Harold and Eva Henson Phillips will meet up with them there for a family to-do on the Fourth of July. Family! Huzza!
In 1776, the Continental Congress declared that the thirteen American colonies regarded themselves as a new nation and were no longer a part of the British Empire. All manner of fireworks, parades, family gatherings, bar-b-ques, picnics, and swimming hole adventures will commemorate Independence Day. It would be interesting to be a fly on the wall of all these gatherings just to see how people are feeling about The Land of the Free and the Home of the Brave these days. Quotes from those politicians Hovie mentioned might be food for thought at this time. Niccolo Machiavelli was a senior official in the Florentine Republic. He died at age 52 in 1527. He said, "The promise given was a necessity of the past: the word broken is a necessity of the present." He also said, "Never attempt to win by force what can be won by deception." Edmund Burke was an Anglo-Irish statesman born in Dublin. He died in 1797 at age 68. He said, "The only thing necessary for the triumph of evil is for good men to do nothing." He also said, "Nobody made a greater mistake than he who did nothing because he could do only a little." Back here in the hills we have the internet, though it is slow by comparison to much of the rest of the country. We also have books and wise people. A neighbor did recently say, "The vacuity stuns at times." Still, we can research for ourselves and learn things like other verses to our patriotic songs: "Oh beautiful for heroes proved/In liberating strife/Who more than self, our country loved/And mercy more than life/ America, America may God thy gold refine/ Till all success be nobleness/ And ev'ry gain divine." Champion! Looking on the Bright Side!
Champion Road Rabbits