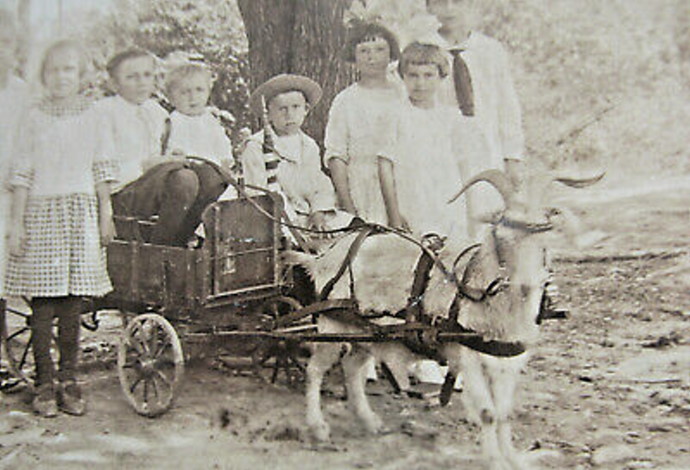 Goat Cart
Telephone lines and internet connections buzzed over the past few days as friends and family checked in on one another to verify that everyone was safe during the storm that swept from west to east across the whole country. "I just called to say I love you." We count our many blessings and extend our condolences to those who have fared less well.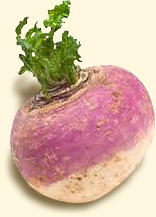 A Hoover Apple
"I don't like you, Gene Crane!" said a little girl to the little boy back in the 1940s. "You talk funny." By 'funny' she was objecting to his saying 'ya'll' instead of 'yens.' His family had moved to Missouri from Tennessee, so he could not help it. She was a neighbor girl, part of a big family, who lived across the road. They had a cart that looked like something out of the Little Rascals with different sized wheels, pulled by a goat. They were neighbors for years and she never did like him. Getting acquainted with him in front of the vegetable aisle at the grocery store, an Old Champion found him to be a nice enough fellow. He and his wife live in town now. They no longer garden. She must stay out of the sun, and, getting older, he finds it easier to just go to the grocery store. Standing there, looking at the turnips, he said they used to call them Hoover Apples. Hoover was president from 1929 to 1933, during the worst of the Great Depression and was described by Mr. Crane as having been the worst president we ever had up until recent times. As to the Hoover Apples, Champion native, Ruth Hicks, reported that at one time things were so dry around here that all that would grow was turnips. The cows ate turnips and the milk tasted like turnips. Now those Hoover Apples are a delicacy lauded for their great nutritional value. We have entered the 'twenties' again and are reminded that the more things change, the more they remain the same. Who could have predicted what these last hundred years would see? C.S. Lewis said, "Isn't it funny how day by day nothing changes, but when you look back everything is different?" Will we gain any insight from the past that will help us navigate the future?
Janie is a three year old, long haired Chihuahua, a recent gift to Wanda from kin-folks. The little five pound dog arrived one day, was lost the next day, then was found and returned to Wanda by good neighbors the next day. Thoughtful kinfolks and good neighbors are Champions!
Here are some Skyline School birthdays: Aaliyah Irby, 6th grade, January 16th; Jacob Brixey, 4th grade, January 18th; Hunter McChesney, prekindergarten, January 20th; Kyle Barker, 7th grade, January 21st; Elizabeth Hinote, 5th grade, January 22nd. Two charming fellows celebrate birthdays on the 11th. Bob, down on Teeter Creek, is making tinctures and decoctions to help us stay healthy. Champion Wilburn Hutchison lives less than a quarter of a mile from where he was born 86 years ago. He has many great stories to tell and a big community of friends and family who love to hear them. Diane Wilbanks and Jerry had some beautiful white mules and have a lovely spread down on a deep, wide creek. Robert Graham has a couple of guitars, a mandolin and a big repertory. Diane and Robert share the 13th for their birthdays. That was also the birthday of the late Norris Woods. His tombstone has a banjo carved into it. He had a winning smile and a very friendly, encouraging way about him. "Life is like a mountain railroad," he sang and that song always brings him to mind. The 17th is for the delightful Mary-Agnes (Brooke) Quiet-Timber, turning a page into a new adventure. Mary Beth Shannon has the 18th for her birthday and Sparky for a husband. The Preeminent Champion shares her birthday with J.C. Owsley. He used to live over by Crystal Lake, but now lives over in Jordan where he raises longhorn cattle and climbs in the saddle every chance he gets. The 20th is for charming Sharon Woods, Norris' daughter-in-law who is known for bringing fun to any situation. That is also the day that lovely Beverly Barnhart will sing that special song to her handsome Alvin. The Champion News would like to extend congratulations to all you celebrants of your natal anniversary and a General Alert that Brenda Coffman Massey will have her birthday on the 22nd, so look out. Be advised, fun is on the way. Shelby, from the Douglas County Health Department, will be in Champion that Wednesday, the 22nd, doing blood pressure checks, free of charge until about 10:00 a.m. She helps us stay healthy so we can have more birthdays.
Big thunder-booms on Thursday caused lights out for a second at the Vanzant jam. Simultaneously, a power-surge fried an internet modem up on Highway C, a television down on Cold Springs Road, and popped a porch light on Fox Creek Road. Bad weather has caused havoc for many, so be prudent in your travels and grateful for your good fortune. No use being pessimistic. It wouldn't work anyway. Champion! Looking on the Bright Side!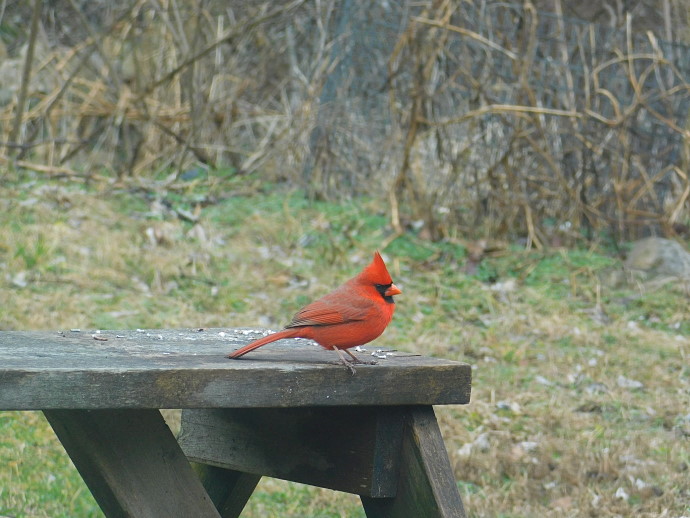 Champion cardinals brighten a gray winter day.