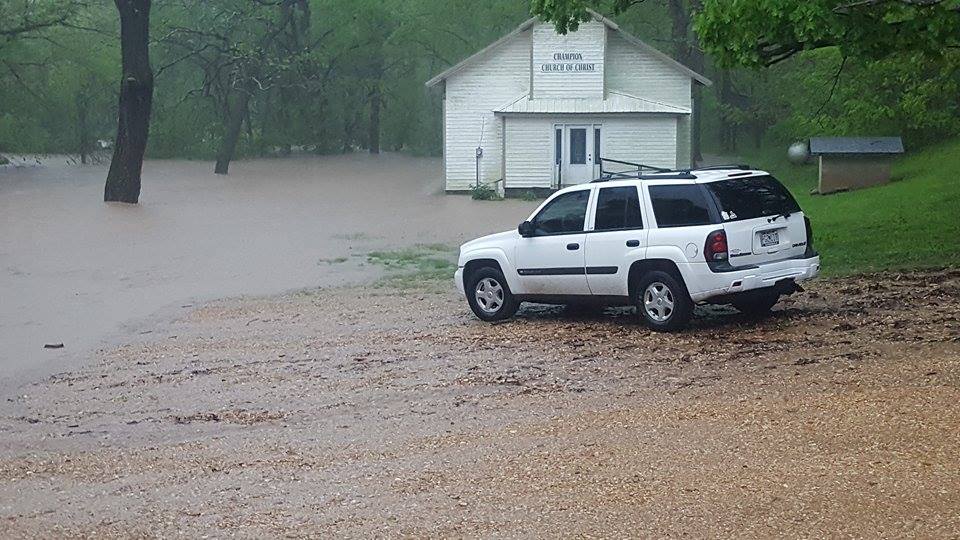 Thanks to Sami McCleary for this picture of Champion high water.
May Day!  Champions are pleased to report that we join our neighbors in being grateful that things were not as bad as they could have been.   Gratitude is the flip side of our neighbor's suffering.  That is to say, we have but to cast our eyes about to find others in less desirable circumstances. We are, therefore, in a position to offer help.  One of the best gifts a person can receive is the opportunity to help.  So, if you need some, ask.
The internet has been a great resource during the inundation.  From it came the many postings that let us know about road closures and bridge failures as well as assurances to family afar.  There was also a timely Newsy Break from the Vanzant Weathered Bureau and Part-Tyme Distillery.  To wit:  "Chunks of I-44 has washed into down-town Vanzant and blocking traffic."  Lynette Cantrell replied that the General's observation might actually have had some substance as there were detours from I-44 coming through Cabool on their way back to I-44 via Rolla to Cabool to Springfield.  She also confirmed that the Monday Night Acoustic Jam at the Senior Center in Cabool was to be a 'Go!"   Musicians are unflappable.  Lynette favored the Thursday Vanzant Bluegrass Jam with "There Was an Old Woman Who Swallowed a Fly."  She also has a very sweet touch on her mandolin, one to match her smile.  Nine guitars, two banjoes, four mandolins, three ukuleles, three fiddles and Sherry Bennett on the dog house bass made for another great evening. (A number of the musicians play multiple instruments.)  There are neophytes among the bunch of real musicians and it is a sweet mix.  Next week someone will sing, "Oh! The night was dark and stormy, the air was full of sleet, the old man stepped out in the yard and his shoes were full of feet.  Oh!  It ain't a gonna rain no more no more, it ain't a gonna rain no more!  How in the world do the old folks know that it ain't a gonna rain no more?"  Champions do not necessarily want it to not rain any more, they would just like half an inch a week through the gardening season.  Like Zoey Louise says, "You get what you get and you don't pitch a fit."  It is not like a person can do anything about the weather anyway.  That begs the question about whether human activity has anything to do with what is perceived to be the acceleration of climate change.  There are some who say, "Yea" and others who say otherwise.  Old people who have had a lifetime of observations and experience are interested in the future of their grandchildren.  They are generally alert to the fact that there are more than seven billion human beings on the planet right now (7.4 billion) and a small powerful bunch of them do not give a tinker's damn about anything other than their own best interests, let alone the future.  "Exciting times!" you say.
Some of the good news out of the chaos is that thirty-six Champion milk cows that were feared to have been lost have been found.  They have gone a while without milking, so hopes are that they will make a good recovery and rejoin the herd soon.  Champions will have tales to tell for a long time to come.  Birthday celebrations for Taegan Krider were abbreviated because of the excitement, but she is being appreciated for having helped out in the crisis by entertaining her little sister and generally being a good sport.  She is a farm girl
that explains it.  Waldo Champion, Linda Heffern, has a birthday on the 6th of May.  Third grade Skyline Student Gracie Nava will enjoy her special day on the 7th and Mrs. Dixie celebrates the next day, the 8th.  She is retiring so has lots of reasons to celebrate, though Skyline will miss her.  Champion Bonnie Brixey Mullens celebrates on the 9th.  She and Pete will surely make it to the Denlow School Reunion.  It is always a pleasure to see them.  They have a lot of history in the area and deep connections.  They live out in Wichita and have family connections there close to them that are the envy of other old Champions—children, grandchildren and great-grandchildren—what a blessing.
Hummingbirds are back and ready to deplete the area of its sugar.  It turns out that the red food coloring in store bought 'nectar' is really bad for the little birds.  It makes them sick.  They do well without it and as far as feeders go, these ravenous ones could probably do just fine without them.  This time of the year there are lots of nectar sources, it is just that the people like seeing their ruby throated friends so much.  They remind us of the fleeting nature of life and of resilience.  They have just flown thousands of miles to come home to Missouri and welcome they are.  They live for as long as eight years and come back to where they were hatched every year.  It is one of the marvels of nature.  While natives are busy enjoying the birds and reclaiming their yards from the storms' ravages, they will also be being mindful of the Douglas County Road guys as they repair the water damage, and of the first responders who stand to safeguard us when we need it, and the electric co-op people and the telephone people who do what they have to do to make our lives normal again.  It is easy to take this great infrastructure for granted, so thank all you folks for your hard work and dedication.
"I cannot be an optimist but I am a prisoner of hope."  Those are the words of a prominent contemporary philosopher.  They strike home these days as the political climate is more dismal than anyone might have expected.  The absurdity of current national politics will go down in history as mind boggling.  There is no need to go into particulars other than to say that the Regressives are flourishing.  Health care, public education, the environment, civil liberties, the free press, the Veterans and others can all look to recoup the damage, but it may well take decades.  Meanwhile, a good question might be "How much is enough?"  How rich does one have to be to be satisfied?  The Insatiables have it!
The Champion Spring Fling is still a go.  Come down to the wide wild wooly banks of Auld Fox Creek for a vision of resilience.  The festivities will kick off about 11 in the morning on Saturday, May 6th with a fish fry, music and the chance to see your neighbors at their best. Bring your lawn chairs, your appetite, your musical instruments and your good humor.  Roger Miller wrote a great song that is appropriate here, "Thunder rolling, lightning flashing, right through the middle of it I'd go dashing, just to show how far I'd go for you,  if you want me to!" to Champion—Looking on the Bright Side!