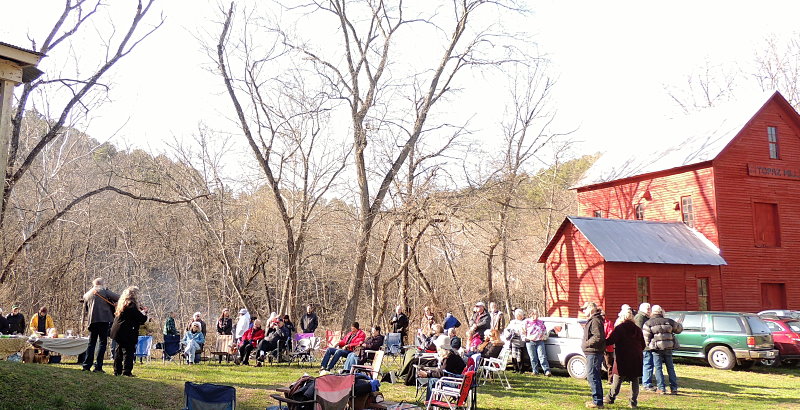 Friends gather at Topaz to celebrate Paul Clark
A little sleet and snow Sunday morning hopefully ended the hard part of winter.¬† Sunny, warm days in the forecast with possible light frosts next weekend have gardeners ready to start 'Äėhardening off'Äô those seedlings and landscapers are getting equipment ready for another season.¬† The luscious greens in our rolling hills and pastures are deepening by the day.¬† See some of the beautiful place at www.championnews.us.
Mark Clark and Joy Ward
Fifty or so of Paul Clark'Äôs friends gathered at Topaz on Saturday to commemorate his life and to share their stories of him over the years.¬† It was just the kind of get together that he would have loved.¬† The afternoon was chilly, but there was good food, old friends seldom seen, and lots of laughter and music.¬† Paul'Äôs brother, Mark, and Mark'Äôs wife, Joy Ward, were down from Des Moines.¬† Members of the Chapin family performed several songs and Mark and Joy on guitar and violin sang one of his favorites in rich harmony and then played a deep, soulful rendition of the 'ÄúWestphalia Waltz.'Ä̬† It was a fitting send-off for a genuinely pleasant man.
Margie Carr, way out West, has big Upshaw/Denlow connections and a birthday on April 7th.¬† She is a Veteran and had her picture taken with all the Denlow veterans at the Denlow School Reunion last year.¬† That will be May 26th this year.¬† Maybe she will be there again.¬† Banjo playing, high-lonesome singing grandson of Lonnie Krider, Dillon Watts, over in Tennessee will have his birthday on the 12th of April.¬† He will be 19.¬† When he was 2 or 3, he was on stage with his Grandad at the Skyline VFD Picnic singing, 'ÄúI'Äôll Fly Away.'Ä̬† It seems like just the other day.¬† Mary Goolsby'Äôs own Studebaker Bob Berry celebrates on the 14th.¬† It is a real treat to have them back in the neighborhood.¬† They bring fun with them.¬† In addition to being Income Tax Day, the 15th is a big day for lots of people.¬† Dustin Kline, Champion son-in-law, shares his birthday with Champion Aunt Vivian Floyd who lives up in Rogersville.¬† George G. Jones, over in Stockton, celebrates that day as do Skyline third grader Wyatt Lakey and seventh grade student, Justin Graham.¬† Olivia Trigg Mastin, caught one of the biggest crawdads ever caught at the Mill Pond a few years back.¬† Her birthday is on the 16th.¬† Dave Thompson used to frequent the Vanzant Jam singing, 'ÄúOh! Lost River now I'Äôm coming back to the pot belly stove where the firewood'Äôs all stacked.'Ä̬† His birthday is the 17th.¬† Sweet Myrtle Harris will be 89 years old on the 19th of April.¬† Her many friends hope to see her at the Jam again soon.
The internet was full of good news on Monday morning.¬† After 42 years, Herbie Johnston is retiring from the first job he ever had.¬† (TCN believes this is accurate information.)¬† Dozens of friends, family and former co-workers have congratulated him–some saying they will miss him, all wishing him good luck and encouraging him to enjoy retirement.¬† Musicians and music lovers all around the area are saying, 'ÄúWoo hoo!'ÄĚ and 'ÄúYee jaw!'Ä̬† Local jams are about to enjoy an infusion of more sweet fiddling.¬† Herbie knows all the old songs and can keep even the loosest bunch of players in time chopping with his bow.¬† Champion!
Harley and Barbara were down from Elmwood (Peoria) for a few days to enjoy some good family visiting.¬† They made their fond farewells at the Historic Emporium before heading back to their busy lives of bus driving and golfing.¬† Barbara accused Dailey Upshaw of having cheated in a Scrabble game as she was going out the door and called for a rematch.¬† About that time another scrabble player came in the door and one of several sisters at the table said, 'ÄúYou better hurry if you want to get anything said.'Ä̬† Laughter is a Champion commodity.¬† Emma Dooms is from Horseshoe Bend, Idaho, Arizona and other places.¬† She likened the Wednesday gathering to those they enjoy in exciting places called the Grub Steak and the Long Branch back in Idaho.¬† They will be around these parts for a spell.¬† Emma and her sister-in-law and her sister-in-law'Äôs sister were cooking up a junking adventure.¬† They figure to leave the men folks at home as a way to insure they will enjoy themselves.¬† It sounds like fun.¬† Share what you figure to be fun at champion@championnews.us or down on the wide, wild, wooly banks of Auld Fox Creek in person.¬† Pretty soon it will be warm enough to sit out on the wide veranda to revel in the splendor of one of the world'Äôs truly beautiful places.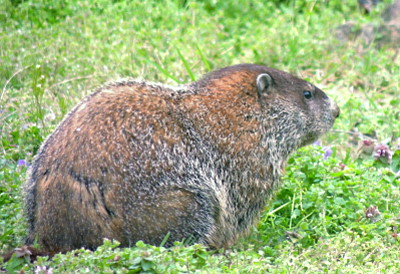 Champion Groundhog!
How much wood would a woodchuck chuck if a woodchuck could chuck wood?¬† Woodchucks are also known as whistle-pigs, land-beavers, and groundhogs.¬† They are the largest species in the squirrel family, weighing 6 to 12 pounds, and are good climbers and swimmers.¬† They are fond of dandelions and other flowers as well as almost any kind of garden produce–beans and peas especially.¬† Out and about early of a morning or late in the evening, they will eat about a third of their weight every day.¬† For the holes they dig in the yard and the damage they cause in the garden, some Old Champions are of a mind to kill them.¬† The resident fiercesome watchdog and cuddle'Äďbunny, Jonnie (daughter of the roving boxer Tank [RIP] and some attractive beagle), however, does not cotton to gunfire, so Old Champions are throwing rocks and yelling, 'ÄúRoot hog or die!'Ä̬† That expression goes way back, well before 1834, they say, and it commonly is used as an expression for self-reliance.¬† It also shows up in a wonderful book loaned to TCN by Frances Banks.¬† 'ÄúThe Folk Songs of North America'ÄĚ was published in 1960 by Alan Lomax.¬† There are more than three hundred songs going back to old colonial times'ÄĒall with words and music.¬† Melodies and guitar chords were transcribed by Peggy Seeger and there are one hundred piano arrangements by Matyas Seiber and Don Banks.¬† Is this Don Banks kin to Frances?¬† Inquiries will be made.¬† The song, 'ÄúRoot Hog or Die'ÄĚ in this anthology is about 'Äúa lonely bull whacker out on the Red Cloud Line'ÄĚ and the gist of it seems to be either pitch into the job or take the consequences.¬† We may not be crossing the Great Plains in an ox-drawn covered wagon spurred on by a blacksnake whip and six cornered oaths, but it seems the road ahead in 2018 is fraught with peril.¬† The best we can do is to listen up, stand up, sturdy up and Vote.¬† It is root hog or die in Champion!'ÄĒLooking on the Bright Side!