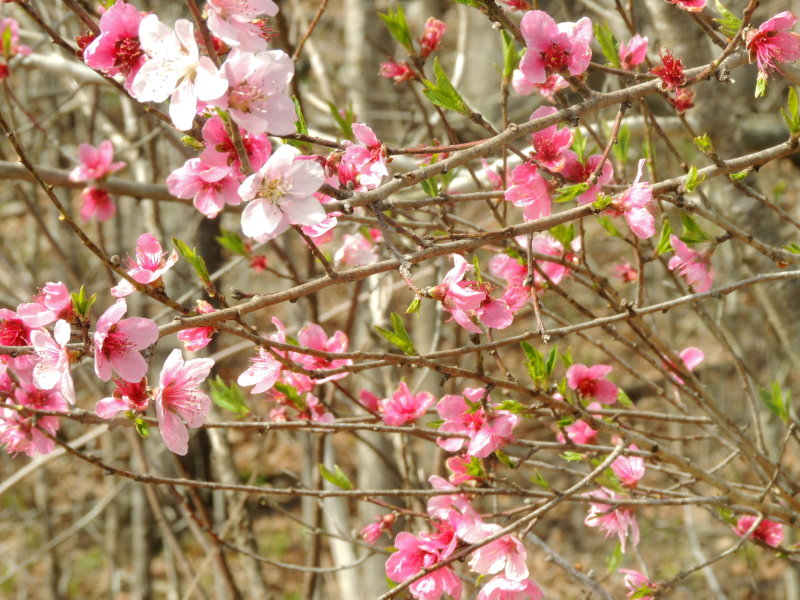 Riding the ridges, hitting the high spots, on the way to town is glorious this time of the year.¬† Luscious greens spread across the undulating hills.¬† The winds have taken the last of the leaves from the deciduous trees giving us a last glimpse of the voluptuous topography before they leaf out again.¬† Redbuds will soon be bursting forth to dazzle the already busy mushroom hunters.¬† The brilliant yellow Forsythia blossoms that grace so many yards will begin to fade before long.¬† Then it will be time to prune them, looking forward to next year'Äôs beauty.¬† Meanwhile we have flowering quince, the wild phlox, wild plum and 'Äúcherry pink and apple blossom white'ÄĚ lets us sing of spring.¬† The first hummingbird was sighted on April 6th this year.¬† The ratio for 'Äėhummer-goo'Äô is 1 to 4, one part sugar to four parts water.¬† They say red food coloring is not only not necessary, but harmful to the birds.¬† It is also important, they say, to thoroughly clean the feeders between fills.¬† The first farmer'Äôs market day in Ava was a great success.¬† The weather was beautiful, then windy and foggy, then beautiful again.¬† It is a splendid market, well worth a Saturday morning trip to town.¬† Back in the old days, a Saturday trip to town was a big deal.¬† J.T. Shelton said that back in the 1930'Äôs the Square in Downtown Champion would be packed with wagons and people visiting.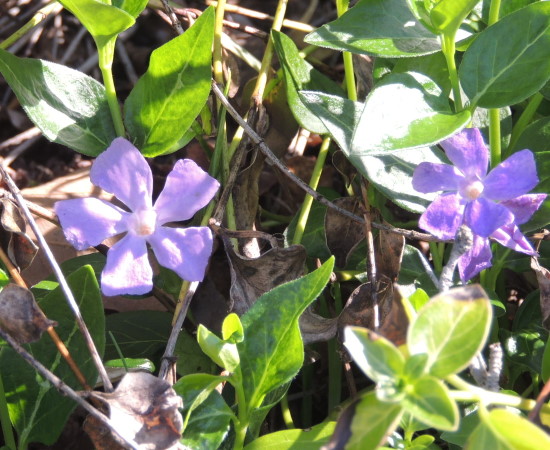 Beverly Coffman Emery will have that song sung to her on Thursday, though her birthday was Saturday.  Chances are that her wonderfully enthusiastic (wild) sister will have given her a good deal of attention.  Buddy gets his attention too.  The bunch might as well sing to Studebaker Bob Berry at the same time since his birthday will be Sunday the 14th.  The lovely Mary G. will treat him to some spoiling for days before and after the event.  Tennessee/Champion, Dillon Watts celebrates his birthday on the 12th.  He has picked a banjo in the Vanzant Bluegrass Hall as recently as last summer.  His Uncle Dustin Cline, also now of Tennessee, and his great Aunt Vivian Krider Floyd, of Rogersville, share their birthdays on the 15th with Skyline students, Wyatt Lake, fourth grader, and Justin Hammett in the eighth grade.  Mr. George G. Jones, now of Stockton, also enjoys Income Tax Day as his birthday.  His many friends are hoping for a reprise of last year's party.  Happy birthday wishes to all of you from your friends at The Champion News.
Friends remember Bud Hutchison on his birthday.¬† He was born April 8, 1935 in Champion.¬† He passed away in April last year.¬† His spring and fall Champion Trail Rides became a tradition that the community enjoyed.¬† Twenty or so of his riding friends held a memorial ride for him back in the middle of October.¬† See pictures and the story in the October 22, 2018 post at www.championnews.us.¬† It was reported that Bud would have had a great time.¬† Mysterious Mountain Grove cowboys had come out for the expedition.¬† 'ÄúThe tall one with the big hat made the whole trip.¬† The good looking one had a pulled muscle and just came out to see his friend and the others off on their big adventure.'Ä̬† The spring ride generally happened in May, so perhaps there will be some to come ambling through again.¬† Wherever his friends are out on their Happy Trails, they will carry with them fond memories of their old friend, Bud.
It looks like the Skyline Doughnut Dash Fun Run will be blessed with cool weather on Saturday.¬† The race will start at 8:00 AM, early for some folks.¬† Five kilometers is 3.10 miles and quite a dash for any save the young and fit.¬† Some old folks are going to stroll along the race course while it is being protected by the Skyline Fire Department and law enforcement in order to pick up some litter.¬† C Highway, with its two narrow lanes and no shoulders, is up and down and significantly curvy, making it hazardous for pedestrians, so the opportunity to be out there tidying up is a nice part of Champion spring cleaning.¬† The Skyline Wellness Committee is doing a great job promoting health with great activities like this Fun-Run.¬† Staff appreciation days this year will be April 15-18th.¬† It is a chance for students and parents to show teachers and all the other nice people who keep our precious little rural school running how important they are to the whole community.¬† If you can read, thank a teacher'ÄĒChampions all!
Just sit around all winter being comfortable and then, at the first crack of spring, get up and get busy.¬† See where that gets you–fatigue, sunburn, tick bites and disproportionate satisfaction with accomplishment and/or disbelief at your diminished abilities.¬† 'ÄúThanks for what little you did do.'Ä̬† Warm days might cause a person to get ahead of himself, [not 'Äėtheir self,'Äô because we, at The Champion News, steadfastly reject the 'Äėsingular they,'Äô which has caused one to be labeled as a 'Äėgrammatical dinosaur.'Äô¬† The implication is that the English language is a living language that evolves.¬† Hogwash a bunch of evolution.] causing him to plant tender plants prematurely.¬† Here in Champion, we have had frost as late as May 10th.¬† Remember that old adage:¬† Thunder in February, frost in May.¬† The adage may be old, but the weather is a whole new ballgame.¬† Greta Thunberg is a Swedish teenager who speaks better English than most of us living here in America and also speaks to the importance of recognizing that the climate is changing.¬† Once it was said, 'ÄúThe Rain in Spain Stays Mainly in the Plain.'Ä̬† Perhaps the best we can do here in the Ozarks to mitigate our part of the human effects on the climate is to not throw a tire onto our brush pile to keep it burning.¬† Welcome to Champion'ÄĒLooking on the Bright Side!