A Friday foray in to the post office in Norwood gave one Old Champion a chance to enjoy the profusion of Echinacea blooming along both sides of Highway C.¬† The purple cone flowers mixed in with the tall grasses, the Queen Anne'Äôs lace and the daisies all make for a glorious trip, especially with the background of lush green foliage everywhere.¬† It is not quite summer'ÄĒa spectacular time of the year.¬† Echinacea is said to be an herb that encourages the immune system and reduces many of the symptoms of colds, flu and some other illnesses, infections and conditions.
Once again Champions are in the enviable situation of not having to haul water to fill our mud holes.¬† The consensus of rain gauge readings was in the neighborhood of 3+ inches all of a sudden Tuesday.¬† The creeks were not up so much, but roads are badly washed in spots.¬† 'ÄúDon'Äôt that road look rough and rocky?'Ä̬† The Cowboy has just thrown his hands up, saying he is about done with rebuilding fence.¬† The last one that needed rebuilding was pretty'ÄĒwelded steel pipe and recently painted.¬† The Prominent Champion said it was probably the paint that brought it down.¬† Long ago each of them thought a nice bottom land farm would have been just the ticket, but now neither of them would take one as a gift.¬† Reports are that as many as 250,000 acres of farm land are currently underwater across the country.
It was pleasant to see some of the 'Äėregulars'Äô around the tables at the Historic Emporium'ÄĒBob and Ethel, Don and Reba, Wes, Mutt, Dean and Dailey.¬† Not everyone can make it down to the Bright Side every Wednesday, but they are glad when they do.¬† Charlie Lambert and Delmer Dooms came down from Mountain Grove to meet up with Alvie Dooms.¬† The fair Janice Ray had a rendezvous with some motorcycle goof.¬† When the Rt. 72 mail carrier, Karen Ross stopped in on her route, she was regaled with stories about Homer Akers when he ran the route.¬† (Wait a minute Mr. Postman!)¬† Alvie said the many stories about Homer were not exaggerated enough to meet the true history of it.¬† He also answered the question about who might have been the musicians who played for dances upstairs at the Denlow Store, i.e. himself, his older brother, Edgar, and J.P. Ferrell.¬† Now there are stories about Alvie on The Voice of America.¬† Out on the wide veranda Charlie was coaxed into playing a tune on the mandolin.¬† He played the Spanish Two-Step and what a lovely tune that is!¬† He has not been playing much recently, but his many friends and fans will try to remedy that.
Summer school is in session at Skyline School.¬† Nurse Bridget Hicks enjoyed her birthday there on the 4th.¬† She has a sunny disposition and a talent for encouraging and instructing our able Skyline Archers.¬† Thanks, Bridget!¬† One sings, 'ÄúMany a fine tune can be plucked on the banjo.¬† Take for example 'ÄėMy Grandfather'Äôs Clock.'Äô¬† For that one and more than two hundred others, enjoy the fine plucking of David Medlock.'Ä̬† His birthday is on June 6th.¬† Surely the Vanzant Jam will find a way to celebrate him.¬† Champion friend, Kaitlyn McConnell (no relation to Mitch) also enjoys D-day for her birthday.¬† She does a great deal to promote the history, culture and appreciation of the Ozarks with her great blog 'ÄúOzarks Alive.'Ä̬† Look up her great work at www.ozarksalive.com¬† Wayne Sutherland was 85 on June 7, 2015.¬† His lovely daughter, Greta, had her birthday on the 5th.¬† He was seen on Monday'Äôs McClurg Jam posting on the internet enjoying the music.¬† He was also there, together with more than 80 others, a couple of weeks ago in a tribute jam for J.R. Johnston who left us recently.¬† There were jams inside and outside that night.¬† The little building could not hold all of them.¬† Fortunately there was no rain and there will be no end to the remembering of J.R.
There is also no end to the remembering of those who stormed 'ÄúThe Shores of Normandy'ÄĚ to fight the tyranny of fascism.¬† Our precious democracy once again seems at risk, but we are hopeful yet in Champion'ÄĒLooking on the Bright Side!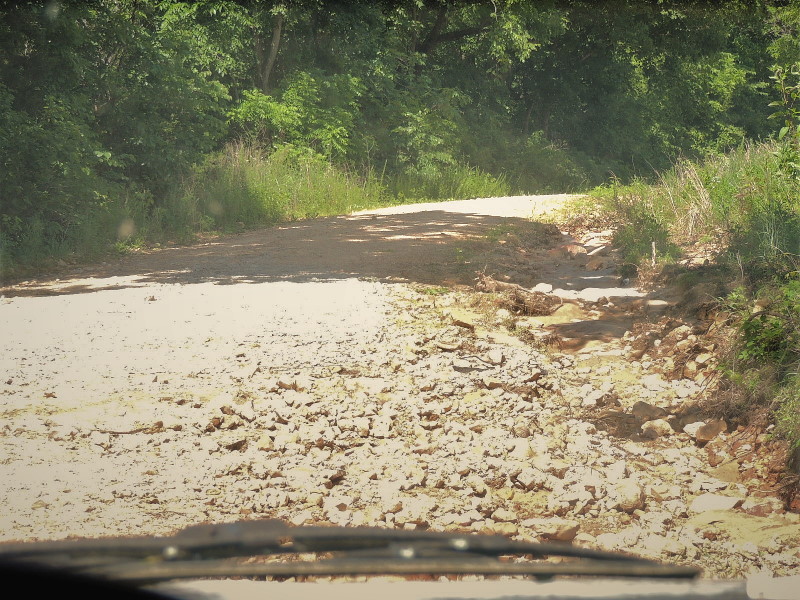 Rough and rocky…