Wagons on the Square
The first order of Champion business is to say, you may never know how a small, kind word can lift the heart of a person. Everyone can use a little pat on the back occasionally. It is free and easy to be pleasant. Warmed hearts thank you.

Last of the summer's hummers?
The West Plains Wagon Club will meander through Champion again on September 17th. It is a local mule train tradition going back decades. The Gee Haw Club out of Viola, Arkansas often joins the outfit as it takes off from West Plains on a Monday for the 100 mile trip to Mansfield. They generally pull into the Champion Square around lunch time on Thursday. They do not mind having spectators meet them at Champion to enjoy seeing their interesting outfits and their fine animals. They kind of like it. In recent years, there have been as many as 14 wagons and 21 outriders and as few as four wagons with no outriders. It will be exciting to see them roll in and to hear their stories of the trail. Look around the page to find many pictures and stories of the West Plains Wagon Club.
The Nation pays tribute on Labor Day to the creator of so much of the nation's strength, freedom, and leadership—the American worker. The idea of the holiday may have originated with the secretary of the Brotherhood of Carpenters and Joiners or the secretary of the International Association of Machinists. One was McGuire and the other Maguire. Apart from the holiday, benefits brought to us by unions are things we take for granted now, like the eight hour work day and child labor laws. The vital force of labor brings us closer to the realization of our traditional ideals of economic and political democracy. The holiday has been the final summer 'hurrah,' with boating parties, picnics and family gatherings for 132 years now. Hurrah!

Fall garden spider.
A friend reminds us that September is the first of the 'ber' months. The full 'Corn Moon' was Wednesday, September 2nd. That day also marked 75 years since VJ Day when World War II ended. The Herald's story about Ernie Pyle probably opened the eyes of many who have no personal experience with the arduousness of warfare. The clear language and attention to detail in his column gave families back home a sense of ease, a way to be in touch; the way the smartphone does today. That Wednesday found Veterans on the wide veranda, as it often does, and stories were told. Some of them might have been a little farfetched and may require some investigation before reporting them as fact. The Prominent Champion, when asked if a person might be lying, said, "He probably wouldn't lie to you, but he'd haul you a load." Some stories are so good they bear telling again. Such is the one about Waterhole Ike, a boar hog with a Social Security number, a single head of household with seven dependents. He might have lived over just south of Goodville. This would have been (was) in the early 1970s.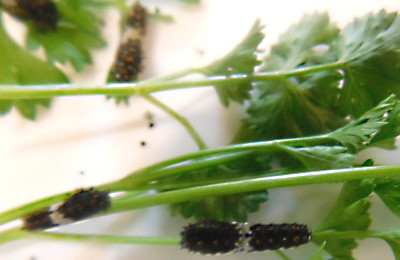 Young black swallowtail larvae eating parsley.
Next Wednesday will be the Diez y Seis de Septembre! That is the day in 1810 when Miguel Hidalgo gave a speech motivating people to revolt against the Spanish regime. Hidalgo was executed in 1811, but Mexico finally got independence on September 28, 1821. By 1836, Texas won its independence from Mexico. During its short tenure as a Republic, there was discourse among its leaders much as we find here in the USA today. They just used more elegant language. "You prate about the faults of other men, while the blot of foul unmitigated treason rests upon you. You
canting hypocrite, whom the waters of Jordan could never cleanse from your political and moral leprosy." Wow. Sam Houston was more than a little peeved with David Burnet on account of the agreement he made with Santa Anna giving him safe passage home in exchange for ceasing all hostilities immediately and withdrawing his troops south of the Rio Grande. Many/most had wanted to see Santa Anna hanged. Burnet said of Houston that he "grumbled ungraciously, was hard to please, and spent all of his time giving orders and collecting souvenirs." A friend suggested a great Merle Haggard song for the porch players. " 
When a President goes thru the White House door and does what he says he'll do, we'll all be drinking that free bubble up and eating that Rainbow Stew." Leonard Peltier said, "The injustice you allow against others will become the injustice that comes against you." This marks his 44th year in prison for something he did not do.
Glen Branstetter was so accustomed to traveling the countryside with his Kitty Clover merchandise; he hardly knows how to stay home. He said that, up until recently, he had some place to go every night of the week to hear music. He is still going and would go more if there were more places to go. Otherwise, he is cooking and watching the birds. Country folks watch the birds too, and the cows, horses, dogs, groundhogs, squirrels, rabbits, lizards, turtles, snakes and spiders, not to mention the bugs and butterflies. Ah! The bucolic charm of Champion—Looking on the Bright Side!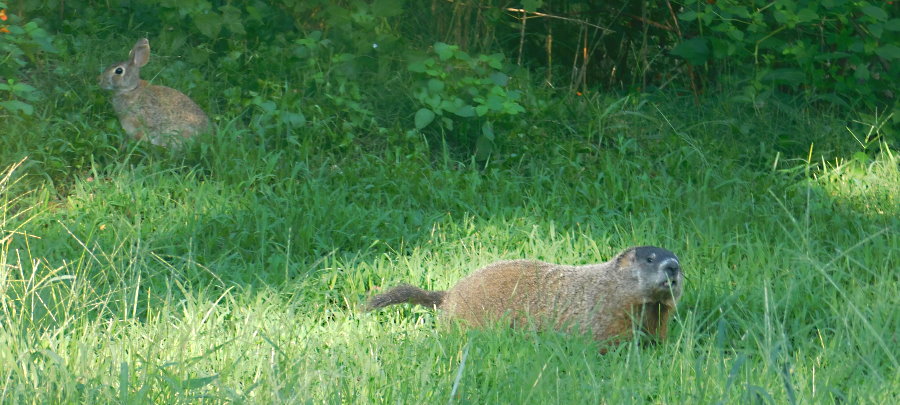 Wilbur and friend.