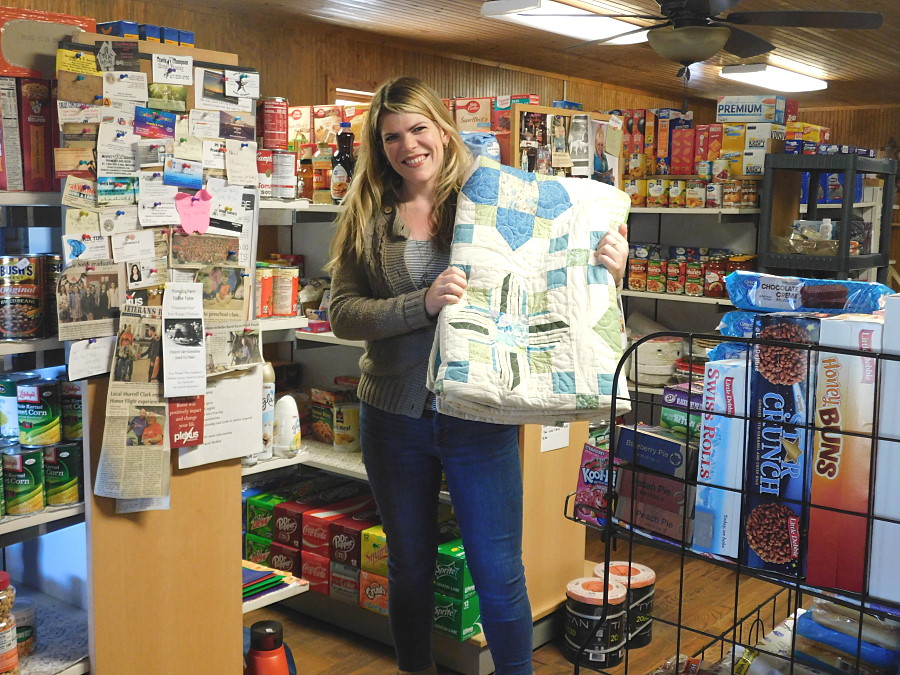 Grand Prize Winner!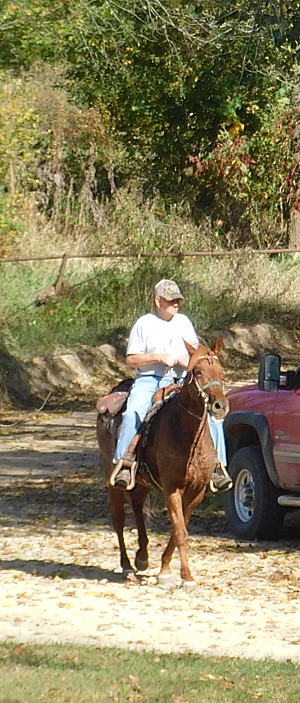 She's got it! Kaitlyn McConnell made it to Champion on Wednesday to collect her grand prize. More than a thousand tickets were sold for the NO-2020-SKYLINE PICNIC QUILT and she was the lucky winner. Kaitlyn will tell you she is lucky all around. She has a great job in a community that she loves in an area that she appreciates and supports with her many talents. It couldn't happen to a nicer gal! Congratulations! Meanwhile, the proceeds have been recounted and sum up to $1,213.00, all for the aid of the Skyline Area Volunteer Fire Department. That august organization is surely grateful to Kaitlyn and to everyone across the country who bought tickets at the Champion Store and through the mail and over the internet, and to Connie Freeman for donating the beautiful quilt and to the proprietor of Henson's Downtown G & G for displaying the quilt and keeping track of everything and The Champion News, for what little we did do. All the acknowledgement is swell, but the real appreciation goes to the men and women of the Skyline VFD who take the time to train themselves in all the practices and procedures necessary to protect our lives and our property. They leave their dinner tables and jobs at a moment's notice when they are needed. So thanks! Champions are all extending themselves to be cautious and prudent during this extended dry period. Outdoor burning is a risky business when conditions are as they are. There was talk on the Wide Veranda of the 'water moon' being portentous of rain that will lower the fire risk and nourish the pastures, ponds and streams. There was also a report of a wooly worm with a dominant dark front part, mildly beige in the middle and dark at the hind end. What does it all mean? Winters have been mild lately. Time will tell.
Wilma Hutchison beamed her beautiful smile on Andrew Hardin when he looked in on her recently. He says she is doing well and was happy for a visitor. Out on the square Wednesday afternoon Andrew reported that this was one of the best trail rides he can remember. He can remember a lot of them and has wonderful memories of Bud who he holds up as an example of being a really good man–a genuinely good person. He told a story about Bud and another rider on some old familiar trail when they came upon a fence that had never been there before. The guy pulled out his wire pliers and cut the fence, saying he would come back and fix it. When he got back to fix it a day or two later he found it repaired already. Bud had come back that very evening and fixed it himself. Probably all those guys on the ride have some story to tell about Bud. Bill Collins had not been on this trail since before the Recreation of the Historic Emporium in about 2011. (See the video of the Grand Opening on October 25, 2011.) Bill was riding Old Jim. Kenneth Forsyth was on Rain, Jeff Alcorn on Holly, Casey Alcorn on Storm Cat, Gary Braden on James, Don Hamby on Domino, Bill Winkelman on Cookie, Jim McCaughrin on Lacoda, Andrew Harden on Mable and Calvin Chambers on Blue. Wilma would have had them all lined up for their picture.
From the TCN archives of October 18, 2010: "Anyone looking for some beautiful smiles only had to get a load of those miners rescued in Chili." In our current turmoil, we may have forgotten that ordeal ten years ago when the whole world held its breath for the 33 men trapped more than two thousand feet underground for 69 days. They made it out and so will we persevere through these difficult days. With so much illness and strife in the world, it takes effort to stay positive. Our thoughts are with the many here in Douglas County, perhaps even here in Champion, across the Country and the world who are suffering in the pandemic. We hope for a good recovery for all those ill, and comfort for all those bereft. Now is no time to be cavalier. No matter how we lose those we care for, we are faced with loss. Don't get yourself lost. People care about you.
Just last week or ten days ago, Champion was still in the midst of "glorious summer." Fall's color modifications started gradually and then became dramatic and then wildly windblown. By next week, we may be looking at a vertical gray brush pile with only our cedars and pines for contrast. Change is in the air. A New England niece writes, "A whirl of falling maple leaves dances above our heads proclaiming 'All is not lost in summers lies, see the beauty of decaying reality as it embraces a long winter's dream of spring.'" Over in Peace Valley, Fran Martin writes, "Another season line crossed, last remnant of summer lost. I stayed up late to remonstrate. I never celebrate frost." Champion's first frost October 16, 2020!
Voters can cast their ballot for the November 3rd Election in the Douglas County Clerk's office during business hours. It seems that ballot language can be confusing sometimes, seemingly designed to obfuscate and obscure the issues, making a person think he is voting one way when, in fact, he may be voting against his own best interest. The amendments are important and merit careful study.
USPS employees and bankers are enjoyed a day off work as the country celebrated Columbus Day. Leonard Peltier, a Native American, has been 'celebrating' in prison for 43 years for a crime he did not commit. He admonishes us to "Acknowledge our Loss. Respect our Culture. Learn how to Advocate." Jacob Moffett, of Moffett Trees and More, has become an enthusiast of collecting arrowheads. The Douglas County Museum in Ava has a great collection of them on display. There are experts who can identify the age and origin of these artifacts, many of which significantly predate Columbus. This area has a number of talented flint knappers including Butch Stone, Jim Ivy, and others who appreciate and respect the skill of those pre-historic folks as they work to replicate their work. It is understandable that many might prefer October 12th be celebrated as Indigenous Peoples Day. The winds of change blow hard in Champion—Looking on the Bright Side!
A Champion Fall