Things are wild in Champion. Wednesday'Äôs porch talk included reports of hyenas getting loose and creating mischief somewhere over near Souder. Mr. Stone had been to the Norwood sale barn where someone had purchased a zebra for $9,200.00 and the donkey that kept the zebra company sold for $250.00. He said there were also two kangaroos on the sale block. A visit to the Norwood Producers Auction Yard on the internet confirmed that there are many other wild animals in the area'ÄĒllamas, camels, Patagonian Cavies, and baby African crested porcupines. Someone said that a woman living somewhere in the area had a wombat that died during a cold spell last winter. Wild.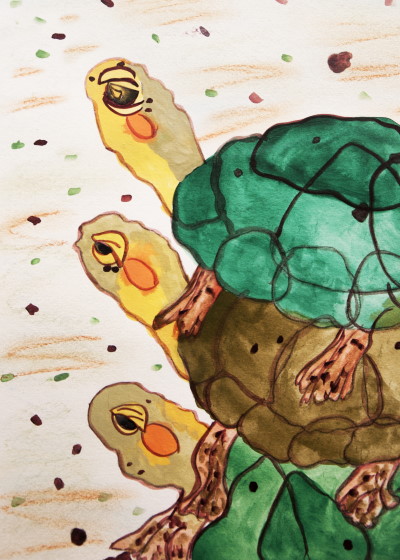 The Cowboy says that grey foxes are in the cat family and red foxes are in the dog family. He says the grey ones taste better. Another Champion said, 'ÄúTaste kinda like spotted owl.'ÄĚ Fact checking The Cowboy could send a person on a wild goose chase through Wikipedia and other exotic places. A search for an article about baby copperheads being underfoot this time of the year was interrupted by a report of a 33 foot 900 pound anaconda discovered by a construction crew in the Mark Twain National Forest over near Branson. August 21: 'ÄúThe Missouri Department of Conservation reminds Taney County residents to be aware of their surroundings when venturing into more rural or seclude areas. Anacondas can and will attack, even when unprovoked. Five deaths have been attributed to anaconda attacks in Taney County in the last 6 months.'ÄĚ Very wild.
Saturday, Old Champions received an unexpected gift in the mail of some wild boar uncured Italian salami made with meat from feral swine, Texas wild boar. The generous benefactor had recently sold some writing that merited a big family feast. Since Covid is keeping us apart, she opted for this surprise package that also included quince jam, oat cakes, and chocolate roasted almonds. Some folks are wild, and some folks have wildness sent to them in the mail. More lovely mail comes from Linda Clark'ÄĒtwo CDs: "Blue Grass Attack Here and There." That great group was recorded in the early 1980s with members: Dale McIntosh, Charlie Jones, Wayne Anderson, Lonnie Krider, Duke McIntosh and Elsie McIntosh. The other is "About As Bluegrass AS It Gets," with Wayne Anderson, Family and Friends, recorded at the Skyline Fire Department Picnic in August, 2006. Some of that one is in a video on the website here in the Music Category over on the right side of the page. Thank you, Linda. Music goes a long way toward keeping our spirits up in Champion where news has come that there will be no Champion School Reunion this year.
Hurricane Ida started its wild tear through Louisiana and Mississippi and will keep after it until Champagne Charlie Burlile gets wet in Boston. One of the weathermen said that climate change is like a shot of steroids on a regular hurricane, hence winds recorded gusting up to 160 miles per hour. They say Ida carries a tremendous amount of rain with it so all kinds of flooding might be expected up through the country. We have an ongoing persistent hope for the safety and well-being of all those in the paths of storms and strife. Johnny Cash said, 'ÄúThere'Äôs no way around grief and loss: you can dodge all you want, but sooner or later you just have to go into it, through it, and, hopefully, come out the other side. The world you find there will never be the same as the world you left.'ÄĚ While we in Champion are grateful for Sunday'Äôs rain, we are mindful that weather is indiscriminate. Bad weather, war, discord and the pandemic put themselves together to make these what we might call 'Äėhard times.'Äô We will pull together, work together, and get through it like Champions'ÄĒLooking on the Bright Side!