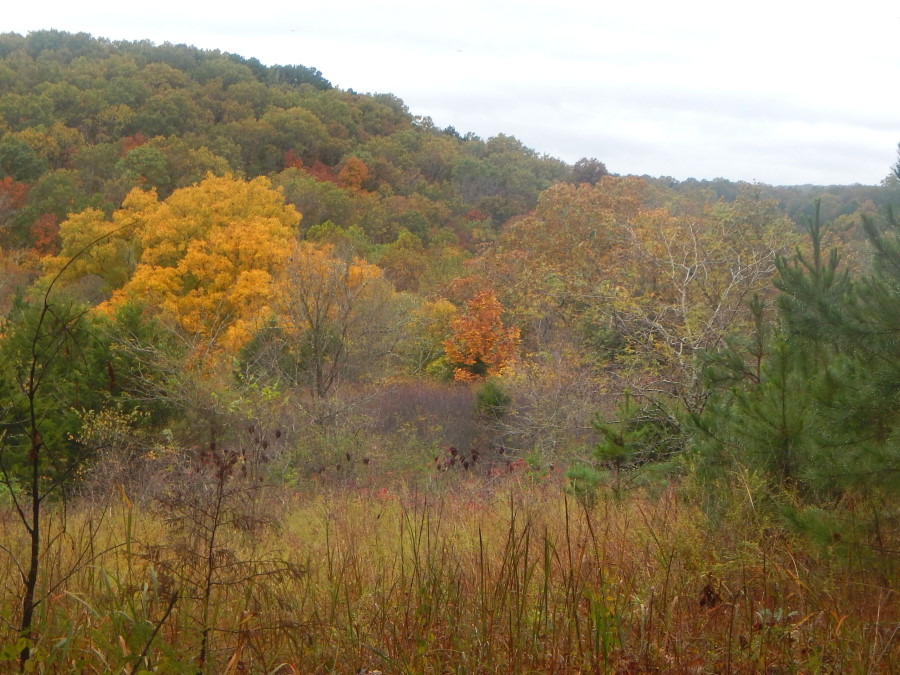 By the time this is in ink and in our mailboxes, or digitalized on line, we may have had our first hard freeze in Champion. The first time the sun hits the big old mulberry trees after the freeze, all the leaves fall at once. It is an annual delight to see the big yellow leaves float down en masse. Suddenly the season changes and it is only 24 days until Thanksgiving. The menu planning, cobweb removal, and general sprucing up will keep us busy until then. "What's not wrong?" a favorite Scots Champion asks. "Everything!" is the response.
We repeat, "Sometimes it is wonderful to be wrong." For example: We generally figure our first frost/freeze in Champion is October 10th, and here we are looking at November 3rd or 4th for the first frigid day. Once it was on September 27th. More probable wrongness is about Wilbur. He is not solitary. He may note even be a he, though seeing him beside the newcomer, he is definitely a little bigger. The new one may be a friend, a sibling, a child, a rival, or a sweetheart. Any guess is liable to be wrong. We are wrong about a lot of things all the time and the good thing is that is often when and how we learn important things. Correct me if I'm wrong, but be gentle about it. It can be a delicate transition from adamant to graciousness after having been proven wrong.
On Thursday, at the Vanzant Bluegrass Jam, we learned that Halloween is a state of mind. The General and The Gypsy were an elegant, smiling pair at the spooky soiree. There were clowns and cowgirls and mysterious entities floating around in silken robes and brush curlers. Warner and Valerie were enigmatic while also smiling. Bob and Mary came as themselves—well played. No one could have done it better, Mary. Seldom seen musicians made it a magical evening. "Way down yonder in Candy Creek, he whittled out a fiddle from a wagon seat." Music makes things better, but it is always even better with a fiddle, Jerry—just saying.
Old people often 'joke' saying, "I'm just glad to wake up!" when asked how they are. Sunday morning had everyone on that page enjoying a perfect fall day, glad to be alive. Champions, Royce Henson and Connie Lansdown, had birthdays on October 30th. Elijah and Arjuna Flenner, wherever they are, have been celebrating their birthday on the first of November for about forty-eight years now. Ethel's Bob celebrates on the 4th of the month. He likes to drink his java from an old tin can while the moon goes riding high. Emerson Rose shares her day on the fifth with Skyline kindergarten student Elaina Homer. Another dear rose, Althea, had her birthday on November 6th, but never liked to talk about it. Chuck Barns' daughter, Kathy, also celebrates on the sixth. Foster & Kalyssa's old Grandpa Wiseman Has the seventh for his special day and the man who reserves his restaurant table under the name of Studebaker parties on the eighth. Axel Webster is a Skyline fifth grader with a birthday on the ninth of November. We acknowledge and appreciate our friends and families with birthday wishes. Thanksgiving is on the way, but gratitude for our good fortune is ongoing continually in Champion—Looking on the Bright Side!