A distant Champion reading last week's article corrected the report that Lonnie Krider had said, "There'll come a day in February when a dog looks for the shade." The reader said he heard, "the dog 'hunts' for the shade." The difference is small, but perhaps meaningful to some. Somebody small, around six pounds, arrived over in Tennessee on January 18th, and is very meaningful to the Krider/Watts family as well as to the Cline, Wiseman, Oglesby, Upshaw families and various others. He is Waylon Iker Watts and, because of him, Fae Krider is a great grandmother and Marty Watts is now a grandpa! Waylon's second cousins, Foster and Kalyssa, brought their instruments, mandolin and fiddle, and met up with Dillon, now a father, and his banjo and, with Dakota's wife on the guitar, made a bluegrass birthday for great aunt Staci Krider Cline. One of Waylon's other second cousins, Drason Cline, is most interested in learning guitar and is ready to have lessons. He and his brother Carson are both good singers according to their grandmother.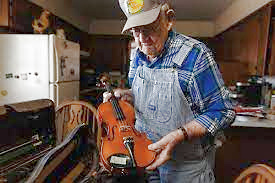 Alvie Dooms will be pleased to read that music is proliferating so thoroughly through that big Champion/Tennessee family. Alvie spent some time last week wrestling with an old fiddle that had not been out of its case in more than a dozen years. He reset the sound post, pulled pegs, replaced the rusty e string, tuned it up, rosined up a good bow expecting to hear 'Soldiers' Joy' when he came back from a trip down the hall. (It will take a longer trip than that.) He has a wealth of stories to tell and a pleasant couple of hours soaking up local music history with him and Dovey was well spent. Kaitlyn McConnell has spent some good time with them in recent years, and Dovey laughed about Kaitlyn's current trip to France and said she expects her to be in China one of these days.
Through some silly mix up, The Champion News failed to acknowledge the birthday of Debora Barker. It was on the 3rd of March and was roundly celebrated by her family, her many friends, and colleagues. She recently said, "We backwoods rednecks have taken another step into the tech world
as I post this very status update on my cell phone in my own home—a feat new to me and my country life! Not sure I want to be completely connected 24/7, but will enjoy it when I need it. LOL" It is a new world to be so connected and at the same time isolated. Seems like we don't get 'together' like we used to do, whether it is a hangover from the pandemic, old age, or just creeping technology. However, making the most of what we have is one of these Champion traits. Through technology we learned that Butch and Joyce Linder had a wedding anniversary on March 3rd. While we do not know how long it has been, it has probably been a good long while. They are still smiling. Dennis Shumate was smiling too, looking at "Happy Birthday" spelled out in strawberries on his cake.
Micah Foulke lives in Portland, Oregon has a birthday on March 9th and a cousin—our own Felix the Farmer! Skyline Kindergartener, "CJ" Castillo enjoys the 11th for his birthday and his fourth grade sibling, Trinity Castillo enjoys the 13th. The 12th is the day to remember two very interesting Champions. Geoff Metroplos and J.R. Johnston. Geoff was a multi skilled, creative handy man deluxe. If high branches were interfering with your satellite, he was the guy to call to climb up there wielding his chain saw to clear the way. That was his old fiddle that Alvie was wrestling with. He was a good guitar player and a carpenter who could tell you it was out of plumb by an eighth of an inch. J.R. Johnston attended The Champion School. He enjoyed fishing, traveling, and was an avid bluegrass musician and fan. He played the banjo and was one of those generous musicians who encourage beginners at the McClurg and Vanzant Jams. He loved the old songs and Janet, his wife of 67 years. He said they had met on a blind date and went bowling. Someone remarked that every time they saw Janet she was smiling. He said, "She's always been like that." J.R. had an interesting life and left lots of friends and family with many sweet memories. Kaitlyn McConnell interviewed him back in 2018 for Ozarks Alive. The 15th—the Ides of March—is the 50th anniversary of the birth of a Champion Skyline alumnus now fiddling around in Scotland. He likes the old songs too, particularly ones that smack of optimism like "Accentuate the Positive," and "When You're Smiling." Elizabeth Mastrangelo Brown was 23 years old on March 16, 2013. The 16th is also the big day for Skyline second grader, Lillith Jeffery. The 17th is St. Patrick's Day, the day planned for the Skyline Spring Fling Dance. Fun is afoot.
Gardeners are already busy planning and preparing as spring is imminent. Edie Richardson was a Champion landowner for a short while before she found her paradise up between Macomb and Hartville. There, she and Lee are operating an organic farm and inspiring neophytes with their work through the Wright County Extension Council and the Wright County Master Gardeners. Then, there are Lee's bees to learn about. They have a good neighbor in Champion mail carrier, Karen Ross, who carries the mail on another route now. Karen will probably still be sharing tomato plants on her route. The wild vicissitudes of March weather, in like a lamb, etc., is not about to thwart the efforts and energies of determined Champions! Looking on the Bright Side!