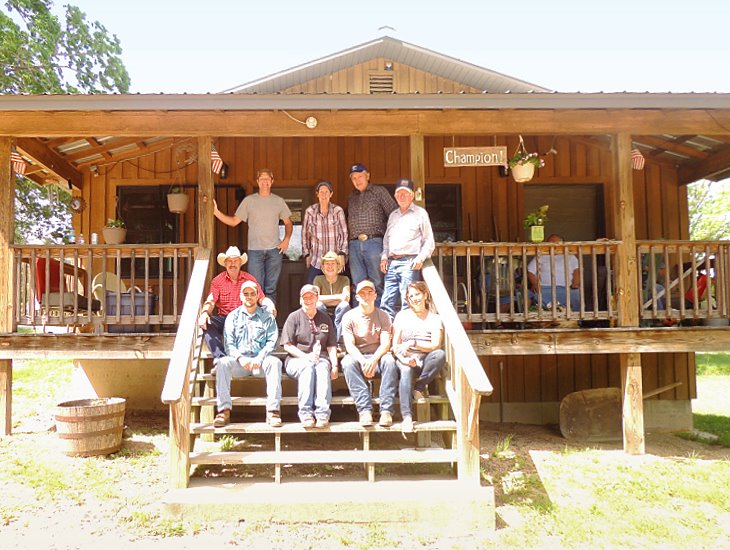 Bud Hutchison's Spring Trail Riders relaxing on the steps at the Historic Emporium
on the North Side of the Square in Downtown Champion.
It was a windy day in Champion for Bud Hutchison'Äôs Spring Trail Ride, but a beautiful day and the ride was another great success by all accounts.¬† There were a dozen in all who took their regular route starting out along Fox Creek Road, ambling through the Shannon Ranch and then wading across the wide, fast moving Fox Creek to come back into Champion from the east.¬† One said that it was pretty exciting to be in the woods with all the strong wind and there was a report of a couple of the riders dismounting to mend somebody'Äôs fence along the way.¬† They all came in pleased for the outing and the fellowship and happy for the ice cream at the end of the trail.¬† Bud led the way on his horse, Jim Bob.¬† Riding along with him was Don Hamby on Butch, Calvin Chambers on Betty Ann, Nancy Emerson Perryman on Ginger, Frank and Mary Williams on Rosie and Magic, Jeff Alcorn on Lace, Bill Bruner on Dream, Bill Winkelmann on Cookie, Cindy Hufham on Dolly, Andrew Harden on Cloud, Sharon Langley Stillings on Whistling Dixie, and Kenny Woolider on Dolly.¬† Wilma Hutchison had them line up for their photograph mounted before they headed out.¬† She must have quite an album of those pictures as she has been chronicling Bud'Äôs trail rides for as long as he has been having them'ÄĒsome while now.¬† She waited for their return and enjoyed the day visiting with old friends and new ones as they came through the Historic Emporium.¬† Wednesday is often an eventful day in Champion and Bud'Äôs bunch made it more so.
School is out so Kyle and Caleb Barker had the chance to spend some time with their Granddad at Champion on Wednesday.¬† They walked down to the creek together where Kyle found a stone that had metal in it–some kind of ore.¬† When he finds out what it is, hopefully he will share the information with The Champion News.¬† Meanwhile, Caleb endured teasing as his name was substituted for a groundhog in one song and as the person coming around the mountain in another one.¬† He is a good sport, however, and responded with a smile.¬† Their old Grandpa Upshaw will be the stuff of their legends in the future.¬† He and Frank and Pete Proctor will be the perpetrators of good works on Wednesday as they will be busy mowing over at Delow getting ready for the Denlow/Fairview School Reunion on Saturday.¬† The General says there will be music starting at 11:00, 'Äúfeaturing anyone wishing to play and sing with the Fox Creek Hee-Haw ensemble.'Ä̬† There is always a good potluck dinner at this affair and usually a fun filled auction out in the pavilion.¬† Hopes are that the weather is good and all the travelers from distant places have easy, safe trips back to the place where so much of their happy youth was spent.¬† Pete says, 'ÄúCome and enjoy some of your old friends'Ķ.hope to see you there.'ÄĚ
Skyline student birthdays include the one of Heidi Strong who will be in the 6th grade next year.  She shares her day with Teresa Wrinkles, who has spent some time in school herself.  The 27th was Ed Henson's birthday.  He was 95 years old when he passed away in 1998.  He is legendary in Champion.  Brylee Clark was in kindergarten this year and will be a first grader in the fall.  Her birthday is on the 28th.  That is Dale Tomas's birthday too.  He is a town dweller now and his friends hope he and Betty are finding it enjoyable.  The 29th is Joseph Kennedy's birthday.  He will be in the 4th grade at Skyline in the fall.  Kazie Perkins of KZ88 FM public radio also enjoys her birthday that day.  The 30th is the special day for Gabriella Frey who will be a first grade student in the fall.  Champion granddaughter, Alex in Austin, TX will have her birthday on the 31st.  She was recently recorded playing The Maple Leaf Rag on the piano.  Her old grannie was much impressed.  Birthdays come around more quickly when you are old, so enjoy every one of them and all the time in between.
Nanette Hirsh of the Douglas County Health Department helping Champions stay well.
May 30th will be the last Tuesday of the month and Champions know that that is the day they can expect Nannette Hirsh of the Douglas County Health Department to be at the store from 9:00 to 11:00 a.m. doing blood pressure checks as a service to the community.  She joins a great list of folks whose work makes life sweet in Champion.  They work on the roads, put out the fires.  They keep the electricity flowing, the phone lines working and the mail running.  Thank you all.  The last hard rain of 2.6 inches undid some of the fine work that the fellows from the Drury Shed had done up on Cold Springs Road, but they will be back on it again soon and locals will be patient and go the long way around when they need to.  There are doubtlessly a number of spots like that around the area so give them a smile and a wave when you see them out working.  Encouragement is a Champion commodity.
Memorial Day is the federal holiday in the United States for remembering the people who died while serving in the country'Äôs armed forces.¬† It originated as Decoration Day after the American Civil War in 1868 and by the 20th century was extended to honor all Americans who died while in the military service.¬† It marks the beginning of summer holidays and is celebrated with picnics and barbeques and all manner of family gatherings.¬† Amid the merriment will be a few serious discussions concerning the current abysmal state of affairs.¬† French philosopher, Albert Camus, said, 'ÄúAnd I should like to be able to love my country and still love justice.¬† I don'Äôt want any greatness for it, particularly a greatness born of blood and falsehood.¬† I want to keep it alive by keeping justice alive.'Ä̬† Journalist Laura C. Keeling said, 'ÄúAmerica will not be destroyed by undocumented workers, same sex marriage, Muslims, or abortion, but rather by unreasonable fears, uncontrollable hatred, divisive politics, unethical politicians, deliberate misinformation and a gullible population.'Ä̬† Note that fewer than half the eligible voters exercised their franchise last year and fewer than half of those who did vote were satisfied with the outcome.¬† So, wear your poppies, express your gratitude, sing a few bars of 'ÄúThe Battle Hymn of the Republic,'ÄĚ and hope for the best.
It is still quite early in the gardening season for people in this latitude.¬† There is time yet to get some beans in the ground, to set out a few tomato plants, and plant some okra and squash.¬† These cool sunny days are just right for being out in the beauty of it all and physical activity provides a great distraction from your worries.¬† Come down to the wide, wild and wooly banks of Auld Fox Creek for some refreshment after your hard work.¬† Situate yourself comfortably on the spacious veranda and hum some of that great song, 'ÄúAmerica!¬† America! God shed His grace on Thee!'ÄĚ in Champion'ÄĒLooking on the Bright Side!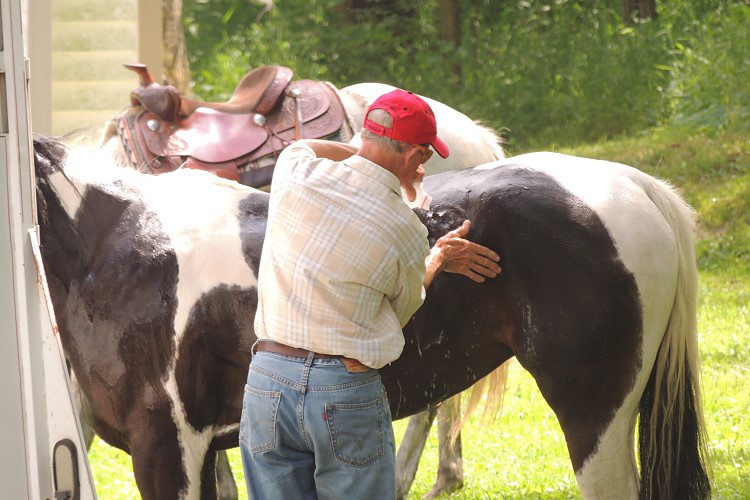 The horses get good attention at the end of the trail.
No Comments Yet
Sorry, the comment form is closed at this time.