Miss Khylee May Sanders shared her music on the wide veranda in Historic Downtown Champion on Wednesday.
A good measurable inch of rain fell on Champion on Friday evening just before sunset.  It was a gift to gardens and to the old folks tending them.  The days ahead look hot and dry, so the gardeners will be up and out early to get the heavy work done.  As to the green tomato hornworm, it is suggested that as much of the damaged plant as possible be removed when the culprit is discovered so that any new damage is immediately obvious.  Any fruit that has had a bite taken out of it can be turned into fried green tomatoes which go good in a summertime lunch.  Squash blossoms are also edible and quite tasty.  Find recipes on line where you can also learn about the male and female flowers and about how to deal with those pesky squash bugs.  If you see a pretty garden, there is generally someone in it, except during the heat of the day in the steamy Ozarks.
Skyline School's own Ms. Helen kindly shares student birthdays with The Champion News, however a glitch in the Microsoft Windows 10 update obliterated the email that contained those for the months of June and July.¬† It will show up again and those youngsters will eventually get their names in the paper.¬† Meanwhile, Champion grandson, Ethan Alexander and his Uncle Zee both celebrate on July 19th.¬† Young Thomas Journagin's grandpa will have a birthday on the 25th of July.¬† Thomas and his cousins and their folks will be coming from coast to coast to visit their Grandpa Webber in early August and the fun will be all over the place.¬† Ms. Helen also reminds folks in the area that the date for the electronics recycling pick up will be August 1st at 10 a.m. at the school.¬† Things can be dropped off on Monday if necessary.¬† They will take anything that plugs in–computer, lamp, toaster, hair dryer, whatever.¬† The only fee is for televisions–$10.00.¬† It is a great opportunity to get rid of some of the stuff that no longer works and clutters up our lives and, at the same time, keep some bad stuff out of the landfills.
Miss Khylee May Sanders, who will be four years old in August, came to Champion with her grandparents, Jack and Sherry Lovan, for the Wednesday festivities.  She brought her blue mermaid guitar, which she plays left handed, and started the music off on the porch with "I'm in the Lord's Army."  She has a nice voice just like her young talented grandmother, who shared some great songs.  Ere long a car with Illinois plates pulled up.  Soon the lady commenced to taking photographs and the gentleman climbed to the top of the wide staircase and turned to look out across the Square.  After the fashion of the folks in Dogpatch, a local stepped up to ask if he was a tourist (a 'tourrister' in the parlance of Little Abner).  He allowed as how he was indeed a tourist and that he and his family were visiting from Illinois looking for the Bright Side.  A. Lee Unger has kinfolks over in Red Bank just north of Good Hope and on the occasion of visiting his sister some while back happened upon a copy of The Douglas County Herald.  He found it charmingly provincial and subscribed and, in so doing, became an aficionado of The Champion News.  His entourage that day included his wife, Glenda the photographer, their son who had traveled with them from Illinois and their niece from Red Bank.  They joined in on several gospel songs and made a fine chorus until they were accosted by the maundering purveyor of hot air just talking to hear his head rattle.  They seemed to have a good time anyway.  Mr. Unger was pleased to meet The General who acquiesced to posing for their picture together.  He was also happy to learn about the website at www.championnews.us where he can read the complete and unedited version of all the articles going back for ten solid years.  He will find lots of pictures and music there too.  It is nice to make new friends.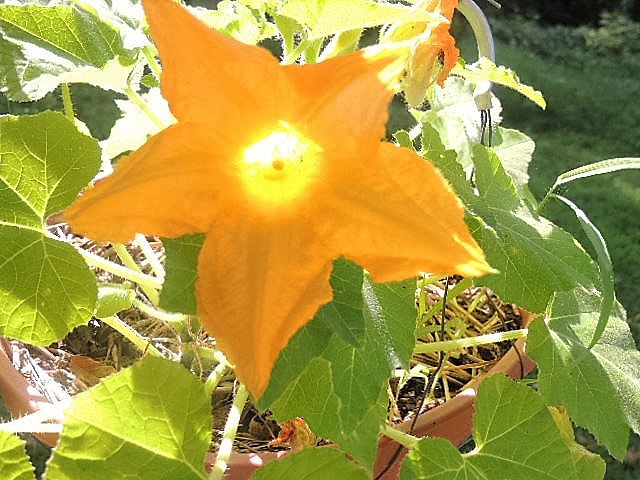 Champion Squash Blossom Beauty
The Unger family joined the Vanzant Community for their bluegrass jam on Thursday and enjoyed a great evening of music.¬† Banjo Dave Medlock reckons that he is a regular over there now and that is good news.¬† It was good to see and hear the Wagner fiddle again and to have Mr. Johnston back after their adventures up at Starvy Creek.¬† Lynette Cantrell also came with her beautiful mandolin and filled in rich melody.¬† She played "Home Sweet Home" and made everyone happy and grateful.¬† Lynette runs the Acoustic Jam over at the Cabool Senior Center on Monday nights from 6:30 to 8:30.¬† Everyone is welcome to bring their instruments and sit in, or just to listen.¬† Music has health benefits in physical mental, emotional and social ways.¬† It reduces stress and anxiety and may help with pain relief. Studies show that it may improve immune functioning and may aid memory.¬† It also is a big help with exercise, if it is only patting your foot.¬† "Put your little foot, put your little foot, put your little foot right there'Ķ."
The Douglas County Historical Society is looking for stories of Women of Douglas County that made a lasting impression on you.  They want to know about everyday women who made a difference in your life. It can be about someone in the past or present time.  They say email your story to eddie037@centurytel.net or mail it to Douglas County Historical Society P.O. Box 986 Ava, Missouri 65608.  The deadline to turn your story in is October 15, 2017.  They want a picture, her name, her husband and children and parents and why she is special to you.  Your stories will be printed in the Winter 2017 Journal.  If you have not been to the Douglas County Museum lately, you have a real treat in store.  There are 14 rooms of displays and a good family research library.  The museum got its start in 1988 and has been growing and improving since that time.  Everything in the building has something to do with Douglas County and it is open every Saturday from 10:00 a.m. to 2:00 p.m.  They will have an open house and quilt show on August 19th.  If you would like to enter your quilt, call 683-2776 or 683-2536 for details.  Other exciting local events include the 4-H Picnic over on EE Highway on July 28th and 29th and the Skyline VFD Picnic on August 11th and 12th.
The last Tuesday of the month will be July 25th.¬† A nurse from the Douglas County Health Department will be at Henson's Grocery and Gas starting at 9 in the morning to do blood pressure screenings.¬† Sweet Nannette Hirsh has retired and will be missed, but her friends here wish her good luck and look forward to meeting a new friend.¬† During these hot days ahead it will be an ideal time to spend some time at your favorite swimming hole or on the wide, wild and wooly banks of Auld Fox Creek in the cool meeting room in the Recreation of the Historic Emporium over on the North Side of the Square.¬† Stay cool and hydrated.¬† "We'Äôre having a heat wave, a tropical heat wave.¬† The temperature is rising.¬† It isn'Äôt surprising.¬† She certainly can can-can'Ķ" in Champion'ÄĒLooking on the Bright Side!
No Comments Yet
Sorry, the comment form is closed at this time.