At 4:43 p.m. on Saturday, June 20th, the sun will be directly over the Tropic of Cancer and for the whole world The Summer Solstice marks the longest day of the year. It is the day when the earth is farthest from the sun and the day many consider to be the first day of summer—astronomers do, but meteorologists think summer begins on June 1st. Up in the Arctic Circle they will have 24 hours of daylight. People around the globe will celebrate with feasts, picnics, dances and music. In Northern Hemisphere cultures the day is traditionally thought to be mid-point of the summer season and midsummer celebrations are common in many European countries. The Swedes and others put up maypoles and fun ensues. We say the sun is over the Tropic of Cancer, but we could also say that the Tropic of Cancer is under the sun and the sun does not come up and go down, but the earth spins around and around. Perspective is a tricky business. The very same thing can look different to people depending on many variables, yet we are all Earthlings.
Mail to The Champion News (Rt. 72 Box 367, Norwood, MO 65717) suggests that the whole earth is such turmoil, that perhaps we need a common enemy to draw us together. This crack-pot would like to see real aliens show up and he says they should easily be identifiable by color, not our Earthling red and yellow, black and white, but some different color like blue or chartreuse or purple. He also thinks they should be configured differently, like people but with lizard heads and hands, and either really big or really small, so there would be no way they could pass for human. They would come in nasty, people eating swarms and it would be OK to hate them. Everybody in the whole world would hate them. They would stop hating each other and just hate the nasty aliens. While our cracked-pot is out looking for space aliens, the rest of us can work on trying to get along with our fellow humans here on our planet.
Our appreciation of the USPS only grows as we are so much at home these days. The USPS has always been a vital amenity for rural people. Mail-order is still important in the country, though many of us may be shopping on the computer rather than with the Sears and Roebucks catalogues that were a mainstay back in the day. We have been getting our packages reliably for a long time. We handle our finances through the mail and get those precious grandchildren's photographs and drawings. If we were broadcasting on Radio WTCN, "your dedication station," we would dedicate this one to John—"John the Generator." Thanks to all you mail carriers out there on your rural routes.
The Vanzant Bluegrass Jam reopened on Thursday with good safety precautions in place. There was plenty of room for social distancing and hand sanitizer and gloves were available. Some had masks or bandanas down around their necks. It was a small gathering which seems just the right size even though we look back with great fondness to the place having been packed in days gone by. Maybe it will be like that again one day, but for now, our good judgement must prevail, like Luke Combs says, "Six Feet Apart." Meanwhile, we can enjoy Tim Tamborino's postings on the Midwest Bluegrass Directory. He shared a piece recorded on June 14, 1923, of Fiddlin John Carson doing "The Little Old Log Cabin in The Lane." He said, "Many music historians consider this song to be the first recording of a country music hit, and the first country music recording with vocals and lyrics."
"Wild flowers don't care where they grow," according to Dolly Parton, who is a favorite in Champion on account of her great music and her terrific Imagination Library. She has given away millions of books now. She has also been reading bedtime stories for children on-line during the pandemic lockdown. Roland R. Kemler said, "What a lonely place it would be to have a world without a wildflower." He is an acclaimed photographer who said that pursuing the beauty that nature has to offer is his greatest adventure. He is welcome to venture down any of our rural lanes to be dazzled by the wildflowers and overarching boughs. Along the wide, wild, wooly banks of Auld Fox Creek, at the bottom of several lush, green hills, where country roads meet the pavement is one of the world's truly lovely places—Champion! Looking on the Bright Side!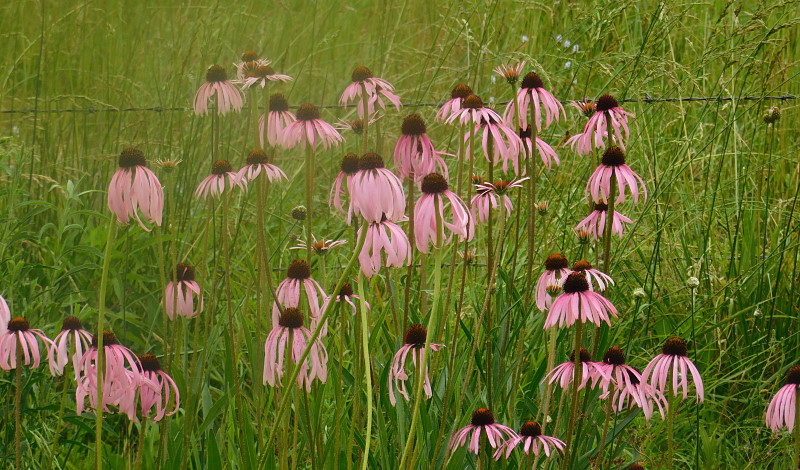 No Comments Yet
Sorry, the comment form is closed at this time.